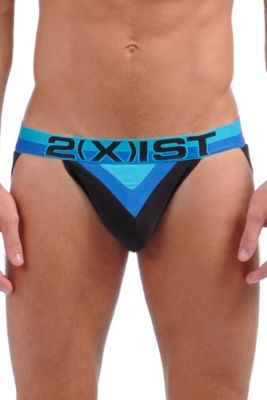 {"imageName":"http://s7d2.scene7.com/is/image/UnderGear/AM768_BFV_1113SBB?$dwpp$"}
{"imageName":"http://s7d2.scene7.com/is/image/UnderGear/AM768_BSV_1113SBB?$dwpp$"}
{"imageName":"http://s7d2.scene7.com/is/image/UnderGear/AM768_RFV_1113SBB?$dwpp$"}
{"imageName":"http://s7d2.scene7.com/is/image/UnderGear/AM768_FFV_1113SBB?$dwpp$"}
{"imageName":"http://s7d2.scene7.com/is/image/UnderGear/AM768_TQFV_1113SBB?$dwpp$"}
{"imageName":"http://s7d2.scene7.com/is/image/UnderGear/AM768_WFV_1113SBB?$dwpp$"}
{"imageName":"http://s7d2.scene7.com/is/image/UnderGear/AM768_AFV_1113SBB?$dwpp$"}
2(X)IST® Chevron Jock Strap
UG # AM768
Special Offer:
20% OFF 3 OR MORE ITEMS (Details)
Select Quantity
Print
Men's jockstrap underwear
Cotton / spandex underwear for men
Machine wash
Imported
2xist underwear style 3103812203
All signs point to ""yes."" Designed with a v-shaped chevron in front, this sexy jockstrap underwear from 2xist draws attention to your package. The 2xist Chevron Jockstrap also features an ultra-contoured pouch for superior lift and fit. Low-rise, no-show waistband features a bold 2xist logo. Available in a variety of vibrant colors.
{ "variations": { "variants": [ {"id": "AM768_L_ACA", "attributes": { "color": "Acai" , "size": "L" }, "avLevels": {"IN_STOCK": 1.0, "PREORDER": 0.0, "BACKORDER": 0.0, "NOT_AVAILABLE": 0.0}, "avStatus":"IN_STOCK", "inStock":true, "ATS": 5.0, "inStockDate": "Fri Dec 13 12:00:00 GMT 2013" , "pricing": {"standard": "24.0", "sale": "20.99", "isPromoPrice": false, "quantities": [ {"unit": "", "value": "1.0"} ]} }, {"id": "AM768_L_BLA", "attributes": { "color": "Black" , "size": "L" }, "avLevels": {"IN_STOCK": 0.0, "PREORDER": 0.0, "BACKORDER": 0.0, "NOT_AVAILABLE": 1.0}, "avStatus":"NOT_AVAILABLE", "inStock":false, "ATS": 0.0, "inStockDate": "Fri Dec 13 12:00:00 GMT 2013" , "pricing": {"standard": "24.0", "sale": "20.99", "isPromoPrice": false, "quantities": [ {"unit": "", "value": "1.0"} ]} }, {"id": "AM768_L_FLO", "attributes": { "color": "Florescent" , "size": "L" }, "avLevels": {"IN_STOCK": 1.0, "PREORDER": 0.0, "BACKORDER": 0.0, "NOT_AVAILABLE": 0.0}, "avStatus":"IN_STOCK", "inStock":true, "ATS": 1.0, "inStockDate": "Fri Dec 13 12:00:00 GMT 2013" , "pricing": {"standard": "24.0", "sale": "20.99", "isPromoPrice": false, "quantities": [ {"unit": "", "value": "1.0"} ]} }, {"id": "AM768_L_FRE", "attributes": { "color": "Fiery Red" , "size": "L" }, "avLevels": {"IN_STOCK": 1.0, "PREORDER": 0.0, "BACKORDER": 0.0, "NOT_AVAILABLE": 0.0}, "avStatus":"IN_STOCK", "inStock":true, "ATS": 1.0, "inStockDate": "Fri Dec 13 12:00:00 GMT 2013" , "pricing": {"standard": "24.0", "sale": "20.99", "isPromoPrice": false, "quantities": [ {"unit": "", "value": "1.0"} ]} }, {"id": "AM768_L_TUR", "attributes": { "color": "Turquoise" , "size": "L" }, "avLevels": {"IN_STOCK": 1.0, "PREORDER": 0.0, "BACKORDER": 0.0, "NOT_AVAILABLE": 0.0}, "avStatus":"IN_STOCK", "inStock":true, "ATS": 5.0, "inStockDate": "Fri Dec 13 12:00:00 GMT 2013" , "pricing": {"standard": "24.0", "sale": "20.99", "isPromoPrice": false, "quantities": [ {"unit": "", "value": "1.0"} ]} }, {"id": "AM768_L_WHI", "attributes": { "color": "White" , "size": "L" }, "avLevels": {"IN_STOCK": 1.0, "PREORDER": 0.0, "BACKORDER": 0.0, "NOT_AVAILABLE": 0.0}, "avStatus":"IN_STOCK", "inStock":true, "ATS": 7.0, "inStockDate": "Fri Dec 13 12:00:00 GMT 2013" , "pricing": {"standard": "24.0", "sale": "20.99", "isPromoPrice": false, "quantities": [ {"unit": "", "value": "1.0"} ]} }, {"id": "AM768_M_ACA", "attributes": { "color": "Acai" , "size": "M" }, "avLevels": {"IN_STOCK": 1.0, "PREORDER": 0.0, "BACKORDER": 0.0, "NOT_AVAILABLE": 0.0}, "avStatus":"IN_STOCK", "inStock":true, "ATS": 6.0, "inStockDate": "Fri Dec 13 12:00:00 GMT 2013" , "pricing": {"standard": "24.0", "sale": "20.99", "isPromoPrice": false, "quantities": [ {"unit": "", "value": "1.0"} ]} }, {"id": "AM768_M_BLA", "attributes": { "color": "Black" , "size": "M" }, "avLevels": {"IN_STOCK": 0.0, "PREORDER": 0.0, "BACKORDER": 0.0, "NOT_AVAILABLE": 1.0}, "avStatus":"NOT_AVAILABLE", "inStock":false, "ATS": 0.0, "inStockDate": "Fri Dec 13 12:00:00 GMT 2013" , "pricing": {"standard": "24.0", "sale": "20.99", "isPromoPrice": false, "quantities": [ {"unit": "", "value": "1.0"} ]} }, {"id": "AM768_M_FLO", "attributes": { "color": "Florescent" , "size": "M" }, "avLevels": {"IN_STOCK": 1.0, "PREORDER": 0.0, "BACKORDER": 0.0, "NOT_AVAILABLE": 0.0}, "avStatus":"IN_STOCK", "inStock":true, "ATS": 4.0, "inStockDate": "Fri Dec 13 12:00:00 GMT 2013" , "pricing": {"standard": "24.0", "sale": "20.99", "isPromoPrice": false, "quantities": [ {"unit": "", "value": "1.0"} ]} }, {"id": "AM768_M_FRE", "attributes": { "color": "Fiery Red" , "size": "M" }, "avLevels": {"IN_STOCK": 1.0, "PREORDER": 0.0, "BACKORDER": 0.0, "NOT_AVAILABLE": 0.0}, "avStatus":"IN_STOCK", "inStock":true, "ATS": 2.0, "inStockDate": "Fri Dec 13 12:00:00 GMT 2013" , "pricing": {"standard": "24.0", "sale": "20.99", "isPromoPrice": false, "quantities": [ {"unit": "", "value": "1.0"} ]} }, {"id": "AM768_M_TUR", "attributes": { "color": "Turquoise" , "size": "M" }, "avLevels": {"IN_STOCK": 1.0, "PREORDER": 0.0, "BACKORDER": 0.0, "NOT_AVAILABLE": 0.0}, "avStatus":"IN_STOCK", "inStock":true, "ATS": 6.0, "inStockDate": "Fri Dec 13 12:00:00 GMT 2013" , "pricing": {"standard": "24.0", "sale": "20.99", "isPromoPrice": false, "quantities": [ {"unit": "", "value": "1.0"} ]} }, {"id": "AM768_M_WHI", "attributes": { "color": "White" , "size": "M" }, "avLevels": {"IN_STOCK": 1.0, "PREORDER": 0.0, "BACKORDER": 0.0, "NOT_AVAILABLE": 0.0}, "avStatus":"IN_STOCK", "inStock":true, "ATS": 5.0, "inStockDate": "Fri Dec 13 12:00:00 GMT 2013" , "pricing": {"standard": "24.0", "sale": "20.99", "isPromoPrice": false, "quantities": [ {"unit": "", "value": "1.0"} ]} }, {"id": "AM768_S_ACA", "attributes": { "color": "Acai" , "size": "S" }, "avLevels": {"IN_STOCK": 0.0, "PREORDER": 0.0, "BACKORDER": 0.0, "NOT_AVAILABLE": 1.0}, "avStatus":"NOT_AVAILABLE", "inStock":false, "ATS": 0.0, "inStockDate": "Fri Dec 13 12:00:00 GMT 2013" , "pricing": {"standard": "24.0", "sale": "20.99", "isPromoPrice": false, "quantities": [ {"unit": "", "value": "1.0"} ]} }, {"id": "AM768_S_BLA", "attributes": { "color": "Black" , "size": "S" }, "avLevels": {"IN_STOCK": 0.0, "PREORDER": 0.0, "BACKORDER": 0.0, "NOT_AVAILABLE": 1.0}, "avStatus":"NOT_AVAILABLE", "inStock":false, "ATS": 0.0, "inStockDate": "Fri Dec 13 12:00:00 GMT 2013" , "pricing": {"standard": "24.0", "sale": "20.99", "isPromoPrice": false, "quantities": [ {"unit": "", "value": "1.0"} ]} }, {"id": "AM768_S_FLO", "attributes": { "color": "Florescent" , "size": "S" }, "avLevels": {"IN_STOCK": 0.0, "PREORDER": 0.0, "BACKORDER": 0.0, "NOT_AVAILABLE": 1.0}, "avStatus":"NOT_AVAILABLE", "inStock":false, "ATS": 0.0, "inStockDate": "Fri Dec 13 12:00:00 GMT 2013" , "pricing": {"standard": "24.0", "sale": "20.99", "isPromoPrice": false, "quantities": [ {"unit": "", "value": "1.0"} ]} }, {"id": "AM768_S_FRE", "attributes": { "color": "Fiery Red" , "size": "S" }, "avLevels": {"IN_STOCK": 0.0, "PREORDER": 0.0, "BACKORDER": 0.0, "NOT_AVAILABLE": 1.0}, "avStatus":"NOT_AVAILABLE", "inStock":false, "ATS": 0.0, "inStockDate": "Fri Dec 13 12:00:00 GMT 2013" , "pricing": {"standard": "24.0", "sale": "20.99", "isPromoPrice": false, "quantities": [ {"unit": "", "value": "1.0"} ]} }, {"id": "AM768_S_TUR", "attributes": { "color": "Turquoise" , "size": "S" }, "avLevels": {"IN_STOCK": 0.0, "PREORDER": 0.0, "BACKORDER": 0.0, "NOT_AVAILABLE": 1.0}, "avStatus":"NOT_AVAILABLE", "inStock":false, "ATS": 0.0, "inStockDate": "Fri Dec 13 12:00:00 GMT 2013" , "pricing": {"standard": "24.0", "sale": "20.99", "isPromoPrice": false, "quantities": [ {"unit": "", "value": "1.0"} ]} }, {"id": "AM768_S_WHI", "attributes": { "color": "White" , "size": "S" }, "avLevels": {"IN_STOCK": 0.0, "PREORDER": 0.0, "BACKORDER": 0.0, "NOT_AVAILABLE": 1.0}, "avStatus":"NOT_AVAILABLE", "inStock":false, "ATS": 0.0, "inStockDate": "Fri Dec 13 12:00:00 GMT 2013" , "pricing": {"standard": "24.0", "sale": "20.99", "isPromoPrice": false, "quantities": [ {"unit": "", "value": "1.0"} ]} }, {"id": "AM768_XL_ACA", "attributes": { "color": "Acai" , "size": "XL" }, "avLevels": {"IN_STOCK": 0.0, "PREORDER": 0.0, "BACKORDER": 0.0, "NOT_AVAILABLE": 1.0}, "avStatus":"NOT_AVAILABLE", "inStock":false, "ATS": 0.0, "inStockDate": "Fri Dec 13 12:00:00 GMT 2013" , "pricing": {"standard": "24.0", "sale": "20.99", "isPromoPrice": false, "quantities": [ {"unit": "", "value": "1.0"} ]} }, {"id": "AM768_XL_BLA", "attributes": { "color": "Black" , "size": "XL" }, "avLevels": {"IN_STOCK": 0.0, "PREORDER": 0.0, "BACKORDER": 0.0, "NOT_AVAILABLE": 1.0}, "avStatus":"NOT_AVAILABLE", "inStock":false, "ATS": 0.0, "inStockDate": "Fri Dec 13 12:00:00 GMT 2013" , "pricing": {"standard": "24.0", "sale": "20.99", "isPromoPrice": false, "quantities": [ {"unit": "", "value": "1.0"} ]} }, {"id": "AM768_XL_FLO", "attributes": { "color": "Florescent" , "size": "XL" }, "avLevels": {"IN_STOCK": 1.0, "PREORDER": 0.0, "BACKORDER": 0.0, "NOT_AVAILABLE": 0.0}, "avStatus":"IN_STOCK", "inStock":true, "ATS": 1.0, "inStockDate": "Fri Dec 13 12:00:00 GMT 2013" , "pricing": {"standard": "24.0", "sale": "20.99", "isPromoPrice": false, "quantities": [ {"unit": "", "value": "1.0"} ]} }, {"id": "AM768_XL_FRE", "attributes": { "color": "Fiery Red" , "size": "XL" }, "avLevels": {"IN_STOCK": 0.0, "PREORDER": 0.0, "BACKORDER": 0.0, "NOT_AVAILABLE": 1.0}, "avStatus":"NOT_AVAILABLE", "inStock":false, "ATS": 0.0, "inStockDate": "Fri Dec 13 12:00:00 GMT 2013" , "pricing": {"standard": "24.0", "sale": "20.99", "isPromoPrice": false, "quantities": [ {"unit": "", "value": "1.0"} ]} }, {"id": "AM768_XL_TUR", "attributes": { "color": "Turquoise" , "size": "XL" }, "avLevels": {"IN_STOCK": 0.0, "PREORDER": 0.0, "BACKORDER": 0.0, "NOT_AVAILABLE": 1.0}, "avStatus":"NOT_AVAILABLE", "inStock":false, "ATS": 0.0, "inStockDate": "Fri Dec 13 12:00:00 GMT 2013" , "pricing": {"standard": "24.0", "sale": "20.99", "isPromoPrice": false, "quantities": [ {"unit": "", "value": "1.0"} ]} }, {"id": "AM768_XL_WHI", "attributes": { "color": "White" , "size": "XL" }, "avLevels": {"IN_STOCK": 0.0, "PREORDER": 0.0, "BACKORDER": 0.0, "NOT_AVAILABLE": 1.0}, "avStatus":"NOT_AVAILABLE", "inStock":false, "ATS": 0.0, "inStockDate": "Fri Dec 13 12:00:00 GMT 2013" , "pricing": {"standard": "24.0", "sale": "20.99", "isPromoPrice": false, "quantities": [ {"unit": "", "value": "1.0"} ]} } ] }}