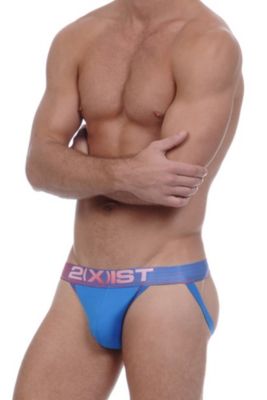 {"imageName":"http://s7d2.scene7.com/is/image/UnderGear/AM224_BSV_1113SBB?$dwpp$"}
{"imageName":"http://s7d2.scene7.com/is/image/UnderGear/AM224_BFV_1113SBB?$dwpp$"}
{"imageName":"http://s7d2.scene7.com/is/image/UnderGear/AM224_TQSV_1113SBB?$dwpp$"}
{"imageName":"http://s7d2.scene7.com/is/image/UnderGear/AM224_TQFV_1113SBB?$dwpp$"}
{"imageName":"http://s7d2.scene7.com/is/image/UnderGear/AM224_RSV_1113SBB?$dwpp$"}
{"imageName":"http://s7d2.scene7.com/is/image/UnderGear/AM224_RFV_1113SBB?$dwpp$"}
2(X)IST® Speed Jockstrap
UG # AM224
Special Offer:
20% OFF 3 OR MORE ITEMS (Details)
Select Quantity
Print
Men's jockstrap underwear
Nylon / spandex underwear for men
Machine wash
Imported
2xist underwear style 3103712203
Keep up with the competition in this sporty men's jockstrap underwear from 2xist. The 2xist Speed No Show Jockstrap is low-rising men's underwear designed for activity, thanks to the 2xist Wicking Tech – a performance-enhanced stretch blend of nylon and spandex that helps keep you dry when working up a sweat. The jockstrap also features 2xist's original contour pouch for boost and support, and a dual-printed logo waistband. Choose from three eye-popping color schemes: Poppy Red, Pro Blue or Turquoise.
{ "variations": { "variants": [ {"id": "AM224_L_PBL", "attributes": { "color": "Pro Blue" , "size": "L" }, "avLevels": {"IN_STOCK": 0.0, "PREORDER": 0.0, "BACKORDER": 0.0, "NOT_AVAILABLE": 1.0}, "avStatus":"NOT_AVAILABLE", "inStock":false, "ATS": 0.0, "inStockDate": "Fri Dec 13 12:00:00 GMT 2013" , "pricing": {"standard": "24.0", "sale": "20.99", "isPromoPrice": false, "quantities": [ {"unit": "", "value": "1.0"} ]} }, {"id": "AM224_L_PRE", "attributes": { "color": "Poppy Red" , "size": "L" }, "avLevels": {"IN_STOCK": 0.0, "PREORDER": 0.0, "BACKORDER": 0.0, "NOT_AVAILABLE": 1.0}, "avStatus":"NOT_AVAILABLE", "inStock":false, "ATS": 0.0, "inStockDate": "Fri Dec 13 12:00:00 GMT 2013" , "pricing": {"standard": "24.0", "sale": "20.99", "isPromoPrice": false, "quantities": [ {"unit": "", "value": "1.0"} ]} }, {"id": "AM224_L_TUR", "attributes": { "color": "Turquoise" , "size": "L" }, "avLevels": {"IN_STOCK": 0.0, "PREORDER": 0.0, "BACKORDER": 0.0, "NOT_AVAILABLE": 1.0}, "avStatus":"NOT_AVAILABLE", "inStock":false, "ATS": 0.0, "inStockDate": "Fri Dec 13 12:00:00 GMT 2013" , "pricing": {"standard": "24.0", "sale": "20.99", "isPromoPrice": false, "quantities": [ {"unit": "", "value": "1.0"} ]} }, {"id": "AM224_M_PBL", "attributes": { "color": "Pro Blue" , "size": "M" }, "avLevels": {"IN_STOCK": 0.0, "PREORDER": 0.0, "BACKORDER": 0.0, "NOT_AVAILABLE": 1.0}, "avStatus":"NOT_AVAILABLE", "inStock":false, "ATS": 0.0, "inStockDate": "Fri Dec 13 12:00:00 GMT 2013" , "pricing": {"standard": "24.0", "sale": "20.99", "isPromoPrice": false, "quantities": [ {"unit": "", "value": "1.0"} ]} }, {"id": "AM224_M_PRE", "attributes": { "color": "Poppy Red" , "size": "M" }, "avLevels": {"IN_STOCK": 0.0, "PREORDER": 0.0, "BACKORDER": 0.0, "NOT_AVAILABLE": 1.0}, "avStatus":"NOT_AVAILABLE", "inStock":false, "ATS": 0.0, "inStockDate": "Fri Dec 13 12:00:00 GMT 2013" , "pricing": {"standard": "24.0", "sale": "20.99", "isPromoPrice": false, "quantities": [ {"unit": "", "value": "1.0"} ]} }, {"id": "AM224_M_TUR", "attributes": { "color": "Turquoise" , "size": "M" }, "avLevels": {"IN_STOCK": 0.0, "PREORDER": 0.0, "BACKORDER": 0.0, "NOT_AVAILABLE": 1.0}, "avStatus":"NOT_AVAILABLE", "inStock":false, "ATS": 0.0, "inStockDate": "Fri Dec 13 12:00:00 GMT 2013" , "pricing": {"standard": "24.0", "sale": "20.99", "isPromoPrice": false, "quantities": [ {"unit": "", "value": "1.0"} ]} }, {"id": "AM224_S_PBL", "attributes": { "color": "Pro Blue" , "size": "S" }, "avLevels": {"IN_STOCK": 0.0, "PREORDER": 0.0, "BACKORDER": 0.0, "NOT_AVAILABLE": 1.0}, "avStatus":"NOT_AVAILABLE", "inStock":false, "ATS": 0.0, "inStockDate": "Fri Dec 13 12:00:00 GMT 2013" , "pricing": {"standard": "24.0", "sale": "20.99", "isPromoPrice": false, "quantities": [ {"unit": "", "value": "1.0"} ]} }, {"id": "AM224_S_PRE", "attributes": { "color": "Poppy Red" , "size": "S" }, "avLevels": {"IN_STOCK": 0.0, "PREORDER": 0.0, "BACKORDER": 0.0, "NOT_AVAILABLE": 1.0}, "avStatus":"NOT_AVAILABLE", "inStock":false, "ATS": 0.0, "inStockDate": "Fri Dec 13 12:00:00 GMT 2013" , "pricing": {"standard": "24.0", "sale": "20.99", "isPromoPrice": false, "quantities": [ {"unit": "", "value": "1.0"} ]} }, {"id": "AM224_S_TUR", "attributes": { "color": "Turquoise" , "size": "S" }, "avLevels": {"IN_STOCK": 0.0, "PREORDER": 0.0, "BACKORDER": 0.0, "NOT_AVAILABLE": 1.0}, "avStatus":"NOT_AVAILABLE", "inStock":false, "ATS": 0.0, "inStockDate": "Fri Dec 13 12:00:00 GMT 2013" , "pricing": {"standard": "24.0", "sale": "20.99", "isPromoPrice": false, "quantities": [ {"unit": "", "value": "1.0"} ]} }, {"id": "AM224_XL_PBL", "attributes": { "color": "Pro Blue" , "size": "XL" }, "avLevels": {"IN_STOCK": 0.0, "PREORDER": 0.0, "BACKORDER": 0.0, "NOT_AVAILABLE": 1.0}, "avStatus":"NOT_AVAILABLE", "inStock":false, "ATS": 0.0, "inStockDate": "Fri Dec 13 12:00:00 GMT 2013" , "pricing": {"standard": "24.0", "sale": "20.99", "isPromoPrice": false, "quantities": [ {"unit": "", "value": "1.0"} ]} }, {"id": "AM224_XL_PRE", "attributes": { "color": "Poppy Red" , "size": "XL" }, "avLevels": {"IN_STOCK": 0.0, "PREORDER": 0.0, "BACKORDER": 0.0, "NOT_AVAILABLE": 1.0}, "avStatus":"NOT_AVAILABLE", "inStock":false, "ATS": 0.0, "inStockDate": "Fri Dec 13 12:00:00 GMT 2013" , "pricing": {"standard": "24.0", "sale": "20.99", "isPromoPrice": false, "quantities": [ {"unit": "", "value": "1.0"} ]} }, {"id": "AM224_XL_TUR", "attributes": { "color": "Turquoise" , "size": "XL" }, "avLevels": {"IN_STOCK": 0.0, "PREORDER": 0.0, "BACKORDER": 0.0, "NOT_AVAILABLE": 1.0}, "avStatus":"NOT_AVAILABLE", "inStock":false, "ATS": 0.0, "inStockDate": "Fri Dec 13 12:00:00 GMT 2013" , "pricing": {"standard": "24.0", "sale": "20.99", "isPromoPrice": false, "quantities": [ {"unit": "", "value": "1.0"} ]} } ] }}