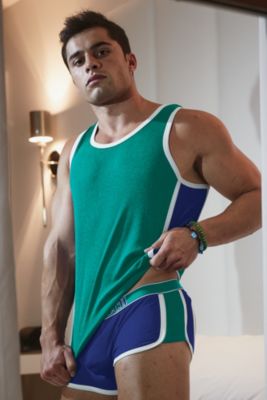 Body Tech® Track Tank
UG # AM350
Special Offer:
20% OFF 3 OR MORE ITEMS (Details)
Select Quantity
Print
Men's tank top
Rayon/polyester/spandex tank top for men
Machine wash
Imported
Body Tech style number AM350
The Body Tech Track men's tank top puts your athletic prowess front and center. Featuring a cool colorblock design, skinny ribbed texture, contrast piping and a subtle sheen, this sexy Body Tech tank top for men pairs with the matching jock trunks, boxer briefs and briefs. Combine these men's underwear essentials for a complete look. You can also wear the Body Tech tank with jeans or athletic pants for casual-cool style.
{ "variations": { "variants": [ {"id": "AM350_L_GRE", "attributes": { "color": "Green" , "size": "L" }, "avLevels": {"IN_STOCK": 1.0, "PREORDER": 0.0, "BACKORDER": 0.0, "NOT_AVAILABLE": 0.0}, "avStatus":"IN_STOCK", "inStock":true, "ATS": 169.0, "inStockDate": "Sat Dec 07 12:00:00 GMT 2013" , "pricing": {"standard": "22.0", "sale": "22.0", "isPromoPrice": false, "quantities": [ {"unit": "", "value": "1.0"} ]} }, {"id": "AM350_L_NAV", "attributes": { "color": "Navy" , "size": "L" }, "avLevels": {"IN_STOCK": 1.0, "PREORDER": 0.0, "BACKORDER": 0.0, "NOT_AVAILABLE": 0.0}, "avStatus":"IN_STOCK", "inStock":true, "ATS": 217.0, "inStockDate": "Sat Dec 07 12:00:00 GMT 2013" , "pricing": {"standard": "22.0", "sale": "22.0", "isPromoPrice": false, "quantities": [ {"unit": "", "value": "1.0"} ]} }, {"id": "AM350_M_GRE", "attributes": { "color": "Green" , "size": "M" }, "avLevels": {"IN_STOCK": 1.0, "PREORDER": 0.0, "BACKORDER": 0.0, "NOT_AVAILABLE": 0.0}, "avStatus":"IN_STOCK", "inStock":true, "ATS": 221.0, "inStockDate": "Sat Dec 07 12:00:00 GMT 2013" , "pricing": {"standard": "22.0", "sale": "22.0", "isPromoPrice": false, "quantities": [ {"unit": "", "value": "1.0"} ]} }, {"id": "AM350_M_NAV", "attributes": { "color": "Navy" , "size": "M" }, "avLevels": {"IN_STOCK": 1.0, "PREORDER": 0.0, "BACKORDER": 0.0, "NOT_AVAILABLE": 0.0}, "avStatus":"IN_STOCK", "inStock":true, "ATS": 240.0, "inStockDate": "Sat Dec 07 12:00:00 GMT 2013" , "pricing": {"standard": "22.0", "sale": "22.0", "isPromoPrice": false, "quantities": [ {"unit": "", "value": "1.0"} ]} }, {"id": "AM350_S_GRE", "attributes": { "color": "Green" , "size": "S" }, "avLevels": {"IN_STOCK": 1.0, "PREORDER": 0.0, "BACKORDER": 0.0, "NOT_AVAILABLE": 0.0}, "avStatus":"IN_STOCK", "inStock":true, "ATS": 143.0, "inStockDate": "Sat Dec 07 12:00:00 GMT 2013" , "pricing": {"standard": "22.0", "sale": "22.0", "isPromoPrice": false, "quantities": [ {"unit": "", "value": "1.0"} ]} }, {"id": "AM350_S_NAV", "attributes": { "color": "Navy" , "size": "S" }, "avLevels": {"IN_STOCK": 1.0, "PREORDER": 0.0, "BACKORDER": 0.0, "NOT_AVAILABLE": 0.0}, "avStatus":"IN_STOCK", "inStock":true, "ATS": 165.0, "inStockDate": "Sat Dec 07 12:00:00 GMT 2013" , "pricing": {"standard": "22.0", "sale": "22.0", "isPromoPrice": false, "quantities": [ {"unit": "", "value": "1.0"} ]} }, {"id": "AM350_XL_GRE", "attributes": { "color": "Green" , "size": "XL" }, "avLevels": {"IN_STOCK": 1.0, "PREORDER": 0.0, "BACKORDER": 0.0, "NOT_AVAILABLE": 0.0}, "avStatus":"IN_STOCK", "inStock":true, "ATS": 191.0, "inStockDate": "Sat Dec 07 12:00:00 GMT 2013" , "pricing": {"standard": "22.0", "sale": "22.0", "isPromoPrice": false, "quantities": [ {"unit": "", "value": "1.0"} ]} }, {"id": "AM350_XL_NAV", "attributes": { "color": "Navy" , "size": "XL" }, "avLevels": {"IN_STOCK": 1.0, "PREORDER": 0.0, "BACKORDER": 0.0, "NOT_AVAILABLE": 0.0}, "avStatus":"IN_STOCK", "inStock":true, "ATS": 232.0, "inStockDate": "Sat Dec 07 12:00:00 GMT 2013" , "pricing": {"standard": "22.0", "sale": "22.0", "isPromoPrice": false, "quantities": [ {"unit": "", "value": "1.0"} ]} } ] }}