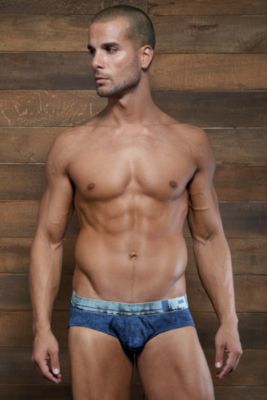 {"imageName":"http://s7d2.scene7.com/is/image/UnderGear/AM483_INFV_UGP13?$dwpp$"}
{"imageName":"http://s7d2.scene7.com/is/image/UnderGear/AM483_WFV_UGP13?$dwpp$"}
{"imageName":"http://s7d2.scene7.com/is/image/UnderGear/AM483_WBV_UGP13?$dwpp$"}
{"imageName":"http://s7d2.scene7.com/is/image/UnderGear/AM483_CRFV_UGP13?$dwpp$"}
{"imageName":"http://s7d2.scene7.com/is/image/UnderGear/AM483_CRBV_UGP13?$dwpp$"}
C-IN2® Filthy LNS Brief
UG # AM483
Special Offer:
30% OFF ORDER (Details)
Select Quantity
Print
Men's briefs
Cotton/spandex underwear for men
Machine wash
Imported
C-IN2 underwear style 5013S13
Filthy is the new sexy. Designed with a Lo No Show profile, C-IN2 Filthy men's briefs feature textured stretch cotton fabric that's been hand-rubbed with pigments and dyes to create a beat-up, worked-out look. Offering a comfortable contoured fit in sleek stretch cotton, the essential C-IN2 briefs also have a center seam contoured pouch so you can flaunt your Filthy in flattering style.
{ "variations": { "variants": [ {"id": "AM483_L_CRE", "attributes": { "color": "Code Red" , "size": "L" }, "avLevels": {"IN_STOCK": 1.0, "PREORDER": 0.0, "BACKORDER": 0.0, "NOT_AVAILABLE": 0.0}, "avStatus":"IN_STOCK", "inStock":true, "ATS": 3.0, "inStockDate": "Sun Dec 15 12:00:00 GMT 2013" , "pricing": {"standard": "25.0", "sale": "17.99", "isPromoPrice": false, "quantities": [ {"unit": "", "value": "1.0"} ]} }, {"id": "AM483_L_MIN", "attributes": { "color": "Moon Indigo" , "size": "L" }, "avLevels": {"IN_STOCK": 0.0, "PREORDER": 0.0, "BACKORDER": 0.0, "NOT_AVAILABLE": 1.0}, "avStatus":"NOT_AVAILABLE", "inStock":false, "ATS": 0.0, "inStockDate": "Sun Dec 15 12:00:00 GMT 2013" , "pricing": {"standard": "25.0", "sale": "17.99", "isPromoPrice": false, "quantities": [ {"unit": "", "value": "1.0"} ]} }, {"id": "AM483_L_WHI", "attributes": { "color": "White" , "size": "L" }, "avLevels": {"IN_STOCK": 1.0, "PREORDER": 0.0, "BACKORDER": 0.0, "NOT_AVAILABLE": 0.0}, "avStatus":"IN_STOCK", "inStock":true, "ATS": 2.0, "inStockDate": "Sun Dec 15 12:00:00 GMT 2013" , "pricing": {"standard": "25.0", "sale": "17.99", "isPromoPrice": false, "quantities": [ {"unit": "", "value": "1.0"} ]} }, {"id": "AM483_M_CRE", "attributes": { "color": "Code Red" , "size": "M" }, "avLevels": {"IN_STOCK": 1.0, "PREORDER": 0.0, "BACKORDER": 0.0, "NOT_AVAILABLE": 0.0}, "avStatus":"IN_STOCK", "inStock":true, "ATS": 5.0, "inStockDate": "Sun Dec 15 12:00:00 GMT 2013" , "pricing": {"standard": "25.0", "sale": "17.99", "isPromoPrice": false, "quantities": [ {"unit": "", "value": "1.0"} ]} }, {"id": "AM483_M_MIN", "attributes": { "color": "Moon Indigo" , "size": "M" }, "avLevels": {"IN_STOCK": 0.0, "PREORDER": 0.0, "BACKORDER": 0.0, "NOT_AVAILABLE": 1.0}, "avStatus":"NOT_AVAILABLE", "inStock":false, "ATS": 0.0, "inStockDate": "Sun Dec 15 12:00:00 GMT 2013" , "pricing": {"standard": "25.0", "sale": "17.99", "isPromoPrice": false, "quantities": [ {"unit": "", "value": "1.0"} ]} }, {"id": "AM483_M_WHI", "attributes": { "color": "White" , "size": "M" }, "avLevels": {"IN_STOCK": 1.0, "PREORDER": 0.0, "BACKORDER": 0.0, "NOT_AVAILABLE": 0.0}, "avStatus":"IN_STOCK", "inStock":true, "ATS": 1.0, "inStockDate": "Sun Dec 15 12:00:00 GMT 2013" , "pricing": {"standard": "25.0", "sale": "17.99", "isPromoPrice": false, "quantities": [ {"unit": "", "value": "1.0"} ]} }, {"id": "AM483_S_CRE", "attributes": { "color": "Code Red" , "size": "S" }, "avLevels": {"IN_STOCK": 0.0, "PREORDER": 0.0, "BACKORDER": 0.0, "NOT_AVAILABLE": 1.0}, "avStatus":"NOT_AVAILABLE", "inStock":false, "ATS": 0.0, "inStockDate": "Sun Dec 15 12:00:00 GMT 2013" , "pricing": {"standard": "25.0", "sale": "17.99", "isPromoPrice": false, "quantities": [ {"unit": "", "value": "1.0"} ]} }, {"id": "AM483_S_MIN", "attributes": { "color": "Moon Indigo" , "size": "S" }, "avLevels": {"IN_STOCK": 0.0, "PREORDER": 0.0, "BACKORDER": 0.0, "NOT_AVAILABLE": 1.0}, "avStatus":"NOT_AVAILABLE", "inStock":false, "ATS": 0.0, "inStockDate": "Sun Dec 15 12:00:00 GMT 2013" , "pricing": {"standard": "25.0", "sale": "17.99", "isPromoPrice": false, "quantities": [ {"unit": "", "value": "1.0"} ]} }, {"id": "AM483_S_WHI", "attributes": { "color": "White" , "size": "S" }, "avLevels": {"IN_STOCK": 0.0, "PREORDER": 0.0, "BACKORDER": 0.0, "NOT_AVAILABLE": 1.0}, "avStatus":"NOT_AVAILABLE", "inStock":false, "ATS": 0.0, "inStockDate": "Sun Dec 15 12:00:00 GMT 2013" , "pricing": {"standard": "25.0", "sale": "17.99", "isPromoPrice": false, "quantities": [ {"unit": "", "value": "1.0"} ]} }, {"id": "AM483_XL_CRE", "attributes": { "color": "Code Red" , "size": "XL" }, "avLevels": {"IN_STOCK": 0.0, "PREORDER": 0.0, "BACKORDER": 0.0, "NOT_AVAILABLE": 1.0}, "avStatus":"NOT_AVAILABLE", "inStock":false, "ATS": 0.0, "inStockDate": "Sun Dec 15 12:00:00 GMT 2013" , "pricing": {"standard": "25.0", "sale": "17.99", "isPromoPrice": false, "quantities": [ {"unit": "", "value": "1.0"} ]} }, {"id": "AM483_XL_MIN", "attributes": { "color": "Moon Indigo" , "size": "XL" }, "avLevels": {"IN_STOCK": 0.0, "PREORDER": 0.0, "BACKORDER": 0.0, "NOT_AVAILABLE": 1.0}, "avStatus":"NOT_AVAILABLE", "inStock":false, "ATS": 0.0, "inStockDate": "Sun Dec 15 12:00:00 GMT 2013" , "pricing": {"standard": "25.0", "sale": "17.99", "isPromoPrice": false, "quantities": [ {"unit": "", "value": "1.0"} ]} }, {"id": "AM483_XL_WHI", "attributes": { "color": "White" , "size": "XL" }, "avLevels": {"IN_STOCK": 1.0, "PREORDER": 0.0, "BACKORDER": 0.0, "NOT_AVAILABLE": 0.0}, "avStatus":"IN_STOCK", "inStock":true, "ATS": 1.0, "inStockDate": "Sun Dec 15 12:00:00 GMT 2013" , "pricing": {"standard": "25.0", "sale": "17.99", "isPromoPrice": false, "quantities": [ {"unit": "", "value": "1.0"} ]} } ] }}