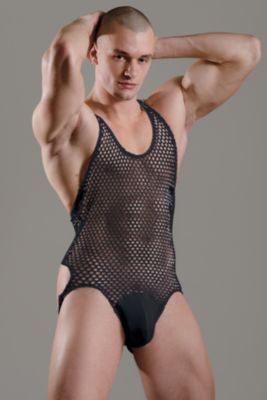 California Muscle® Night Rider Body Jock
UG # AL889
Select Quantity
Print
Men's jockstrap bodysuit
Men's erotic underwear made from sheer nylon/spandex
Machine wash
Made in USA
California Muscle underwear style B556
Say "yes" to a whole new level of men's erotic underwear with this incredible body jock from California Muscle. Made from a soft, sheer blend of nylon and spandex, the California Muscle Night Rider Body Jock features an airy mesh net design to keep you cool while you tease and tantalize. A racer-styled back and generous pouch gives this erotic underwear its perfect fit. A deep front with seams brings definition and attention to your pumped up chest and sculptured abs. A jockstrap-style bottom has snaps on the straps to allow for easy access.]>
true
true
2012-08-15T04:01:00.000Z
true
true
B556
California Muscle® Night Rider Body Jockstrap Bodysuit Underwear | UnderGear
Mens jockstrap bodysuit Made from a soft, sheer blend of nylon and spandex. The Body Jock features an airy mesh net design to keep you cool.
mens extreme underwear, sexy mens underwear, mens erotic underwear, maximum exposure underwear
ug-hidden-categories-Q
1
1
California Muscle® Maintainer Thong
<![CDATA[
Men's sheer thong
Men's sheer underwear made from nylon/spandex
Machine wash
Made in USA
California Muscle underwear style U503

Flaunt everything you've got in this hi-tech men's thong from California Muscle. Made from nylon and spandex, this men's sheer underwear from California Muscle is softer than silk and employs the Maintainer Ring – a double-noose fabric ring that extends from the back of the underwear to ensure that you will be the envy of all when you show off your goods.
{ "variations": { "variants": [ {"id": "AL889_S_BA", "attributes": { "color": "Black" , "size": "S" }, "avLevels": {"IN_STOCK": 0.0, "PREORDER": 0.0, "BACKORDER": 0.0, "NOT_AVAILABLE": 1.0}, "avStatus":"NOT_AVAILABLE", "inStock":false, "ATS": 0.0, "inStockDate": "Tue Dec 31 12:00:00 GMT 2030" , "pricing": {"standard": "37.0", "sale": "29.0", "isPromoPrice": false, "quantities": [ {"unit": "", "value": "1.0"} ]} }, {"id": "AL889_L_BA", "attributes": { "color": "Black" , "size": "L" }, "avLevels": {"IN_STOCK": 0.0, "PREORDER": 0.0, "BACKORDER": 0.0, "NOT_AVAILABLE": 1.0}, "avStatus":"NOT_AVAILABLE", "inStock":false, "ATS": 0.0, "inStockDate": "Fri Sep 21 12:00:00 GMT 2012" , "pricing": {"standard": "37.0", "sale": "29.0", "isPromoPrice": false, "quantities": [ {"unit": "", "value": "1.0"} ]} }, {"id": "AL889_M_WI", "attributes": { "color": "White" , "size": "M" }, "avLevels": {"IN_STOCK": 0.0, "PREORDER": 0.0, "BACKORDER": 0.0, "NOT_AVAILABLE": 1.0}, "avStatus":"NOT_AVAILABLE", "inStock":false, "ATS": 0.0, "inStockDate": "Tue Dec 31 12:00:00 GMT 2030" , "pricing": {"standard": "37.0", "sale": "29.0", "isPromoPrice": false, "quantities": [ {"unit": "", "value": "1.0"} ]} }, {"id": "AL889_XL_WI", "attributes": { "color": "White" , "size": "XL" }, "avLevels": {"IN_STOCK": 0.0, "PREORDER": 0.0, "BACKORDER": 0.0, "NOT_AVAILABLE": 1.0}, "avStatus":"NOT_AVAILABLE", "inStock":false, "ATS": 0.0, "inStockDate": "Tue Dec 31 12:00:00 GMT 2030" , "pricing": {"standard": "37.0", "sale": "29.0", "isPromoPrice": false, "quantities": [ {"unit": "", "value": "1.0"} ]} }, {"id": "AL889_S_WI", "attributes": { "color": "White" , "size": "S" }, "avLevels": {"IN_STOCK": 0.0, "PREORDER": 0.0, "BACKORDER": 0.0, "NOT_AVAILABLE": 1.0}, "avStatus":"NOT_AVAILABLE", "inStock":false, "ATS": 0.0, "inStockDate": "Tue Dec 31 12:00:00 GMT 2030" , "pricing": {"standard": "37.0", "sale": "29.0", "isPromoPrice": false, "quantities": [ {"unit": "", "value": "1.0"} ]} }, {"id": "AL889_M_BA", "attributes": { "color": "Black" , "size": "M" }, "avLevels": {"IN_STOCK": 0.0, "PREORDER": 0.0, "BACKORDER": 0.0, "NOT_AVAILABLE": 1.0}, "avStatus":"NOT_AVAILABLE", "inStock":false, "ATS": 0.0, "inStockDate": "Tue Dec 31 12:00:00 GMT 2030" , "pricing": {"standard": "37.0", "sale": "29.0", "isPromoPrice": false, "quantities": [ {"unit": "", "value": "1.0"} ]} }, {"id": "AL889_XL_BA", "attributes": { "color": "Black" , "size": "XL" }, "avLevels": {"IN_STOCK": 0.0, "PREORDER": 0.0, "BACKORDER": 0.0, "NOT_AVAILABLE": 1.0}, "avStatus":"NOT_AVAILABLE", "inStock":false, "ATS": 0.0, "inStockDate": "Tue Dec 31 12:00:00 GMT 2030" , "pricing": {"standard": "37.0", "sale": "29.0", "isPromoPrice": false, "quantities": [ {"unit": "", "value": "1.0"} ]} }, {"id": "AL889_L_WI", "attributes": { "color": "White" , "size": "L" }, "avLevels": {"IN_STOCK": 0.0, "PREORDER": 0.0, "BACKORDER": 0.0, "NOT_AVAILABLE": 1.0}, "avStatus":"NOT_AVAILABLE", "inStock":false, "ATS": 0.0, "inStockDate": "Tue Dec 31 12:00:00 GMT 2030" , "pricing": {"standard": "37.0", "sale": "29.0", "isPromoPrice": false, "quantities": [ {"unit": "", "value": "1.0"} ]} } ] }}