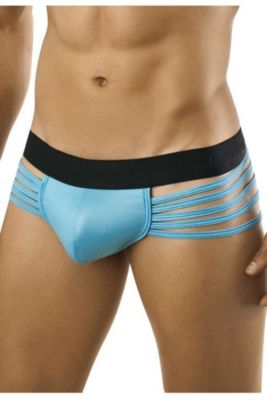 {"imageName":"http://s7d2.scene7.com/is/image/UnderGear/AM690_BLFV_71113?$dwpp$"}
{"imageName":"http://s7d2.scene7.com/is/image/UnderGear/AM690_BLBV_71113?$dwpp$"}
{"imageName":"http://s7d2.scene7.com/is/image/UnderGear/AM690_BFV_71113?$dwpp$"}
{"imageName":"http://s7d2.scene7.com/is/image/UnderGear/AM690_BBV_71113?$dwpp$"}
Candyman® Web Thong
UG # AM690
Special Offer:
20% OFF 3 OR MORE ITEMS (Details)
Select Quantity
Print
Men's thong
Polyester / spandex underwear for men
Machine wash
Imported
Candyman underwear style 9564
Edgy and unique, the Candyman Web Thong for men has just raised the bar for designer men's underwear. Made with a leatherette type material, this sleek men's thong from Candyman features multiple thin elastic straps on the side for a web-like look. The Candyman men's thong also features an enhancing pouch to give your goods an extra boost and an elastic waistband embroidered with the Candyman logo. Available in black or blue.
{ "variations": { "variants": [ {"id": "AM690_L_BLA", "attributes": { "color": "Black" , "size": "L" }, "avLevels": {"IN_STOCK": 0.0, "PREORDER": 0.0, "BACKORDER": 0.0, "NOT_AVAILABLE": 1.0}, "avStatus":"NOT_AVAILABLE", "inStock":false, "ATS": 0.0, "inStockDate": "Wed May 14 12:00:00 GMT 2014" , "pricing": {"standard": "21.0", "sale": "21.0", "isPromoPrice": false, "quantities": [ {"unit": "", "value": "1.0"} ]} }, {"id": "AM690_L_BLU", "attributes": { "color": "Blue" , "size": "L" }, "avLevels": {"IN_STOCK": 0.0, "PREORDER": 0.0, "BACKORDER": 0.0, "NOT_AVAILABLE": 1.0}, "avStatus":"NOT_AVAILABLE", "inStock":false, "ATS": 0.0, "inStockDate": "Wed Feb 26 12:00:00 GMT 2014" , "pricing": {"standard": "21.0", "sale": "21.0", "isPromoPrice": false, "quantities": [ {"unit": "", "value": "1.0"} ]} }, {"id": "AM690_M_BLA", "attributes": { "color": "Black" , "size": "M" }, "avLevels": {"IN_STOCK": 0.0, "PREORDER": 0.0, "BACKORDER": 0.0, "NOT_AVAILABLE": 1.0}, "avStatus":"NOT_AVAILABLE", "inStock":false, "ATS": 0.0, "inStockDate": "Wed Feb 26 12:00:00 GMT 2014" , "pricing": {"standard": "21.0", "sale": "21.0", "isPromoPrice": false, "quantities": [ {"unit": "", "value": "1.0"} ]} }, {"id": "AM690_M_BLU", "attributes": { "color": "Blue" , "size": "M" }, "avLevels": {"IN_STOCK": 0.0, "PREORDER": 0.0, "BACKORDER": 0.0, "NOT_AVAILABLE": 1.0}, "avStatus":"NOT_AVAILABLE", "inStock":false, "ATS": 0.0, "inStockDate": "Wed Feb 26 12:00:00 GMT 2014" , "pricing": {"standard": "21.0", "sale": "21.0", "isPromoPrice": false, "quantities": [ {"unit": "", "value": "1.0"} ]} }, {"id": "AM690_S_BLA", "attributes": { "color": "Black" , "size": "S" }, "avLevels": {"IN_STOCK": 0.0, "PREORDER": 0.0, "BACKORDER": 0.0, "NOT_AVAILABLE": 1.0}, "avStatus":"NOT_AVAILABLE", "inStock":false, "ATS": 0.0, "inStockDate": "Wed Feb 26 12:00:00 GMT 2014" , "pricing": {"standard": "21.0", "sale": "21.0", "isPromoPrice": false, "quantities": [ {"unit": "", "value": "1.0"} ]} }, {"id": "AM690_S_BLU", "attributes": { "color": "Blue" , "size": "S" }, "avLevels": {"IN_STOCK": 0.0, "PREORDER": 0.0, "BACKORDER": 0.0, "NOT_AVAILABLE": 1.0}, "avStatus":"NOT_AVAILABLE", "inStock":false, "ATS": 0.0, "inStockDate": "Wed Feb 26 12:00:00 GMT 2014" , "pricing": {"standard": "21.0", "sale": "21.0", "isPromoPrice": false, "quantities": [ {"unit": "", "value": "1.0"} ]} }, {"id": "AM690_XL_BLA", "attributes": { "color": "Black" , "size": "XL" }, "avLevels": {"IN_STOCK": 0.0, "PREORDER": 0.0, "BACKORDER": 0.0, "NOT_AVAILABLE": 1.0}, "avStatus":"NOT_AVAILABLE", "inStock":false, "ATS": 0.0, "inStockDate": "Wed Feb 26 12:00:00 GMT 2014" , "pricing": {"standard": "21.0", "sale": "21.0", "isPromoPrice": false, "quantities": [ {"unit": "", "value": "1.0"} ]} }, {"id": "AM690_XL_BLU", "attributes": { "color": "Blue" , "size": "XL" }, "avLevels": {"IN_STOCK": 0.0, "PREORDER": 0.0, "BACKORDER": 0.0, "NOT_AVAILABLE": 1.0}, "avStatus":"NOT_AVAILABLE", "inStock":false, "ATS": 0.0, "inStockDate": "Wed Apr 23 12:00:00 GMT 2014" , "pricing": {"standard": "21.0", "sale": "21.0", "isPromoPrice": false, "quantities": [ {"unit": "", "value": "1.0"} ]} } ] }}