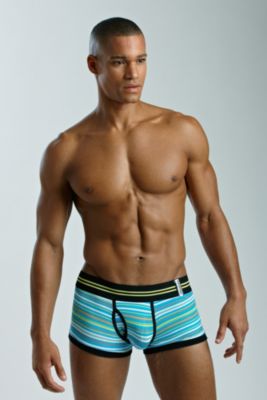 {"imageName":"http://s7d2.scene7.com/is/image/UnderGear/AM088_GRF_R12?$dwpp$"}
{"imageName":"http://s7d2.scene7.com/is/image/UnderGear/AM088_GRB_R12?$dwpp$"}
{"imageName":"http://s7d2.scene7.com/is/image/UnderGear/AM088_GBF_R12?$dwpp$"}
{"imageName":"http://s7d2.scene7.com/is/image/UnderGear/AM088_GBB_R12?$dwpp$"}
Chiko Loco Lines Trunk
UG # AM088
Special Offer:
20% OFF 3 OR MORE ITEMS (Details)
Select Quantity
Print
Men's trunks
Men's underwear made from viscose / spandex
Machine wash
Imported
Chiko Loco underwear style LO/BH/LINES
Make an impact. A modern mix of colors and thin stripes give these men's trunks from Chiko Loco their fashionably sexy look. The contemporary approach to the designs of the Chiko Loco Lines Trunks is simple and elegant. The focus of this designer men's underwear is on the quality of the fabric and the fit: a blend of viscose and spandex produces a fabric that is butter soft against your skin. You'll want to wear these trunks as often as you can. The Chiko Loco trunks feature functional fly and plush jacquard waistband.
{ "variations": { "variants": [ {"id": "AM088_L_BG", "attributes": { "color": "Blue/Green" , "size": "L" }, "avLevels": {"IN_STOCK": 1.0, "PREORDER": 0.0, "BACKORDER": 0.0, "NOT_AVAILABLE": 0.0}, "avStatus":"IN_STOCK", "inStock":true, "ATS": 6.0, "inStockDate": "Tue Dec 31 12:00:00 GMT 2030" , "pricing": {"standard": "19.0", "sale": "19.0", "isPromoPrice": false, "quantities": [ {"unit": "", "value": "1.0"} ]} }, {"id": "AM088_L_GB", "attributes": { "color": "Grey/Blue" , "size": "L" }, "avLevels": {"IN_STOCK": 0.0, "PREORDER": 0.0, "BACKORDER": 0.0, "NOT_AVAILABLE": 1.0}, "avStatus":"NOT_AVAILABLE", "inStock":false, "ATS": 0.0, "inStockDate": "Tue May 14 12:00:00 GMT 2013" , "pricing": {"standard": "19.0", "sale": "19.0", "isPromoPrice": false, "quantities": [ {"unit": "", "value": "1.0"} ]} }, {"id": "AM088_M_BG", "attributes": { "color": "Blue/Green" , "size": "M" }, "avLevels": {"IN_STOCK": 1.0, "PREORDER": 0.0, "BACKORDER": 0.0, "NOT_AVAILABLE": 0.0}, "avStatus":"IN_STOCK", "inStock":true, "ATS": 26.0, "inStockDate": "Tue Dec 31 12:00:00 GMT 2030" , "pricing": {"standard": "19.0", "sale": "19.0", "isPromoPrice": false, "quantities": [ {"unit": "", "value": "1.0"} ]} }, {"id": "AM088_M_GB", "attributes": { "color": "Grey/Blue" , "size": "M" }, "avLevels": {"IN_STOCK": 0.0, "PREORDER": 0.0, "BACKORDER": 0.0, "NOT_AVAILABLE": 1.0}, "avStatus":"NOT_AVAILABLE", "inStock":false, "ATS": 0.0, "inStockDate": "Tue May 14 12:00:00 GMT 2013" , "pricing": {"standard": "19.0", "sale": "19.0", "isPromoPrice": false, "quantities": [ {"unit": "", "value": "1.0"} ]} }, {"id": "AM088_S_BG", "attributes": { "color": "Blue/Green" , "size": "S" }, "avLevels": {"IN_STOCK": 0.0, "PREORDER": 0.0, "BACKORDER": 0.0, "NOT_AVAILABLE": 1.0}, "avStatus":"NOT_AVAILABLE", "inStock":false, "ATS": 0.0, "inStockDate": "Thu Feb 28 12:00:00 GMT 2013" , "pricing": {"standard": "19.0", "sale": "19.0", "isPromoPrice": false, "quantities": [ {"unit": "", "value": "1.0"} ]} }, {"id": "AM088_S_GB", "attributes": { "color": "Grey/Blue" , "size": "S" }, "avLevels": {"IN_STOCK": 0.0, "PREORDER": 0.0, "BACKORDER": 0.0, "NOT_AVAILABLE": 1.0}, "avStatus":"NOT_AVAILABLE", "inStock":false, "ATS": 0.0, "inStockDate": "Thu Feb 28 12:00:00 GMT 2013" , "pricing": {"standard": "19.0", "sale": "19.0", "isPromoPrice": false, "quantities": [ {"unit": "", "value": "1.0"} ]} }, {"id": "AM088_XL_BG", "attributes": { "color": "Blue/Green" , "size": "XL" }, "avLevels": {"IN_STOCK": 1.0, "PREORDER": 0.0, "BACKORDER": 0.0, "NOT_AVAILABLE": 0.0}, "avStatus":"IN_STOCK", "inStock":true, "ATS": 10.0, "inStockDate": "Tue Dec 31 12:00:00 GMT 2030" , "pricing": {"standard": "19.0", "sale": "19.0", "isPromoPrice": false, "quantities": [ {"unit": "", "value": "1.0"} ]} }, {"id": "AM088_XL_GB", "attributes": { "color": "Grey/Blue" , "size": "XL" }, "avLevels": {"IN_STOCK": 1.0, "PREORDER": 0.0, "BACKORDER": 0.0, "NOT_AVAILABLE": 0.0}, "avStatus":"IN_STOCK", "inStock":true, "ATS": 4.0, "inStockDate": "Tue Dec 31 12:00:00 GMT 2030" , "pricing": {"standard": "19.0", "sale": "19.0", "isPromoPrice": false, "quantities": [ {"unit": "", "value": "1.0"} ]} } ] }}