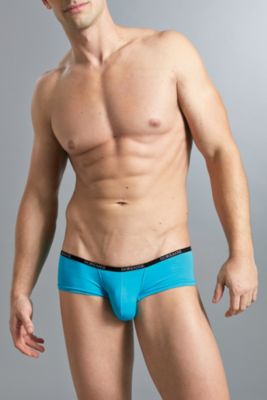 {"imageName":"http://s7d2.scene7.com/is/image/UnderGear/AN026_TQFV_Q13?$dwpp$"}
{"imageName":"http://s7d2.scene7.com/is/image/UnderGear/AN026_TQBV_Q13?$dwpp$"}
{"imageName":"http://s7d2.scene7.com/is/image/UnderGear/AN026_BF_Q13?$dwpp$"}
{"imageName":"http://s7d2.scene7.com/is/image/UnderGear/AN026_BBV_Q13?$dwpp$"}
{"imageName":"http://s7d2.scene7.com/is/image/UnderGear/AN026_SMF_Q13?$dwpp$"}
{"imageName":"http://s7d2.scene7.com/is/image/UnderGear/AN026_SMB_Q13?$dwpp$"}
{"imageName":"http://s7d2.scene7.com/is/image/UnderGear/AN026_WF_Q13?$dwpp$"}
Doreanse® Naked Mini Trunk
UG # AN026
Special Offer:
20% OFF 3 OR MORE ITEMS (Details)
Select Quantity
Print
Men's trunks
Cotton modal / Lycra underwear for men
Machine wash
Imported
Doreanse underwear style 1781
This slim-fitting, yet super-comfortable men's underwear from Doreanse is the next best thing to going naked. Sexy and soft with fine stitching, the Doreanse Naked Mini Trunks are like wearing nothing at all. Made from a blend of cotton modal and Lycra, the mini trunks feature a slim waistband highlighted by the Doreanse logo in small print.
{ "variations": { "variants": [ {"id": "AN026_XL_TURQUOISE", "attributes": { "color": "Turquoise" , "size": "XL" }, "avLevels": {"IN_STOCK": 0.0, "PREORDER": 0.0, "BACKORDER": 0.0, "NOT_AVAILABLE": 1.0}, "avStatus":"NOT_AVAILABLE", "inStock":false, "ATS": 0.0, "inStockDate": "Fri May 09 12:00:00 GMT 2014" , "pricing": {"standard": "16.0", "sale": "16.0", "isPromoPrice": false, "quantities": [ {"unit": "", "value": "1.0"} ]} }, {"id": "AN026_S_SMOKE", "attributes": { "color": "Smoke" , "size": "S" }, "avLevels": {"IN_STOCK": 0.0, "PREORDER": 0.0, "BACKORDER": 0.0, "NOT_AVAILABLE": 1.0}, "avStatus":"NOT_AVAILABLE", "inStock":false, "ATS": 0.0, "inStockDate": "Fri May 09 12:00:00 GMT 2014" , "pricing": {"standard": "16.0", "sale": "16.0", "isPromoPrice": false, "quantities": [ {"unit": "", "value": "1.0"} ]} }, {"id": "AN026_S_WHITE", "attributes": { "color": "White" , "size": "S" }, "avLevels": {"IN_STOCK": 0.0, "PREORDER": 0.0, "BACKORDER": 0.0, "NOT_AVAILABLE": 1.0}, "avStatus":"NOT_AVAILABLE", "inStock":false, "ATS": 0.0, "inStockDate": "Fri May 09 12:00:00 GMT 2014" , "pricing": {"standard": "16.0", "sale": "16.0", "isPromoPrice": false, "quantities": [ {"unit": "", "value": "1.0"} ]} }, {"id": "AN026_S_BLACK", "attributes": { "color": "Black" , "size": "S" }, "avLevels": {"IN_STOCK": 0.0, "PREORDER": 0.0, "BACKORDER": 0.0, "NOT_AVAILABLE": 1.0}, "avStatus":"NOT_AVAILABLE", "inStock":false, "ATS": 0.0, "inStockDate": "Fri May 09 12:00:00 GMT 2014" , "pricing": {"standard": "16.0", "sale": "16.0", "isPromoPrice": false, "quantities": [ {"unit": "", "value": "1.0"} ]} }, {"id": "AN026_L_SMOKE", "attributes": { "color": "Smoke" , "size": "L" }, "avLevels": {"IN_STOCK": 0.0, "PREORDER": 0.0, "BACKORDER": 0.0, "NOT_AVAILABLE": 1.0}, "avStatus":"NOT_AVAILABLE", "inStock":false, "ATS": 0.0, "inStockDate": "Fri May 09 12:00:00 GMT 2014" , "pricing": {"standard": "16.0", "sale": "16.0", "isPromoPrice": false, "quantities": [ {"unit": "", "value": "1.0"} ]} }, {"id": "AN026_L_TURQUOISE", "attributes": { "color": "Turquoise" , "size": "L" }, "avLevels": {"IN_STOCK": 0.0, "PREORDER": 0.0, "BACKORDER": 0.0, "NOT_AVAILABLE": 1.0}, "avStatus":"NOT_AVAILABLE", "inStock":false, "ATS": 0.0, "inStockDate": "Sat May 24 12:00:00 GMT 2014" , "pricing": {"standard": "16.0", "sale": "16.0", "isPromoPrice": false, "quantities": [ {"unit": "", "value": "1.0"} ]} }, {"id": "AN026_M_SMOKE", "attributes": { "color": "Smoke" , "size": "M" }, "avLevels": {"IN_STOCK": 0.0, "PREORDER": 0.0, "BACKORDER": 0.0, "NOT_AVAILABLE": 1.0}, "avStatus":"NOT_AVAILABLE", "inStock":false, "ATS": 0.0, "inStockDate": "Fri May 09 12:00:00 GMT 2014" , "pricing": {"standard": "16.0", "sale": "16.0", "isPromoPrice": false, "quantities": [ {"unit": "", "value": "1.0"} ]} }, {"id": "AN026_L_WHITE", "attributes": { "color": "White" , "size": "L" }, "avLevels": {"IN_STOCK": 1.0, "PREORDER": 0.0, "BACKORDER": 0.0, "NOT_AVAILABLE": 0.0}, "avStatus":"IN_STOCK", "inStock":true, "ATS": 2.0, "inStockDate": "Fri May 09 12:00:00 GMT 2014" , "pricing": {"standard": "16.0", "sale": "16.0", "isPromoPrice": false, "quantities": [ {"unit": "", "value": "1.0"} ]} }, {"id": "AN026_M_TURQUOISE", "attributes": { "color": "Turquoise" , "size": "M" }, "avLevels": {"IN_STOCK": 1.0, "PREORDER": 0.0, "BACKORDER": 0.0, "NOT_AVAILABLE": 0.0}, "avStatus":"IN_STOCK", "inStock":true, "ATS": 1.0, "inStockDate": "Fri May 09 12:00:00 GMT 2014" , "pricing": {"standard": "16.0", "sale": "16.0", "isPromoPrice": false, "quantities": [ {"unit": "", "value": "1.0"} ]} }, {"id": "AN026_M_BLACK", "attributes": { "color": "Black" , "size": "M" }, "avLevels": {"IN_STOCK": 0.0, "PREORDER": 0.0, "BACKORDER": 0.0, "NOT_AVAILABLE": 1.0}, "avStatus":"NOT_AVAILABLE", "inStock":false, "ATS": 0.0, "inStockDate": "Fri May 09 12:00:00 GMT 2014" , "pricing": {"standard": "16.0", "sale": "16.0", "isPromoPrice": false, "quantities": [ {"unit": "", "value": "1.0"} ]} }, {"id": "AN026_M_WHITE", "attributes": { "color": "White" , "size": "M" }, "avLevels": {"IN_STOCK": 0.0, "PREORDER": 0.0, "BACKORDER": 0.0, "NOT_AVAILABLE": 1.0}, "avStatus":"NOT_AVAILABLE", "inStock":false, "ATS": 0.0, "inStockDate": "Fri May 09 12:00:00 GMT 2014" , "pricing": {"standard": "16.0", "sale": "16.0", "isPromoPrice": false, "quantities": [ {"unit": "", "value": "1.0"} ]} }, {"id": "AN026_S_TURQUOISE", "attributes": { "color": "Turquoise" , "size": "S" }, "avLevels": {"IN_STOCK": 0.0, "PREORDER": 0.0, "BACKORDER": 0.0, "NOT_AVAILABLE": 1.0}, "avStatus":"NOT_AVAILABLE", "inStock":false, "ATS": 0.0, "inStockDate": "Fri May 09 12:00:00 GMT 2014" , "pricing": {"standard": "16.0", "sale": "16.0", "isPromoPrice": false, "quantities": [ {"unit": "", "value": "1.0"} ]} }, {"id": "AN026_XL_BLACK", "attributes": { "color": "Black" , "size": "XL" }, "avLevels": {"IN_STOCK": 0.0, "PREORDER": 0.0, "BACKORDER": 0.0, "NOT_AVAILABLE": 1.0}, "avStatus":"NOT_AVAILABLE", "inStock":false, "ATS": 0.0, "inStockDate": "Fri May 09 12:00:00 GMT 2014" , "pricing": {"standard": "16.0", "sale": "16.0", "isPromoPrice": false, "quantities": [ {"unit": "", "value": "1.0"} ]} }, {"id": "AN026_XL_WHITE", "attributes": { "color": "White" , "size": "XL" }, "avLevels": {"IN_STOCK": 0.0, "PREORDER": 0.0, "BACKORDER": 0.0, "NOT_AVAILABLE": 1.0}, "avStatus":"NOT_AVAILABLE", "inStock":false, "ATS": 0.0, "inStockDate": "Fri May 09 12:00:00 GMT 2014" , "pricing": {"standard": "16.0", "sale": "16.0", "isPromoPrice": false, "quantities": [ {"unit": "", "value": "1.0"} ]} }, {"id": "AN026_XL_SMOKE", "attributes": { "color": "Smoke" , "size": "XL" }, "avLevels": {"IN_STOCK": 0.0, "PREORDER": 0.0, "BACKORDER": 0.0, "NOT_AVAILABLE": 1.0}, "avStatus":"NOT_AVAILABLE", "inStock":false, "ATS": 0.0, "inStockDate": "Fri May 09 12:00:00 GMT 2014" , "pricing": {"standard": "16.0", "sale": "16.0", "isPromoPrice": false, "quantities": [ {"unit": "", "value": "1.0"} ]} }, {"id": "AN026_L_BLACK", "attributes": { "color": "Black" , "size": "L" }, "avLevels": {"IN_STOCK": 0.0, "PREORDER": 0.0, "BACKORDER": 0.0, "NOT_AVAILABLE": 1.0}, "avStatus":"NOT_AVAILABLE", "inStock":false, "ATS": 0.0, "inStockDate": "Fri May 09 12:00:00 GMT 2014" , "pricing": {"standard": "16.0", "sale": "16.0", "isPromoPrice": false, "quantities": [ {"unit": "", "value": "1.0"} ]} } ] }}