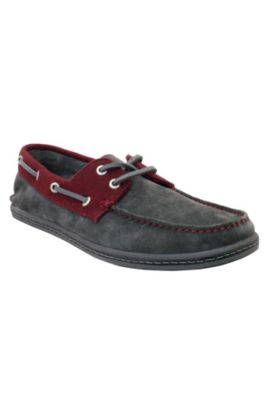 {"imageName":"http://s7d2.scene7.com/is/image/UnderGear/QC328_GRSV_UGP13?$dwpp$"}
{"imageName":"http://s7d2.scene7.com/is/image/UnderGear/QC328_GRTV_UGP13?$dwpp$"}
{"imageName":"http://s7d2.scene7.com/is/image/UnderGear/QC328_BRSV_UGP13?$dwpp$"}
{"imageName":"http://s7d2.scene7.com/is/image/UnderGear/QC328_BRFV_UGP13?$dwpp$"}
{"imageName":"http://s7d2.scene7.com/is/image/UnderGear/QC328_BRBV_UGP13?$dwpp$"}
{"imageName":"http://s7d2.scene7.com/is/image/UnderGear/QC328_BRTV_UGP13?$dwpp$"}
{"imageName":"http://s7d2.scene7.com/is/image/UnderGear/QC328_BRUV_UGP13?$dwpp$"}
GBX® Siesta Boat Shoe
UG # QC328
Special Offer:
20% OFF 3 OR MORE ITEMS (Details)
Select Quantity
Print
Men's shoes
Suede and leather boat shoes for men
Whole and half sizes 8-11, 12
Imported
GBX style 134042
Step up your game with GBX Siesta men's shoes. Velvety suede combines with classic boat shoe styling to create a bold new look brimming with texture and color. A versatile favorite that can easily be dressed up and down, GBX boat shoes for men also feature contrast leather ties, fabric lining, a cushioned footbed and rubber sole.
{ "variations": { "variants": [ {"id": "QC328_105_BRO", "attributes": { "color": "Brown" , "size": "10.5" }, "avLevels": {"IN_STOCK": 1.0, "PREORDER": 0.0, "BACKORDER": 0.0, "NOT_AVAILABLE": 0.0}, "avStatus":"IN_STOCK", "inStock":true, "ATS": 2.0, "inStockDate": "Wed Nov 06 12:00:00 GMT 2013" , "pricing": {"standard": "64.0", "sale": "59.99", "isPromoPrice": false, "quantities": [ {"unit": "", "value": "1.0"} ]} }, {"id": "QC328_105_DGR", "attributes": { "color": "Dark Gray" , "size": "10.5" }, "avLevels": {"IN_STOCK": 1.0, "PREORDER": 0.0, "BACKORDER": 0.0, "NOT_AVAILABLE": 0.0}, "avStatus":"IN_STOCK", "inStock":true, "ATS": 2.0, "inStockDate": "Wed Nov 06 12:00:00 GMT 2013" , "pricing": {"standard": "64.0", "sale": "59.99", "isPromoPrice": false, "quantities": [ {"unit": "", "value": "1.0"} ]} }, {"id": "QC328_10_BRO", "attributes": { "color": "Brown" , "size": "10" }, "avLevels": {"IN_STOCK": 1.0, "PREORDER": 0.0, "BACKORDER": 0.0, "NOT_AVAILABLE": 0.0}, "avStatus":"IN_STOCK", "inStock":true, "ATS": 6.0, "inStockDate": "Wed Nov 06 12:00:00 GMT 2013" , "pricing": {"standard": "64.0", "sale": "59.99", "isPromoPrice": false, "quantities": [ {"unit": "", "value": "1.0"} ]} }, {"id": "QC328_10_DGR", "attributes": { "color": "Dark Gray" , "size": "10" }, "avLevels": {"IN_STOCK": 1.0, "PREORDER": 0.0, "BACKORDER": 0.0, "NOT_AVAILABLE": 0.0}, "avStatus":"IN_STOCK", "inStock":true, "ATS": 6.0, "inStockDate": "Wed Nov 06 12:00:00 GMT 2013" , "pricing": {"standard": "64.0", "sale": "59.99", "isPromoPrice": false, "quantities": [ {"unit": "", "value": "1.0"} ]} }, {"id": "QC328_11_BRO", "attributes": { "color": "Brown" , "size": "11" }, "avLevels": {"IN_STOCK": 1.0, "PREORDER": 0.0, "BACKORDER": 0.0, "NOT_AVAILABLE": 0.0}, "avStatus":"IN_STOCK", "inStock":true, "ATS": 4.0, "inStockDate": "Wed Nov 06 12:00:00 GMT 2013" , "pricing": {"standard": "64.0", "sale": "59.99", "isPromoPrice": false, "quantities": [ {"unit": "", "value": "1.0"} ]} }, {"id": "QC328_11_DGR", "attributes": { "color": "Dark Gray" , "size": "11" }, "avLevels": {"IN_STOCK": 1.0, "PREORDER": 0.0, "BACKORDER": 0.0, "NOT_AVAILABLE": 0.0}, "avStatus":"IN_STOCK", "inStock":true, "ATS": 5.0, "inStockDate": "Wed Nov 06 12:00:00 GMT 2013" , "pricing": {"standard": "64.0", "sale": "59.99", "isPromoPrice": false, "quantities": [ {"unit": "", "value": "1.0"} ]} }, {"id": "QC328_12_BRO", "attributes": { "color": "Brown" , "size": "12" }, "avLevels": {"IN_STOCK": 1.0, "PREORDER": 0.0, "BACKORDER": 0.0, "NOT_AVAILABLE": 0.0}, "avStatus":"IN_STOCK", "inStock":true, "ATS": 2.0, "inStockDate": "Wed Nov 06 12:00:00 GMT 2013" , "pricing": {"standard": "64.0", "sale": "59.99", "isPromoPrice": false, "quantities": [ {"unit": "", "value": "1.0"} ]} }, {"id": "QC328_12_DGR", "attributes": { "color": "Dark Gray" , "size": "12" }, "avLevels": {"IN_STOCK": 1.0, "PREORDER": 0.0, "BACKORDER": 0.0, "NOT_AVAILABLE": 0.0}, "avStatus":"IN_STOCK", "inStock":true, "ATS": 3.0, "inStockDate": "Wed Nov 06 12:00:00 GMT 2013" , "pricing": {"standard": "64.0", "sale": "59.99", "isPromoPrice": false, "quantities": [ {"unit": "", "value": "1.0"} ]} }, {"id": "QC328_85_BRO", "attributes": { "color": "Brown" , "size": "8.5" }, "avLevels": {"IN_STOCK": 1.0, "PREORDER": 0.0, "BACKORDER": 0.0, "NOT_AVAILABLE": 0.0}, "avStatus":"IN_STOCK", "inStock":true, "ATS": 2.0, "inStockDate": "Wed Nov 06 12:00:00 GMT 2013" , "pricing": {"standard": "64.0", "sale": "59.99", "isPromoPrice": false, "quantities": [ {"unit": "", "value": "1.0"} ]} }, {"id": "QC328_85_DGR", "attributes": { "color": "Dark Gray" , "size": "8.5" }, "avLevels": {"IN_STOCK": 1.0, "PREORDER": 0.0, "BACKORDER": 0.0, "NOT_AVAILABLE": 0.0}, "avStatus":"IN_STOCK", "inStock":true, "ATS": 2.0, "inStockDate": "Wed Nov 06 12:00:00 GMT 2013" , "pricing": {"standard": "64.0", "sale": "59.99", "isPromoPrice": false, "quantities": [ {"unit": "", "value": "1.0"} ]} }, {"id": "QC328_8_BRO", "attributes": { "color": "Brown" , "size": "8" }, "avLevels": {"IN_STOCK": 1.0, "PREORDER": 0.0, "BACKORDER": 0.0, "NOT_AVAILABLE": 0.0}, "avStatus":"IN_STOCK", "inStock":true, "ATS": 3.0, "inStockDate": "Wed Nov 06 12:00:00 GMT 2013" , "pricing": {"standard": "64.0", "sale": "59.99", "isPromoPrice": false, "quantities": [ {"unit": "", "value": "1.0"} ]} }, {"id": "QC328_8_DGR", "attributes": { "color": "Dark Gray" , "size": "8" }, "avLevels": {"IN_STOCK": 1.0, "PREORDER": 0.0, "BACKORDER": 0.0, "NOT_AVAILABLE": 0.0}, "avStatus":"IN_STOCK", "inStock":true, "ATS": 3.0, "inStockDate": "Wed Nov 06 12:00:00 GMT 2013" , "pricing": {"standard": "64.0", "sale": "59.99", "isPromoPrice": false, "quantities": [ {"unit": "", "value": "1.0"} ]} }, {"id": "QC328_95_BRO", "attributes": { "color": "Brown" , "size": "9.5" }, "avLevels": {"IN_STOCK": 0.0, "PREORDER": 0.0, "BACKORDER": 0.0, "NOT_AVAILABLE": 1.0}, "avStatus":"NOT_AVAILABLE", "inStock":false, "ATS": 0.0, "inStockDate": "Wed Nov 06 12:00:00 GMT 2013" , "pricing": {"standard": "64.0", "sale": "59.99", "isPromoPrice": false, "quantities": [ {"unit": "", "value": "1.0"} ]} }, {"id": "QC328_95_DGR", "attributes": { "color": "Dark Gray" , "size": "9.5" }, "avLevels": {"IN_STOCK": 1.0, "PREORDER": 0.0, "BACKORDER": 0.0, "NOT_AVAILABLE": 0.0}, "avStatus":"IN_STOCK", "inStock":true, "ATS": 2.0, "inStockDate": "Wed Nov 06 12:00:00 GMT 2013" , "pricing": {"standard": "64.0", "sale": "59.99", "isPromoPrice": false, "quantities": [ {"unit": "", "value": "1.0"} ]} }, {"id": "QC328_9_BRO", "attributes": { "color": "Brown" , "size": "9" }, "avLevels": {"IN_STOCK": 0.0, "PREORDER": 0.0, "BACKORDER": 0.0, "NOT_AVAILABLE": 1.0}, "avStatus":"NOT_AVAILABLE", "inStock":false, "ATS": 0.0, "inStockDate": "Wed Nov 06 12:00:00 GMT 2013" , "pricing": {"standard": "64.0", "sale": "59.99", "isPromoPrice": false, "quantities": [ {"unit": "", "value": "1.0"} ]} }, {"id": "QC328_9_DGR", "attributes": { "color": "Dark Gray" , "size": "9" }, "avLevels": {"IN_STOCK": 1.0, "PREORDER": 0.0, "BACKORDER": 0.0, "NOT_AVAILABLE": 0.0}, "avStatus":"IN_STOCK", "inStock":true, "ATS": 5.0, "inStockDate": "Wed Nov 06 12:00:00 GMT 2013" , "pricing": {"standard": "64.0", "sale": "59.99", "isPromoPrice": false, "quantities": [ {"unit": "", "value": "1.0"} ]} } ] }}