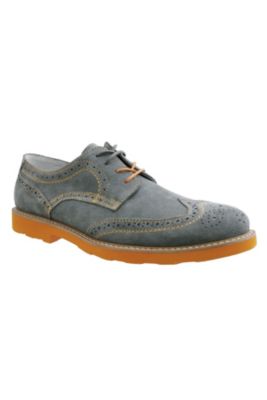 {"imageName":"http://s7d2.scene7.com/is/image/UnderGear/QC302_GR_E13?$dwpp$"}
{"imageName":"http://s7d2.scene7.com/is/image/UnderGear/QC302_GOTOP_E13?$dwpp$"}
{"imageName":"http://s7d2.scene7.com/is/image/UnderGear/QC302_GOBACK_E13?$dwpp$"}
{"imageName":"http://s7d2.scene7.com/is/image/UnderGear/QC302_GOBOT_E13?$dwpp$"}
GBX Bux Suede Oxford
UG # QC302
Special Offer:
20% OFF 3 OR MORE ITEMS (Details)
Select Quantity
Print
Men's shoes
Suede oxfords for men
Whole sizes 8-13
Imported
GBX style number QC302
Are you a wingman? GBX Bux Suede men's oxfords feature classic wingtip detailing in rich, velvety suede with contrast stitching and cool pops of color. An impeccably crafted favorite, the GBX shoes for men also have a four-grommet lace-up front, suede upper, leather lining, cushioned footbed, durable rubber traction sole and 1" heel.
{ "variations": { "variants": [ {"id": "QC302_10_GOR", "attributes": { "color": "Grey/Orange" , "size": "10" }, "avLevels": {"IN_STOCK": 1.0, "PREORDER": 0.0, "BACKORDER": 0.0, "NOT_AVAILABLE": 0.0}, "avStatus":"IN_STOCK", "inStock":true, "ATS": 10004.0, "inStockDate": "Sat May 24 12:00:00 GMT 2014" , "pricing": {"standard": "79.0", "sale": "79.0", "isPromoPrice": false, "quantities": [ {"unit": "", "value": "1.0"} ]} }, {"id": "QC302_11_GOR", "attributes": { "color": "Grey/Orange" , "size": "11" }, "avLevels": {"IN_STOCK": 1.0, "PREORDER": 0.0, "BACKORDER": 0.0, "NOT_AVAILABLE": 0.0}, "avStatus":"IN_STOCK", "inStock":true, "ATS": 10004.0, "inStockDate": "Sat May 24 12:00:00 GMT 2014" , "pricing": {"standard": "79.0", "sale": "79.0", "isPromoPrice": false, "quantities": [ {"unit": "", "value": "1.0"} ]} }, {"id": "QC302_12_GOR", "attributes": { "color": "Grey/Orange" , "size": "12" }, "avLevels": {"IN_STOCK": 0.0, "PREORDER": 0.0, "BACKORDER": 1.0, "NOT_AVAILABLE": 0.0}, "avStatus":"BACKORDER", "inStock":false, "ATS": 10000.0, "inStockDate": "Sat May 24 12:00:00 GMT 2014" , "pricing": {"standard": "79.0", "sale": "79.0", "isPromoPrice": false, "quantities": [ {"unit": "", "value": "1.0"} ]} }, {"id": "QC302_13_GOR", "attributes": { "color": "Grey/Orange" , "size": "13" }, "avLevels": {"IN_STOCK": 1.0, "PREORDER": 0.0, "BACKORDER": 0.0, "NOT_AVAILABLE": 0.0}, "avStatus":"IN_STOCK", "inStock":true, "ATS": 10001.0, "inStockDate": "Sat May 24 12:00:00 GMT 2014" , "pricing": {"standard": "79.0", "sale": "79.0", "isPromoPrice": false, "quantities": [ {"unit": "", "value": "1.0"} ]} }, {"id": "QC302_8_GOR", "attributes": { "color": "Grey/Orange" , "size": "8" }, "avLevels": {"IN_STOCK": 1.0, "PREORDER": 0.0, "BACKORDER": 0.0, "NOT_AVAILABLE": 0.0}, "avStatus":"IN_STOCK", "inStock":true, "ATS": 10001.0, "inStockDate": "Sat May 24 12:00:00 GMT 2014" , "pricing": {"standard": "79.0", "sale": "79.0", "isPromoPrice": false, "quantities": [ {"unit": "", "value": "1.0"} ]} }, {"id": "QC302_9_GOR", "attributes": { "color": "Grey/Orange" , "size": "9" }, "avLevels": {"IN_STOCK": 0.0, "PREORDER": 0.0, "BACKORDER": 1.0, "NOT_AVAILABLE": 0.0}, "avStatus":"BACKORDER", "inStock":false, "ATS": 10000.0, "inStockDate": "Sat May 24 12:00:00 GMT 2014" , "pricing": {"standard": "79.0", "sale": "79.0", "isPromoPrice": false, "quantities": [ {"unit": "", "value": "1.0"} ]} } ] }}