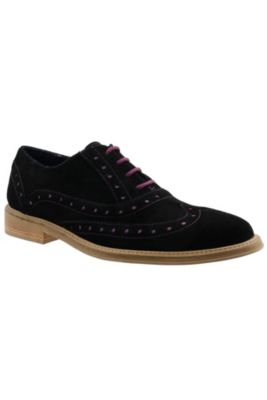 {"imageName":"http://s7d2.scene7.com/is/image/UnderGear/QC340_BFV_T13?$dwpp$"}
{"imageName":"http://s7d2.scene7.com/is/image/UnderGear/QC340_BSV_T13?$dwpp$"}
{"imageName":"http://s7d2.scene7.com/is/image/UnderGear/QC340_BTV_T13?$dwpp$"}
{"imageName":"http://s7d2.scene7.com/is/image/UnderGear/QC340_BBV_T13?$dwpp$"}
{"imageName":"http://s7d2.scene7.com/is/image/UnderGear/QC340_BRFV_T13?$dwpp$"}
{"imageName":"http://s7d2.scene7.com/is/image/UnderGear/QC340_BRSV_T13?$dwpp$"}
{"imageName":"http://s7d2.scene7.com/is/image/UnderGear/QC340_BRTV_T13?$dwpp$"}
Giorgio Brutini® Miguel Wingtip Shoe
UG # QC340
Special Offer:
20% OFF 3 OR MORE ITEMS (Details)
Select Quantity
Print
Men's wingtip shoes
Suede shoes for men
Contrast laces and detailing
Imported
Giorgio Brutini style 658891-7
Contrast laces and other details add wow factor to these suede wingtip shoes from Giorgio Brutini. Available in classic brown or black with purple contrasts, the Giorgio Brutini Miguel Wingtips give your outfit the extra personality it needs. Sizes: 8-11, 12.
{ "variations": { "variants": [ {"id": "QC340_11_BROWN", "attributes": { "color": "Brown" , "size": "11" }, "avLevels": {"IN_STOCK": 1.0, "PREORDER": 0.0, "BACKORDER": 0.0, "NOT_AVAILABLE": 0.0}, "avStatus":"IN_STOCK", "inStock":true, "ATS": 5.0, "inStockDate": "Sat May 24 12:00:00 GMT 2014" , "pricing": {"standard": "99.0", "sale": "99.0", "isPromoPrice": false, "quantities": [ {"unit": "", "value": "1.0"} ]} }, {"id": "QC340_12_BROWN", "attributes": { "color": "Brown" , "size": "12" }, "avLevels": {"IN_STOCK": 1.0, "PREORDER": 0.0, "BACKORDER": 0.0, "NOT_AVAILABLE": 0.0}, "avStatus":"IN_STOCK", "inStock":true, "ATS": 3.0, "inStockDate": "Sat May 24 12:00:00 GMT 2014" , "pricing": {"standard": "99.0", "sale": "99.0", "isPromoPrice": false, "quantities": [ {"unit": "", "value": "1.0"} ]} }, {"id": "QC340_105_BLK/PURP", "attributes": { "color": "Black/Purple" , "size": "10.5" }, "avLevels": {"IN_STOCK": 1.0, "PREORDER": 0.0, "BACKORDER": 0.0, "NOT_AVAILABLE": 0.0}, "avStatus":"IN_STOCK", "inStock":true, "ATS": 1.0, "inStockDate": "Sat May 24 12:00:00 GMT 2014" , "pricing": {"standard": "99.0", "sale": "99.0", "isPromoPrice": false, "quantities": [ {"unit": "", "value": "1.0"} ]} }, {"id": "QC340_105_BROWN", "attributes": { "color": "Brown" , "size": "10.5" }, "avLevels": {"IN_STOCK": 1.0, "PREORDER": 0.0, "BACKORDER": 0.0, "NOT_AVAILABLE": 0.0}, "avStatus":"IN_STOCK", "inStock":true, "ATS": 2.0, "inStockDate": "Sat May 24 12:00:00 GMT 2014" , "pricing": {"standard": "99.0", "sale": "99.0", "isPromoPrice": false, "quantities": [ {"unit": "", "value": "1.0"} ]} }, {"id": "QC340_85_BROWN", "attributes": { "color": "Brown" , "size": "8.5" }, "avLevels": {"IN_STOCK": 1.0, "PREORDER": 0.0, "BACKORDER": 0.0, "NOT_AVAILABLE": 0.0}, "avStatus":"IN_STOCK", "inStock":true, "ATS": 2.0, "inStockDate": "Sat May 24 12:00:00 GMT 2014" , "pricing": {"standard": "99.0", "sale": "99.0", "isPromoPrice": false, "quantities": [ {"unit": "", "value": "1.0"} ]} }, {"id": "QC340_10_BLK/PURP", "attributes": { "color": "Black/Purple" , "size": "10" }, "avLevels": {"IN_STOCK": 1.0, "PREORDER": 0.0, "BACKORDER": 0.0, "NOT_AVAILABLE": 0.0}, "avStatus":"IN_STOCK", "inStock":true, "ATS": 5.0, "inStockDate": "Sat May 24 12:00:00 GMT 2014" , "pricing": {"standard": "99.0", "sale": "99.0", "isPromoPrice": false, "quantities": [ {"unit": "", "value": "1.0"} ]} }, {"id": "QC340_11_BLK/PURP", "attributes": { "color": "Black/Purple" , "size": "11" }, "avLevels": {"IN_STOCK": 1.0, "PREORDER": 0.0, "BACKORDER": 0.0, "NOT_AVAILABLE": 0.0}, "avStatus":"IN_STOCK", "inStock":true, "ATS": 4.0, "inStockDate": "Sat May 24 12:00:00 GMT 2014" , "pricing": {"standard": "99.0", "sale": "99.0", "isPromoPrice": false, "quantities": [ {"unit": "", "value": "1.0"} ]} }, {"id": "QC340_12_BLK/PURP", "attributes": { "color": "Black/Purple" , "size": "12" }, "avLevels": {"IN_STOCK": 1.0, "PREORDER": 0.0, "BACKORDER": 0.0, "NOT_AVAILABLE": 0.0}, "avStatus":"IN_STOCK", "inStock":true, "ATS": 3.0, "inStockDate": "Sat May 24 12:00:00 GMT 2014" , "pricing": {"standard": "99.0", "sale": "99.0", "isPromoPrice": false, "quantities": [ {"unit": "", "value": "1.0"} ]} }, {"id": "QC340_8_BLK/PURP", "attributes": { "color": "Black/Purple" , "size": "8" }, "avLevels": {"IN_STOCK": 1.0, "PREORDER": 0.0, "BACKORDER": 0.0, "NOT_AVAILABLE": 0.0}, "avStatus":"IN_STOCK", "inStock":true, "ATS": 3.0, "inStockDate": "Sat May 24 12:00:00 GMT 2014" , "pricing": {"standard": "99.0", "sale": "99.0", "isPromoPrice": false, "quantities": [ {"unit": "", "value": "1.0"} ]} }, {"id": "QC340_9_BLK/PURP", "attributes": { "color": "Black/Purple" , "size": "9" }, "avLevels": {"IN_STOCK": 1.0, "PREORDER": 0.0, "BACKORDER": 0.0, "NOT_AVAILABLE": 0.0}, "avStatus":"IN_STOCK", "inStock":true, "ATS": 5.0, "inStockDate": "Sat May 24 12:00:00 GMT 2014" , "pricing": {"standard": "99.0", "sale": "99.0", "isPromoPrice": false, "quantities": [ {"unit": "", "value": "1.0"} ]} }, {"id": "QC340_95_BROWN", "attributes": { "color": "Brown" , "size": "9.5" }, "avLevels": {"IN_STOCK": 1.0, "PREORDER": 0.0, "BACKORDER": 0.0, "NOT_AVAILABLE": 0.0}, "avStatus":"IN_STOCK", "inStock":true, "ATS": 2.0, "inStockDate": "Sat May 24 12:00:00 GMT 2014" , "pricing": {"standard": "99.0", "sale": "99.0", "isPromoPrice": false, "quantities": [ {"unit": "", "value": "1.0"} ]} }, {"id": "QC340_95_BLK/PURP", "attributes": { "color": "Black/Purple" , "size": "9.5" }, "avLevels": {"IN_STOCK": 1.0, "PREORDER": 0.0, "BACKORDER": 0.0, "NOT_AVAILABLE": 0.0}, "avStatus":"IN_STOCK", "inStock":true, "ATS": 2.0, "inStockDate": "Sat May 24 12:00:00 GMT 2014" , "pricing": {"standard": "99.0", "sale": "99.0", "isPromoPrice": false, "quantities": [ {"unit": "", "value": "1.0"} ]} }, {"id": "QC340_8_BROWN", "attributes": { "color": "Brown" , "size": "8" }, "avLevels": {"IN_STOCK": 1.0, "PREORDER": 0.0, "BACKORDER": 0.0, "NOT_AVAILABLE": 0.0}, "avStatus":"IN_STOCK", "inStock":true, "ATS": 3.0, "inStockDate": "Sat May 24 12:00:00 GMT 2014" , "pricing": {"standard": "99.0", "sale": "99.0", "isPromoPrice": false, "quantities": [ {"unit": "", "value": "1.0"} ]} }, {"id": "QC340_9_BROWN", "attributes": { "color": "Brown" , "size": "9" }, "avLevels": {"IN_STOCK": 1.0, "PREORDER": 0.0, "BACKORDER": 0.0, "NOT_AVAILABLE": 0.0}, "avStatus":"IN_STOCK", "inStock":true, "ATS": 5.0, "inStockDate": "Sat May 24 12:00:00 GMT 2014" , "pricing": {"standard": "99.0", "sale": "99.0", "isPromoPrice": false, "quantities": [ {"unit": "", "value": "1.0"} ]} }, {"id": "QC340_85_BLK/PURP", "attributes": { "color": "Black/Purple" , "size": "8.5" }, "avLevels": {"IN_STOCK": 1.0, "PREORDER": 0.0, "BACKORDER": 0.0, "NOT_AVAILABLE": 0.0}, "avStatus":"IN_STOCK", "inStock":true, "ATS": 2.0, "inStockDate": "Sat May 24 12:00:00 GMT 2014" , "pricing": {"standard": "99.0", "sale": "99.0", "isPromoPrice": false, "quantities": [ {"unit": "", "value": "1.0"} ]} }, {"id": "QC340_10_BROWN", "attributes": { "color": "Brown" , "size": "10" }, "avLevels": {"IN_STOCK": 1.0, "PREORDER": 0.0, "BACKORDER": 0.0, "NOT_AVAILABLE": 0.0}, "avStatus":"IN_STOCK", "inStock":true, "ATS": 4.0, "inStockDate": "Sat May 24 12:00:00 GMT 2014" , "pricing": {"standard": "99.0", "sale": "99.0", "isPromoPrice": false, "quantities": [ {"unit": "", "value": "1.0"} ]} } ] }}