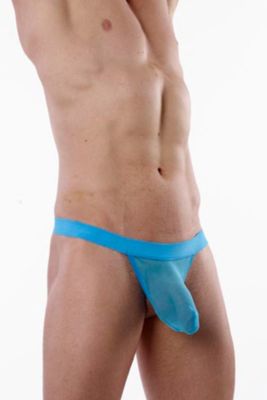 {"imageName":"http://s7d2.scene7.com/is/image/UnderGear/AM618_TM_053113?$dwpp$"}
{"imageName":"http://s7d2.scene7.com/is/image/UnderGear/AM618_TB_053113?$dwpp$"}
{"imageName":"http://s7d2.scene7.com/is/image/UnderGear/AM618_OM_053113?$dwpp$"}
{"imageName":"http://s7d2.scene7.com/is/image/UnderGear/AM618_OB_053113?$dwpp$"}
{"imageName":"http://s7d2.scene7.com/is/image/UnderGear/AM618_YBM_053113?$dwpp$"}
{"imageName":"http://s7d2.scene7.com/is/image/UnderGear/AM618_YB_053113?$dwpp$"}
Good Devil® Swing Pouch
UG # AM618
Special Offer:
20% OFF 3 OR MORE ITEMS (Details)
Select Quantity
Print
Men's pouch underwear
Polyester / spandex see-through underwear for men
Machine wash
Imported
Good Devil underwear style 9305
Seeing is believing – and this sexy, see-through underwear from Good Devil reveals it all. Combining the ultimate in comfort with a profile enhancing fit, Good Devil used a microfiber fabric blend of 92% polyamide and 8% spandex, resulting in soft, sheer fabric that supports and exposes at the same time. This innovative fabric also enables the Good Devil Swim Pouch underwear to dry very quickly and highlight your natural curves.
{ "variations": { "variants": [ {"id": "AM618_L_ORA", "attributes": { "color": "Orange" , "size": "L" }, "avLevels": {"IN_STOCK": 0.0, "PREORDER": 0.0, "BACKORDER": 0.0, "NOT_AVAILABLE": 1.0}, "avStatus":"NOT_AVAILABLE", "inStock":false, "ATS": 0.0, "inStockDate": "Fri Nov 29 12:00:00 GMT 2013" , "pricing": {"standard": "12.0", "sale": "12.0", "isPromoPrice": false, "quantities": [ {"unit": "", "value": "1.0"} ]} }, {"id": "AM618_L_TUR", "attributes": { "color": "Turquoise" , "size": "L" }, "avLevels": {"IN_STOCK": 0.0, "PREORDER": 0.0, "BACKORDER": 0.0, "NOT_AVAILABLE": 1.0}, "avStatus":"NOT_AVAILABLE", "inStock":false, "ATS": 0.0, "inStockDate": "Fri Nov 29 12:00:00 GMT 2013" , "pricing": {"standard": "12.0", "sale": "12.0", "isPromoPrice": false, "quantities": [ {"unit": "", "value": "1.0"} ]} }, {"id": "AM618_L_YEL", "attributes": { "color": "Yellow" , "size": "L" }, "avLevels": {"IN_STOCK": 0.0, "PREORDER": 0.0, "BACKORDER": 0.0, "NOT_AVAILABLE": 1.0}, "avStatus":"NOT_AVAILABLE", "inStock":false, "ATS": 0.0, "inStockDate": "Fri Nov 29 12:00:00 GMT 2013" , "pricing": {"standard": "12.0", "sale": "12.0", "isPromoPrice": false, "quantities": [ {"unit": "", "value": "1.0"} ]} }, {"id": "AM618_M_ORA", "attributes": { "color": "Orange" , "size": "M" }, "avLevels": {"IN_STOCK": 0.0, "PREORDER": 0.0, "BACKORDER": 0.0, "NOT_AVAILABLE": 1.0}, "avStatus":"NOT_AVAILABLE", "inStock":false, "ATS": 0.0, "inStockDate": "Thu Dec 26 12:00:00 GMT 2013" , "pricing": {"standard": "12.0", "sale": "12.0", "isPromoPrice": false, "quantities": [ {"unit": "", "value": "1.0"} ]} }, {"id": "AM618_M_TUR", "attributes": { "color": "Turquoise" , "size": "M" }, "avLevels": {"IN_STOCK": 0.0, "PREORDER": 0.0, "BACKORDER": 0.0, "NOT_AVAILABLE": 1.0}, "avStatus":"NOT_AVAILABLE", "inStock":false, "ATS": 0.0, "inStockDate": "Sat May 24 12:00:00 GMT 2014" , "pricing": {"standard": "12.0", "sale": "12.0", "isPromoPrice": false, "quantities": [ {"unit": "", "value": "1.0"} ]} }, {"id": "AM618_M_YEL", "attributes": { "color": "Yellow" , "size": "M" }, "avLevels": {"IN_STOCK": 0.0, "PREORDER": 0.0, "BACKORDER": 0.0, "NOT_AVAILABLE": 1.0}, "avStatus":"NOT_AVAILABLE", "inStock":false, "ATS": 0.0, "inStockDate": "Thu Dec 26 12:00:00 GMT 2013" , "pricing": {"standard": "12.0", "sale": "12.0", "isPromoPrice": false, "quantities": [ {"unit": "", "value": "1.0"} ]} }, {"id": "AM618_S_ORA", "attributes": { "color": "Orange" , "size": "S" }, "avLevels": {"IN_STOCK": 0.0, "PREORDER": 0.0, "BACKORDER": 0.0, "NOT_AVAILABLE": 1.0}, "avStatus":"NOT_AVAILABLE", "inStock":false, "ATS": 0.0, "inStockDate": "Thu Dec 26 12:00:00 GMT 2013" , "pricing": {"standard": "12.0", "sale": "12.0", "isPromoPrice": false, "quantities": [ {"unit": "", "value": "1.0"} ]} }, {"id": "AM618_S_TUR", "attributes": { "color": "Turquoise" , "size": "S" }, "avLevels": {"IN_STOCK": 0.0, "PREORDER": 0.0, "BACKORDER": 0.0, "NOT_AVAILABLE": 1.0}, "avStatus":"NOT_AVAILABLE", "inStock":false, "ATS": 0.0, "inStockDate": "Thu Dec 26 12:00:00 GMT 2013" , "pricing": {"standard": "12.0", "sale": "12.0", "isPromoPrice": false, "quantities": [ {"unit": "", "value": "1.0"} ]} }, {"id": "AM618_S_YEL", "attributes": { "color": "Yellow" , "size": "S" }, "avLevels": {"IN_STOCK": 0.0, "PREORDER": 0.0, "BACKORDER": 0.0, "NOT_AVAILABLE": 1.0}, "avStatus":"NOT_AVAILABLE", "inStock":false, "ATS": 0.0, "inStockDate": "Thu Dec 26 12:00:00 GMT 2013" , "pricing": {"standard": "12.0", "sale": "12.0", "isPromoPrice": false, "quantities": [ {"unit": "", "value": "1.0"} ]} } ] }}