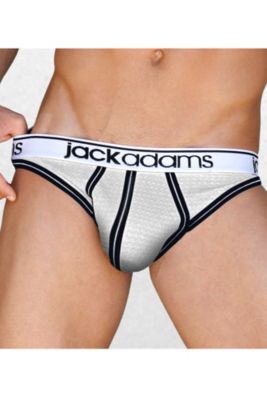 {"imageName":"http://s7d2.scene7.com/is/image/UnderGear/AM305_WBD_053113?$dwpp$"}
{"imageName":"http://s7d2.scene7.com/is/image/UnderGear/AM305_WBB_053113?$dwpp$"}
{"imageName":"http://s7d2.scene7.com/is/image/UnderGear/AM305_WBM_053113?$dwpp$"}
{"imageName":"http://s7d2.scene7.com/is/image/UnderGear/AM305_BWM_053113?$dwpp$"}
{"imageName":"http://s7d2.scene7.com/is/image/UnderGear/AM305_BWS_053113?$dwpp$"}
Jack Adams® Varsity Mesh Jockstrap
UG # AM305
Special Offer:
20% OFF 3 OR MORE ITEMS (Details)
Select Quantity
Print
Men's jockstrap underwear
Polyester / spandex underwear for men
Machine wash
Imported
Jack Adams underwear style 401-115
Every day becomes a special occasion when you slip on this sporty men's jockstrap underwear from Jack Adams. The Jack Adams Varsity Mesh Jockstrap is made from a soft four-way stretch mesh fabric blend that wicks away moisture while hugging the body. This sizzling jockstrap from Jack Adams is produced from a combination of 95% polyester and 5% lycra and offers an ergonomic fit for exceptional comfort, all day and all night. Convenient fly front. Choose from two reverse color options of white on black or black on white.
{ "variations": { "variants": [ {"id": "AM305_L_BWH", "attributes": { "color": "Black/White" , "size": "L" }, "avLevels": {"IN_STOCK": 0.0, "PREORDER": 0.0, "BACKORDER": 0.0, "NOT_AVAILABLE": 1.0}, "avStatus":"NOT_AVAILABLE", "inStock":false, "ATS": 0.0, "inStockDate": "Fri May 09 12:00:00 GMT 2014" , "pricing": {"standard": "21.0", "sale": "21.0", "isPromoPrice": false, "quantities": [ {"unit": "", "value": "1.0"} ]} }, {"id": "AM305_L_WBL", "attributes": { "color": "White/Black" , "size": "L" }, "avLevels": {"IN_STOCK": 0.0, "PREORDER": 0.0, "BACKORDER": 0.0, "NOT_AVAILABLE": 1.0}, "avStatus":"NOT_AVAILABLE", "inStock":false, "ATS": 0.0, "inStockDate": "Fri May 09 12:00:00 GMT 2014" , "pricing": {"standard": "21.0", "sale": "21.0", "isPromoPrice": false, "quantities": [ {"unit": "", "value": "1.0"} ]} }, {"id": "AM305_M_BWH", "attributes": { "color": "Black/White" , "size": "M" }, "avLevels": {"IN_STOCK": 0.0, "PREORDER": 0.0, "BACKORDER": 0.0, "NOT_AVAILABLE": 1.0}, "avStatus":"NOT_AVAILABLE", "inStock":false, "ATS": 0.0, "inStockDate": "Fri May 09 12:00:00 GMT 2014" , "pricing": {"standard": "21.0", "sale": "21.0", "isPromoPrice": false, "quantities": [ {"unit": "", "value": "1.0"} ]} }, {"id": "AM305_M_WBL", "attributes": { "color": "White/Black" , "size": "M" }, "avLevels": {"IN_STOCK": 0.0, "PREORDER": 0.0, "BACKORDER": 0.0, "NOT_AVAILABLE": 1.0}, "avStatus":"NOT_AVAILABLE", "inStock":false, "ATS": 0.0, "inStockDate": "Fri May 09 12:00:00 GMT 2014" , "pricing": {"standard": "21.0", "sale": "21.0", "isPromoPrice": false, "quantities": [ {"unit": "", "value": "1.0"} ]} }, {"id": "AM305_S_BWH", "attributes": { "color": "Black/White" , "size": "S" }, "avLevels": {"IN_STOCK": 0.0, "PREORDER": 0.0, "BACKORDER": 0.0, "NOT_AVAILABLE": 1.0}, "avStatus":"NOT_AVAILABLE", "inStock":false, "ATS": 0.0, "inStockDate": "Fri May 09 12:00:00 GMT 2014" , "pricing": {"standard": "21.0", "sale": "21.0", "isPromoPrice": false, "quantities": [ {"unit": "", "value": "1.0"} ]} }, {"id": "AM305_S_WBL", "attributes": { "color": "White/Black" , "size": "S" }, "avLevels": {"IN_STOCK": 0.0, "PREORDER": 0.0, "BACKORDER": 0.0, "NOT_AVAILABLE": 1.0}, "avStatus":"NOT_AVAILABLE", "inStock":false, "ATS": 0.0, "inStockDate": "Fri May 09 12:00:00 GMT 2014" , "pricing": {"standard": "21.0", "sale": "21.0", "isPromoPrice": false, "quantities": [ {"unit": "", "value": "1.0"} ]} }, {"id": "AM305_XL_BWH", "attributes": { "color": "Black/White" , "size": "XL" }, "avLevels": {"IN_STOCK": 0.0, "PREORDER": 0.0, "BACKORDER": 0.0, "NOT_AVAILABLE": 1.0}, "avStatus":"NOT_AVAILABLE", "inStock":false, "ATS": 0.0, "inStockDate": "Fri May 09 12:00:00 GMT 2014" , "pricing": {"standard": "21.0", "sale": "21.0", "isPromoPrice": false, "quantities": [ {"unit": "", "value": "1.0"} ]} }, {"id": "AM305_XL_WBL", "attributes": { "color": "White/Black" , "size": "XL" }, "avLevels": {"IN_STOCK": 0.0, "PREORDER": 0.0, "BACKORDER": 0.0, "NOT_AVAILABLE": 1.0}, "avStatus":"NOT_AVAILABLE", "inStock":false, "ATS": 0.0, "inStockDate": "Fri May 09 12:00:00 GMT 2014" , "pricing": {"standard": "21.0", "sale": "21.0", "isPromoPrice": false, "quantities": [ {"unit": "", "value": "1.0"} ]} } ] }}