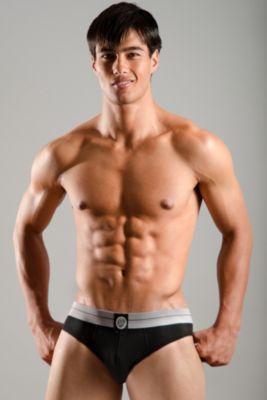 Jocko® Caseys Pouch Brief
UG # AG768
Select Quantity
Print
Men's briefs
Men's underwear made from soft cotton
Machine wash
Imported
Jocko underwear style 900A
Designed with a contour pouch, these men's briefs from Jocko Underwear help you hold everything together while making a big statement. A cotton body gives the Jocko Caseys Pouch Briefs their soft feel, allowing for maximum comfort underneath any outfit. The Jocko men's briefs also feature a silver logo waistband for sporty contrast.]>
true
true
2012-05-24T04:01:00.000Z
true
true
900A
Jocko® Caseys Pouch Mens Briefs | UnderGear
Mens briefs from Jocko Underwear with contour pouch to hold everything together. Shop Jocko underwear and mens briefs at UnderGear.
mens briefs, mens underwear, briefs for men, men's briefs, men's underwear, underwear, briefs
ug-hidden-categories-J
1
1
Jocko® Lorenzo Cotton Brief
<![CDATA[
Men's briefs
Men's underwear made from cotton/spandex xxx
Machine wash
Imported
Jocko underwear style 600A

Super-soft stretch cotton gives this Jocko underwear its great fit and supremely comfortable feel. Designed with a functional fly and plush waistband, the Jocko Lorenzo Cotton men's briefs feature a low-rise cut, perfect for wearing under low-rise jeans. Classic men's underwear style for any guy.
{ "variations": { "variants": [ {"id": "AG768_L_WI", "attributes": { "color": "White" , "size": "L" }, "avLevels": {"IN_STOCK": 0.0, "PREORDER": 0.0, "BACKORDER": 0.0, "NOT_AVAILABLE": 1.0}, "avStatus":"NOT_AVAILABLE", "inStock":false, "ATS": 0.0, "inStockDate": "Wed May 09 12:00:00 GMT 2012" , "pricing": {"standard": "15.0", "sale": "9.97", "isPromoPrice": false, "quantities": [ {"unit": "", "value": "1.0"} ]} }, {"id": "AG768_M_BA", "attributes": { "color": "Black" , "size": "M" }, "avLevels": {"IN_STOCK": 0.0, "PREORDER": 0.0, "BACKORDER": 0.0, "NOT_AVAILABLE": 1.0}, "avStatus":"NOT_AVAILABLE", "inStock":false, "ATS": 0.0, "inStockDate": "Tue Dec 31 12:00:00 GMT 2030" , "pricing": {"standard": "15.0", "sale": "9.97", "isPromoPrice": false, "quantities": [ {"unit": "", "value": "1.0"} ]} }, {"id": "AG768_S_BA", "attributes": { "color": "Black" , "size": "S" }, "avLevels": {"IN_STOCK": 0.0, "PREORDER": 0.0, "BACKORDER": 0.0, "NOT_AVAILABLE": 1.0}, "avStatus":"NOT_AVAILABLE", "inStock":false, "ATS": 0.0, "inStockDate": "Tue Dec 31 12:00:00 GMT 2030" , "pricing": {"standard": "15.0", "sale": "9.97", "isPromoPrice": false, "quantities": [ {"unit": "", "value": "1.0"} ]} }, {"id": "AG768_L_BA", "attributes": { "color": "Black" , "size": "L" }, "avLevels": {"IN_STOCK": 0.0, "PREORDER": 0.0, "BACKORDER": 0.0, "NOT_AVAILABLE": 1.0}, "avStatus":"NOT_AVAILABLE", "inStock":false, "ATS": 0.0, "inStockDate": "Tue Dec 31 12:00:00 GMT 2030" , "pricing": {"standard": "15.0", "sale": "9.97", "isPromoPrice": false, "quantities": [ {"unit": "", "value": "1.0"} ]} }, {"id": "AG768_S_WI", "attributes": { "color": "White" , "size": "S" }, "avLevels": {"IN_STOCK": 0.0, "PREORDER": 0.0, "BACKORDER": 0.0, "NOT_AVAILABLE": 1.0}, "avStatus":"NOT_AVAILABLE", "inStock":false, "ATS": 0.0, "inStockDate": "Wed May 09 12:00:00 GMT 2012" , "pricing": {"standard": "15.0", "sale": "9.97", "isPromoPrice": false, "quantities": [ {"unit": "", "value": "1.0"} ]} }, {"id": "AG768_XL_WI", "attributes": { "color": "White" , "size": "XL" }, "avLevels": {"IN_STOCK": 0.0, "PREORDER": 0.0, "BACKORDER": 0.0, "NOT_AVAILABLE": 1.0}, "avStatus":"NOT_AVAILABLE", "inStock":false, "ATS": 0.0, "inStockDate": "Wed May 09 12:00:00 GMT 2012" , "pricing": {"standard": "15.0", "sale": "9.97", "isPromoPrice": false, "quantities": [ {"unit": "", "value": "1.0"} ]} }, {"id": "AG768_M_WI", "attributes": { "color": "White" , "size": "M" }, "avLevels": {"IN_STOCK": 0.0, "PREORDER": 0.0, "BACKORDER": 0.0, "NOT_AVAILABLE": 1.0}, "avStatus":"NOT_AVAILABLE", "inStock":false, "ATS": 0.0, "inStockDate": "Wed May 09 12:00:00 GMT 2012" , "pricing": {"standard": "15.0", "sale": "9.97", "isPromoPrice": false, "quantities": [ {"unit": "", "value": "1.0"} ]} }, {"id": "AG768_XL_BA", "attributes": { "color": "Black" , "size": "XL" }, "avLevels": {"IN_STOCK": 0.0, "PREORDER": 0.0, "BACKORDER": 0.0, "NOT_AVAILABLE": 1.0}, "avStatus":"NOT_AVAILABLE", "inStock":false, "ATS": 0.0, "inStockDate": "Wed May 09 12:00:00 GMT 2012" , "pricing": {"standard": "15.0", "sale": "9.97", "isPromoPrice": false, "quantities": [ {"unit": "", "value": "1.0"} ]} } ] }}