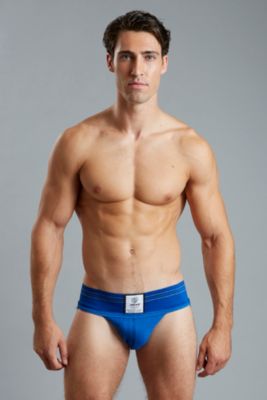 {"imageName":"http://s7d2.scene7.com/is/image/UnderGear/AM632_RYFV_SBB1023?$dwpp$"}
{"imageName":"http://s7d2.scene7.com/is/image/UnderGear/AM632_RYBV_SBB1023?$dwpp$"}
{"imageName":"http://s7d2.scene7.com/is/image/UnderGear/AM632_NFV_SBB1023?$dwpp$"}
{"imageName":"http://s7d2.scene7.com/is/image/UnderGear/AM632_NBV_SBB1023?$dwpp$"}
{"imageName":"http://s7d2.scene7.com/is/image/UnderGear/AM632_NDV_SBB1023?$dwpp$"}
{"imageName":"http://s7d2.scene7.com/is/image/UnderGear/AM632_RFV_SBB1023?$dwpp$"}
{"imageName":"http://s7d2.scene7.com/is/image/UnderGear/AM632_RDV_SBB1023?$dwpp$"}
Jocko® Seamless Jockstrap
UG # AM632
Special Offer:
20% OFF 3 OR MORE ITEMS (Details)
Select Quantity
Print
Men's jockstrap underwear
Nylon / spandex underwear for men
Machine wash
Imported
Jocko underwear style J300
Go big or go home. The wide waistband on this jockstrap underwear from Jocko offers classic athletic looks, just like a real jock. Made from a blend of nylon and spandex, the Jocko Seamless Jockstrap features a sturdy knit pouch to give your boys all the coverage and comfort they need.
{ "variations": { "variants": [ {"id": "AM632_LXL_NAV", "attributes": { "color": "Navy" , "size": "LXL" }, "avLevels": {"IN_STOCK": 0.0, "PREORDER": 0.0, "BACKORDER": 0.0, "NOT_AVAILABLE": 1.0}, "avStatus":"NOT_AVAILABLE", "inStock":false, "ATS": 0.0, "inStockDate": "Wed Feb 26 12:00:00 GMT 2014" , "pricing": {"standard": "10.0", "sale": "10.0", "isPromoPrice": false, "quantities": [ {"unit": "", "value": "1.0"} ]} }, {"id": "AM632_LXL_RED", "attributes": { "color": "Red" , "size": "LXL" }, "avLevels": {"IN_STOCK": 0.0, "PREORDER": 0.0, "BACKORDER": 1.0, "NOT_AVAILABLE": 0.0}, "avStatus":"BACKORDER", "inStock":false, "ATS": 10000.0, "inStockDate": "Sat May 24 12:00:00 GMT 2014" , "pricing": {"standard": "10.0", "sale": "10.0", "isPromoPrice": false, "quantities": [ {"unit": "", "value": "1.0"} ]} }, {"id": "AM632_LXL_ROY", "attributes": { "color": "Royal" , "size": "LXL" }, "avLevels": {"IN_STOCK": 0.0, "PREORDER": 0.0, "BACKORDER": 0.0, "NOT_AVAILABLE": 1.0}, "avStatus":"NOT_AVAILABLE", "inStock":false, "ATS": 0.0, "inStockDate": "Thu Apr 10 12:00:00 GMT 2014" , "pricing": {"standard": "10.0", "sale": "10.0", "isPromoPrice": false, "quantities": [ {"unit": "", "value": "1.0"} ]} }, {"id": "AM632_SM_NAV", "attributes": { "color": "Navy" , "size": "SM" }, "avLevels": {"IN_STOCK": 0.0, "PREORDER": 0.0, "BACKORDER": 0.0, "NOT_AVAILABLE": 1.0}, "avStatus":"NOT_AVAILABLE", "inStock":false, "ATS": 0.0, "inStockDate": "Wed Feb 26 12:00:00 GMT 2014" , "pricing": {"standard": "10.0", "sale": "10.0", "isPromoPrice": false, "quantities": [ {"unit": "", "value": "1.0"} ]} }, {"id": "AM632_SM_RED", "attributes": { "color": "Red" , "size": "SM" }, "avLevels": {"IN_STOCK": 0.0, "PREORDER": 0.0, "BACKORDER": 0.0, "NOT_AVAILABLE": 1.0}, "avStatus":"NOT_AVAILABLE", "inStock":false, "ATS": 0.0, "inStockDate": "Wed Feb 26 12:00:00 GMT 2014" , "pricing": {"standard": "10.0", "sale": "10.0", "isPromoPrice": false, "quantities": [ {"unit": "", "value": "1.0"} ]} }, {"id": "AM632_SM_ROY", "attributes": { "color": "Royal" , "size": "SM" }, "avLevels": {"IN_STOCK": 0.0, "PREORDER": 0.0, "BACKORDER": 0.0, "NOT_AVAILABLE": 1.0}, "avStatus":"NOT_AVAILABLE", "inStock":false, "ATS": 0.0, "inStockDate": "Wed Feb 26 12:00:00 GMT 2014" , "pricing": {"standard": "10.0", "sale": "10.0", "isPromoPrice": false, "quantities": [ {"unit": "", "value": "1.0"} ]} } ] }}