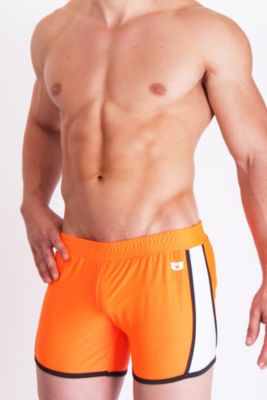 Junk Underjeans® Chill Short
UG # RX361
Special Offer:
20% OFF 3 OR MORE ITEMS (Details)
Select Quantity
Print
Men's athletic shorts
Polyester gym shorts for men
Machine wash
Imported
Junk Underjeans style ML-8641
Keep your chill even during the most intense workouts in these comfortable men's athletic shorts from Junk Underjeans. Available in two great hues of vibrant Florange and Steel grey, accented by contrast side panels, the Junk Underjeans Chill gym shorts are a perfect fit for running, lifting weights, soccer or just chillaxing on the couch. 100% polyester.
{ "variations": { "variants": [ {"id": "RX361_XL_FLO", "attributes": { "color": "Florange" , "size": "XL" }, "avLevels": {"IN_STOCK": 0.0, "PREORDER": 0.0, "BACKORDER": 0.0, "NOT_AVAILABLE": 1.0}, "avStatus":"NOT_AVAILABLE", "inStock":false, "ATS": 0.0, "inStockDate": "Fri Dec 27 12:00:00 GMT 2013" , "pricing": {"standard": "32.0", "sale": "32.0", "isPromoPrice": false, "quantities": [ {"unit": "", "value": "1.0"} ]} }, {"id": "RX361_S_FLO", "attributes": { "color": "Florange" , "size": "S" }, "avLevels": {"IN_STOCK": 0.0, "PREORDER": 0.0, "BACKORDER": 0.0, "NOT_AVAILABLE": 1.0}, "avStatus":"NOT_AVAILABLE", "inStock":false, "ATS": 0.0, "inStockDate": "Fri Dec 27 12:00:00 GMT 2013" , "pricing": {"standard": "32.0", "sale": "32.0", "isPromoPrice": false, "quantities": [ {"unit": "", "value": "1.0"} ]} }, {"id": "RX361_L_STE", "attributes": { "color": "Steel" , "size": "L" }, "avLevels": {"IN_STOCK": 0.0, "PREORDER": 0.0, "BACKORDER": 0.0, "NOT_AVAILABLE": 1.0}, "avStatus":"NOT_AVAILABLE", "inStock":false, "ATS": 0.0, "inStockDate": "Fri Dec 27 12:00:00 GMT 2013" , "pricing": {"standard": "32.0", "sale": "32.0", "isPromoPrice": false, "quantities": [ {"unit": "", "value": "1.0"} ]} }, {"id": "RX361_L_FLO", "attributes": { "color": "Florange" , "size": "L" }, "avLevels": {"IN_STOCK": 1.0, "PREORDER": 0.0, "BACKORDER": 0.0, "NOT_AVAILABLE": 0.0}, "avStatus":"IN_STOCK", "inStock":true, "ATS": 7.0, "inStockDate": "Fri Dec 27 12:00:00 GMT 2013" , "pricing": {"standard": "32.0", "sale": "32.0", "isPromoPrice": false, "quantities": [ {"unit": "", "value": "1.0"} ]} }, {"id": "RX361_S_STE", "attributes": { "color": "Steel" , "size": "S" }, "avLevels": {"IN_STOCK": 0.0, "PREORDER": 0.0, "BACKORDER": 0.0, "NOT_AVAILABLE": 1.0}, "avStatus":"NOT_AVAILABLE", "inStock":false, "ATS": 0.0, "inStockDate": "Fri Dec 27 12:00:00 GMT 2013" , "pricing": {"standard": "32.0", "sale": "32.0", "isPromoPrice": false, "quantities": [ {"unit": "", "value": "1.0"} ]} }, {"id": "RX361_M_FLO", "attributes": { "color": "Florange" , "size": "M" }, "avLevels": {"IN_STOCK": 0.0, "PREORDER": 0.0, "BACKORDER": 0.0, "NOT_AVAILABLE": 1.0}, "avStatus":"NOT_AVAILABLE", "inStock":false, "ATS": 0.0, "inStockDate": "Fri Dec 27 12:00:00 GMT 2013" , "pricing": {"standard": "32.0", "sale": "32.0", "isPromoPrice": false, "quantities": [ {"unit": "", "value": "1.0"} ]} }, {"id": "RX361_XL_STE", "attributes": { "color": "Steel" , "size": "XL" }, "avLevels": {"IN_STOCK": 0.0, "PREORDER": 0.0, "BACKORDER": 0.0, "NOT_AVAILABLE": 1.0}, "avStatus":"NOT_AVAILABLE", "inStock":false, "ATS": 0.0, "inStockDate": "Fri Dec 27 12:00:00 GMT 2013" , "pricing": {"standard": "32.0", "sale": "32.0", "isPromoPrice": false, "quantities": [ {"unit": "", "value": "1.0"} ]} }, {"id": "RX361_M_STE", "attributes": { "color": "Steel" , "size": "M" }, "avLevels": {"IN_STOCK": 0.0, "PREORDER": 0.0, "BACKORDER": 0.0, "NOT_AVAILABLE": 1.0}, "avStatus":"NOT_AVAILABLE", "inStock":false, "ATS": 0.0, "inStockDate": "Fri Dec 27 12:00:00 GMT 2013" , "pricing": {"standard": "32.0", "sale": "32.0", "isPromoPrice": false, "quantities": [ {"unit": "", "value": "1.0"} ]} } ] }}