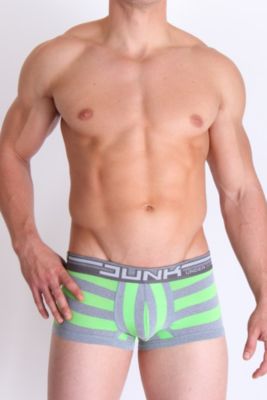 {"imageName":"http://s7d2.scene7.com/is/image/UnderGear/AM825_LFV_SBB1023?$dwpp$"}
{"imageName":"http://s7d2.scene7.com/is/image/UnderGear/AM825_MFV_SBB1023?$dwpp$"}
{"imageName":"http://s7d2.scene7.com/is/image/UnderGear/AM825_MBV_SBB1023?$dwpp$"}
{"imageName":"http://s7d2.scene7.com/is/image/UnderGear/AM825_BFV_SBB1023?$dwpp$"}
{"imageName":"http://s7d2.scene7.com/is/image/UnderGear/AM825_OFV_SBB1023?$dwpp$"}
Junk Underjeans® Gravity Trunk
UG # AM825
Special Offer:
20% OFF 3 OR MORE ITEMS (Details)
Select Quantity
Print
Men's trunks
Nylon / spandex striped underwear for men
Machine wash
Imported
Junk Underjeans underwear style MB-8101
Men's underwear doesn't get much better-looking than this. From the designers at Junk Underjeans, the Gravity men's trunks defy ordinary underwear with their bold stripes and sensuously soft fabric. Made from heather and solid yarn dye striped jersey, these fashionable men's trunks from Junk Underjeans are available in four fun color options for a unique flavor any day of the week.
{ "variations": { "variants": [ {"id": "AM825_L_BLA", "attributes": { "color": "Black" , "size": "L" }, "avLevels": {"IN_STOCK": 1.0, "PREORDER": 0.0, "BACKORDER": 0.0, "NOT_AVAILABLE": 0.0}, "avStatus":"IN_STOCK", "inStock":true, "ATS": 10005.0, "inStockDate": "Sat May 24 12:00:00 GMT 2014" , "pricing": {"standard": "27.0", "sale": "27.0", "isPromoPrice": false, "quantities": [ {"unit": "", "value": "1.0"} ]} }, {"id": "AM825_L_FLO", "attributes": { "color": "Florange" , "size": "L" }, "avLevels": {"IN_STOCK": 1.0, "PREORDER": 0.0, "BACKORDER": 0.0, "NOT_AVAILABLE": 0.0}, "avStatus":"IN_STOCK", "inStock":true, "ATS": 10006.0, "inStockDate": "Sat May 24 12:00:00 GMT 2014" , "pricing": {"standard": "27.0", "sale": "27.0", "isPromoPrice": false, "quantities": [ {"unit": "", "value": "1.0"} ]} }, {"id": "AM825_L_LIM", "attributes": { "color": "Lime" , "size": "L" }, "avLevels": {"IN_STOCK": 1.0, "PREORDER": 0.0, "BACKORDER": 0.0, "NOT_AVAILABLE": 0.0}, "avStatus":"IN_STOCK", "inStock":true, "ATS": 10007.0, "inStockDate": "Sat May 24 12:00:00 GMT 2014" , "pricing": {"standard": "27.0", "sale": "27.0", "isPromoPrice": false, "quantities": [ {"unit": "", "value": "1.0"} ]} }, {"id": "AM825_L_MAR", "attributes": { "color": "Marine" , "size": "L" }, "avLevels": {"IN_STOCK": 1.0, "PREORDER": 0.0, "BACKORDER": 0.0, "NOT_AVAILABLE": 0.0}, "avStatus":"IN_STOCK", "inStock":true, "ATS": 10007.0, "inStockDate": "Sat May 24 12:00:00 GMT 2014" , "pricing": {"standard": "27.0", "sale": "27.0", "isPromoPrice": false, "quantities": [ {"unit": "", "value": "1.0"} ]} }, {"id": "AM825_M_BLA", "attributes": { "color": "Black" , "size": "M" }, "avLevels": {"IN_STOCK": 1.0, "PREORDER": 0.0, "BACKORDER": 0.0, "NOT_AVAILABLE": 0.0}, "avStatus":"IN_STOCK", "inStock":true, "ATS": 10010.0, "inStockDate": "Sat May 24 12:00:00 GMT 2014" , "pricing": {"standard": "27.0", "sale": "27.0", "isPromoPrice": false, "quantities": [ {"unit": "", "value": "1.0"} ]} }, {"id": "AM825_M_FLO", "attributes": { "color": "Florange" , "size": "M" }, "avLevels": {"IN_STOCK": 1.0, "PREORDER": 0.0, "BACKORDER": 0.0, "NOT_AVAILABLE": 0.0}, "avStatus":"IN_STOCK", "inStock":true, "ATS": 10008.0, "inStockDate": "Sat May 24 12:00:00 GMT 2014" , "pricing": {"standard": "27.0", "sale": "27.0", "isPromoPrice": false, "quantities": [ {"unit": "", "value": "1.0"} ]} }, {"id": "AM825_M_LIM", "attributes": { "color": "Lime" , "size": "M" }, "avLevels": {"IN_STOCK": 1.0, "PREORDER": 0.0, "BACKORDER": 0.0, "NOT_AVAILABLE": 0.0}, "avStatus":"IN_STOCK", "inStock":true, "ATS": 10005.0, "inStockDate": "Sat May 24 12:00:00 GMT 2014" , "pricing": {"standard": "27.0", "sale": "27.0", "isPromoPrice": false, "quantities": [ {"unit": "", "value": "1.0"} ]} }, {"id": "AM825_M_MAR", "attributes": { "color": "Marine" , "size": "M" }, "avLevels": {"IN_STOCK": 1.0, "PREORDER": 0.0, "BACKORDER": 0.0, "NOT_AVAILABLE": 0.0}, "avStatus":"IN_STOCK", "inStock":true, "ATS": 10005.0, "inStockDate": "Sat May 24 12:00:00 GMT 2014" , "pricing": {"standard": "27.0", "sale": "27.0", "isPromoPrice": false, "quantities": [ {"unit": "", "value": "1.0"} ]} }, {"id": "AM825_S_BLA", "attributes": { "color": "Black" , "size": "S" }, "avLevels": {"IN_STOCK": 0.0, "PREORDER": 0.0, "BACKORDER": 1.0, "NOT_AVAILABLE": 0.0}, "avStatus":"BACKORDER", "inStock":false, "ATS": 10000.0, "inStockDate": "Sat May 24 12:00:00 GMT 2014" , "pricing": {"standard": "27.0", "sale": "27.0", "isPromoPrice": false, "quantities": [ {"unit": "", "value": "1.0"} ]} }, {"id": "AM825_S_FLO", "attributes": { "color": "Florange" , "size": "S" }, "avLevels": {"IN_STOCK": 1.0, "PREORDER": 0.0, "BACKORDER": 0.0, "NOT_AVAILABLE": 0.0}, "avStatus":"IN_STOCK", "inStock":true, "ATS": 10003.0, "inStockDate": "Sat May 24 12:00:00 GMT 2014" , "pricing": {"standard": "27.0", "sale": "27.0", "isPromoPrice": false, "quantities": [ {"unit": "", "value": "1.0"} ]} }, {"id": "AM825_S_LIM", "attributes": { "color": "Lime" , "size": "S" }, "avLevels": {"IN_STOCK": 0.0, "PREORDER": 0.0, "BACKORDER": 1.0, "NOT_AVAILABLE": 0.0}, "avStatus":"BACKORDER", "inStock":false, "ATS": 10000.0, "inStockDate": "Sat May 24 12:00:00 GMT 2014" , "pricing": {"standard": "27.0", "sale": "27.0", "isPromoPrice": false, "quantities": [ {"unit": "", "value": "1.0"} ]} }, {"id": "AM825_S_MAR", "attributes": { "color": "Marine" , "size": "S" }, "avLevels": {"IN_STOCK": 0.0, "PREORDER": 0.0, "BACKORDER": 1.0, "NOT_AVAILABLE": 0.0}, "avStatus":"BACKORDER", "inStock":false, "ATS": 10000.0, "inStockDate": "Sat May 24 12:00:00 GMT 2014" , "pricing": {"standard": "27.0", "sale": "27.0", "isPromoPrice": false, "quantities": [ {"unit": "", "value": "1.0"} ]} }, {"id": "AM825_XL_BLA", "attributes": { "color": "Black" , "size": "XL" }, "avLevels": {"IN_STOCK": 1.0, "PREORDER": 0.0, "BACKORDER": 0.0, "NOT_AVAILABLE": 0.0}, "avStatus":"IN_STOCK", "inStock":true, "ATS": 10003.0, "inStockDate": "Sat May 24 12:00:00 GMT 2014" , "pricing": {"standard": "27.0", "sale": "27.0", "isPromoPrice": false, "quantities": [ {"unit": "", "value": "1.0"} ]} }, {"id": "AM825_XL_FLO", "attributes": { "color": "Florange" , "size": "XL" }, "avLevels": {"IN_STOCK": 1.0, "PREORDER": 0.0, "BACKORDER": 0.0, "NOT_AVAILABLE": 0.0}, "avStatus":"IN_STOCK", "inStock":true, "ATS": 10002.0, "inStockDate": "Sat May 24 12:00:00 GMT 2014" , "pricing": {"standard": "27.0", "sale": "27.0", "isPromoPrice": false, "quantities": [ {"unit": "", "value": "1.0"} ]} }, {"id": "AM825_XL_LIM", "attributes": { "color": "Lime" , "size": "XL" }, "avLevels": {"IN_STOCK": 1.0, "PREORDER": 0.0, "BACKORDER": 0.0, "NOT_AVAILABLE": 0.0}, "avStatus":"IN_STOCK", "inStock":true, "ATS": 10003.0, "inStockDate": "Sat May 24 12:00:00 GMT 2014" , "pricing": {"standard": "27.0", "sale": "27.0", "isPromoPrice": false, "quantities": [ {"unit": "", "value": "1.0"} ]} }, {"id": "AM825_XL_MAR", "attributes": { "color": "Marine" , "size": "XL" }, "avLevels": {"IN_STOCK": 1.0, "PREORDER": 0.0, "BACKORDER": 0.0, "NOT_AVAILABLE": 0.0}, "avStatus":"IN_STOCK", "inStock":true, "ATS": 10001.0, "inStockDate": "Sat May 24 12:00:00 GMT 2014" , "pricing": {"standard": "27.0", "sale": "27.0", "isPromoPrice": false, "quantities": [ {"unit": "", "value": "1.0"} ]} } ] }}