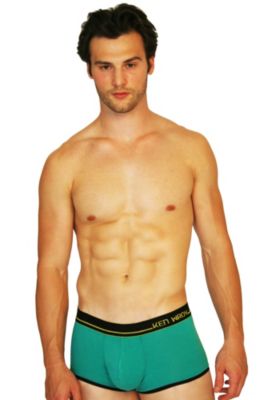 {"imageName":"http://s7d2.scene7.com/is/image/UnderGear/AN085_EMFV_1122SBB?$dwpp$"}
{"imageName":"http://s7d2.scene7.com/is/image/UnderGear/AN085_EMBV_1122SBB?$dwpp$"}
{"imageName":"http://s7d2.scene7.com/is/image/UnderGear/AN085_PRFV_1122SBB?$dwpp$"}
{"imageName":"http://s7d2.scene7.com/is/image/UnderGear/AN085_PRBV_1122SBB?$dwpp$"}
Ken Wroy® Low Trunk
UG # AN085
Special Offer:
20% OFF 3 OR MORE ITEMS (Details)
Select Quantity
Print
Men's low-rise trunks
Cotton / elastane underwear for men
Machine wash
Imported
Ken Wroy underwear style 13FSPOPY-LT
Make any day bright with these eye-catching men's trunks from Ken Wroy. Available in cool Emerald green or vivid Poppy red, the Ken Wroy low-rise trunks add a sporty pop a color to your daily rotation. Made from a blend of cotton and elastane, the Ken Wroy underwear offers exceptional softness, while the low-rise cut is perfect for wearing underneath low-riding jeans and pants.
{ "variations": { "variants": [ {"id": "AN085_L_EMERALD", "attributes": { "color": "Emerald" , "size": "L" }, "avLevels": {"IN_STOCK": 1.0, "PREORDER": 0.0, "BACKORDER": 0.0, "NOT_AVAILABLE": 0.0}, "avStatus":"IN_STOCK", "inStock":true, "ATS": 13.0, "inStockDate": "Sat May 24 12:00:00 GMT 2014" , "pricing": {"standard": "24.0", "sale": "19.99", "isPromoPrice": false, "quantities": [ {"unit": "", "value": "1.0"} ]} }, {"id": "AN085_L_PPPYRED", "attributes": { "color": "Poppy Red" , "size": "L" }, "avLevels": {"IN_STOCK": 1.0, "PREORDER": 0.0, "BACKORDER": 0.0, "NOT_AVAILABLE": 0.0}, "avStatus":"IN_STOCK", "inStock":true, "ATS": 14.0, "inStockDate": "Sat May 24 12:00:00 GMT 2014" , "pricing": {"standard": "24.0", "sale": "19.99", "isPromoPrice": false, "quantities": [ {"unit": "", "value": "1.0"} ]} }, {"id": "AN085_M_EMERALD", "attributes": { "color": "Emerald" , "size": "M" }, "avLevels": {"IN_STOCK": 1.0, "PREORDER": 0.0, "BACKORDER": 0.0, "NOT_AVAILABLE": 0.0}, "avStatus":"IN_STOCK", "inStock":true, "ATS": 12.0, "inStockDate": "Sat May 24 12:00:00 GMT 2014" , "pricing": {"standard": "24.0", "sale": "19.99", "isPromoPrice": false, "quantities": [ {"unit": "", "value": "1.0"} ]} }, {"id": "AN085_M_PPPYRED", "attributes": { "color": "Poppy Red" , "size": "M" }, "avLevels": {"IN_STOCK": 1.0, "PREORDER": 0.0, "BACKORDER": 0.0, "NOT_AVAILABLE": 0.0}, "avStatus":"IN_STOCK", "inStock":true, "ATS": 11.0, "inStockDate": "Sat May 24 12:00:00 GMT 2014" , "pricing": {"standard": "24.0", "sale": "19.99", "isPromoPrice": false, "quantities": [ {"unit": "", "value": "1.0"} ]} }, {"id": "AN085_S_EMERALD", "attributes": { "color": "Emerald" , "size": "S" }, "avLevels": {"IN_STOCK": 1.0, "PREORDER": 0.0, "BACKORDER": 0.0, "NOT_AVAILABLE": 0.0}, "avStatus":"IN_STOCK", "inStock":true, "ATS": 5.0, "inStockDate": "Sat May 24 12:00:00 GMT 2014" , "pricing": {"standard": "24.0", "sale": "19.99", "isPromoPrice": false, "quantities": [ {"unit": "", "value": "1.0"} ]} }, {"id": "AN085_S_PPPYRED", "attributes": { "color": "Poppy Red" , "size": "S" }, "avLevels": {"IN_STOCK": 1.0, "PREORDER": 0.0, "BACKORDER": 0.0, "NOT_AVAILABLE": 0.0}, "avStatus":"IN_STOCK", "inStock":true, "ATS": 6.0, "inStockDate": "Sat May 24 12:00:00 GMT 2014" , "pricing": {"standard": "24.0", "sale": "19.99", "isPromoPrice": false, "quantities": [ {"unit": "", "value": "1.0"} ]} }, {"id": "AN085_XL_EMERALD", "attributes": { "color": "Emerald" , "size": "XL" }, "avLevels": {"IN_STOCK": 1.0, "PREORDER": 0.0, "BACKORDER": 0.0, "NOT_AVAILABLE": 0.0}, "avStatus":"IN_STOCK", "inStock":true, "ATS": 7.0, "inStockDate": "Sat May 24 12:00:00 GMT 2014" , "pricing": {"standard": "24.0", "sale": "19.99", "isPromoPrice": false, "quantities": [ {"unit": "", "value": "1.0"} ]} }, {"id": "AN085_XL_PPPYRED", "attributes": { "color": "Poppy Red" , "size": "XL" }, "avLevels": {"IN_STOCK": 1.0, "PREORDER": 0.0, "BACKORDER": 0.0, "NOT_AVAILABLE": 0.0}, "avStatus":"IN_STOCK", "inStock":true, "ATS": 7.0, "inStockDate": "Sat May 24 12:00:00 GMT 2014" , "pricing": {"standard": "24.0", "sale": "19.99", "isPromoPrice": false, "quantities": [ {"unit": "", "value": "1.0"} ]} } ] }}