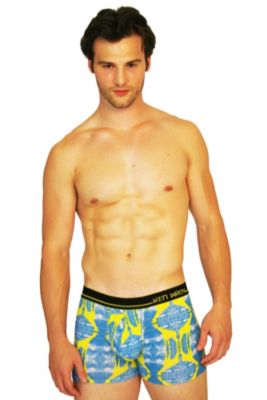 {"imageName":"http://s7d2.scene7.com/is/image/UnderGear/AN087_YGFV_1122SBB?$dwpp$"}
{"imageName":"http://s7d2.scene7.com/is/image/UnderGear/AN087_YGBV_1122SBB?$dwpp$"}
{"imageName":"http://s7d2.scene7.com/is/image/UnderGear/AN087_RDFV_1122SBB?$dwpp$"}
{"imageName":"http://s7d2.scene7.com/is/image/UnderGear/AN087_MARAFV_1122SBB?$dwpp$"}
{"imageName":"http://s7d2.scene7.com/is/image/UnderGear/AN087_METSFV_1122SBB?$dwpp$"}
{"imageName":"http://s7d2.scene7.com/is/image/UnderGear/AN087_HNDSFV_1122SBB?$dwpp$"}
Ken Wroy® Printed Boxer Brief
UG # AN087
Special Offer:
20% OFF 3 OR MORE ITEMS (Details)
Select Quantity
Print
Men's boxer briefs
Cotton / elastane underwear for men
Machine wash
Imported
Ken Wroy underwear style 13FPYGIRA-BB
Fun, funky prints make this men's underwear from Ken Wroy a must-have! Available in 5 different styles, each with unique color palettes and patterns, the Ken Wroy Printed Boxer Briefs are a great way to add personality to your top drawer. The underwear is made from a super-soft cotton blend and features the Ken Wroy logo on a contrast black waistband. Choose your favorite print, or collect them all!
{ "variations": { "variants": [ {"id": "AN087_L_HOUNDSTH", "attributes": { "color": "Houndstooth" , "size": "L" }, "avLevels": {"IN_STOCK": 1.0, "PREORDER": 0.0, "BACKORDER": 0.0, "NOT_AVAILABLE": 0.0}, "avStatus":"IN_STOCK", "inStock":true, "ATS": 10.0, "inStockDate": "Sat May 24 12:00:00 GMT 2014" , "pricing": {"standard": "28.0", "sale": "22.99", "isPromoPrice": false, "quantities": [ {"unit": "", "value": "1.0"} ]} }, {"id": "AN087_L_MARATHON", "attributes": { "color": "Marathoner" , "size": "L" }, "avLevels": {"IN_STOCK": 1.0, "PREORDER": 0.0, "BACKORDER": 0.0, "NOT_AVAILABLE": 0.0}, "avStatus":"IN_STOCK", "inStock":true, "ATS": 11.0, "inStockDate": "Sat May 24 12:00:00 GMT 2014" , "pricing": {"standard": "28.0", "sale": "22.99", "isPromoPrice": false, "quantities": [ {"unit": "", "value": "1.0"} ]} }, {"id": "AN087_L_METS", "attributes": { "color": "Mets" , "size": "L" }, "avLevels": {"IN_STOCK": 1.0, "PREORDER": 0.0, "BACKORDER": 0.0, "NOT_AVAILABLE": 0.0}, "avStatus":"IN_STOCK", "inStock":true, "ATS": 9.0, "inStockDate": "Sat May 24 12:00:00 GMT 2014" , "pricing": {"standard": "28.0", "sale": "22.99", "isPromoPrice": false, "quantities": [ {"unit": "", "value": "1.0"} ]} }, {"id": "AN087_L_REDDANCE", "attributes": { "color": "Red Dance" , "size": "L" }, "avLevels": {"IN_STOCK": 1.0, "PREORDER": 0.0, "BACKORDER": 0.0, "NOT_AVAILABLE": 0.0}, "avStatus":"IN_STOCK", "inStock":true, "ATS": 12.0, "inStockDate": "Sat May 24 12:00:00 GMT 2014" , "pricing": {"standard": "28.0", "sale": "22.99", "isPromoPrice": false, "quantities": [ {"unit": "", "value": "1.0"} ]} }, {"id": "AN087_L_YELGIRAF", "attributes": { "color": "Yellow Giraffe" , "size": "L" }, "avLevels": {"IN_STOCK": 1.0, "PREORDER": 0.0, "BACKORDER": 0.0, "NOT_AVAILABLE": 0.0}, "avStatus":"IN_STOCK", "inStock":true, "ATS": 11.0, "inStockDate": "Sat May 24 12:00:00 GMT 2014" , "pricing": {"standard": "28.0", "sale": "22.99", "isPromoPrice": false, "quantities": [ {"unit": "", "value": "1.0"} ]} }, {"id": "AN087_M_HOUNDSTH", "attributes": { "color": "Houndstooth" , "size": "M" }, "avLevels": {"IN_STOCK": 1.0, "PREORDER": 0.0, "BACKORDER": 0.0, "NOT_AVAILABLE": 0.0}, "avStatus":"IN_STOCK", "inStock":true, "ATS": 12.0, "inStockDate": "Sat May 24 12:00:00 GMT 2014" , "pricing": {"standard": "28.0", "sale": "22.99", "isPromoPrice": false, "quantities": [ {"unit": "", "value": "1.0"} ]} }, {"id": "AN087_M_MARATHON", "attributes": { "color": "Marathoner" , "size": "M" }, "avLevels": {"IN_STOCK": 1.0, "PREORDER": 0.0, "BACKORDER": 0.0, "NOT_AVAILABLE": 0.0}, "avStatus":"IN_STOCK", "inStock":true, "ATS": 9.0, "inStockDate": "Sat May 24 12:00:00 GMT 2014" , "pricing": {"standard": "28.0", "sale": "22.99", "isPromoPrice": false, "quantities": [ {"unit": "", "value": "1.0"} ]} }, {"id": "AN087_M_METS", "attributes": { "color": "Mets" , "size": "M" }, "avLevels": {"IN_STOCK": 1.0, "PREORDER": 0.0, "BACKORDER": 0.0, "NOT_AVAILABLE": 0.0}, "avStatus":"IN_STOCK", "inStock":true, "ATS": 10.0, "inStockDate": "Sat May 24 12:00:00 GMT 2014" , "pricing": {"standard": "28.0", "sale": "22.99", "isPromoPrice": false, "quantities": [ {"unit": "", "value": "1.0"} ]} }, {"id": "AN087_M_REDDANCE", "attributes": { "color": "Red Dance" , "size": "M" }, "avLevels": {"IN_STOCK": 1.0, "PREORDER": 0.0, "BACKORDER": 0.0, "NOT_AVAILABLE": 0.0}, "avStatus":"IN_STOCK", "inStock":true, "ATS": 12.0, "inStockDate": "Sat May 24 12:00:00 GMT 2014" , "pricing": {"standard": "28.0", "sale": "22.99", "isPromoPrice": false, "quantities": [ {"unit": "", "value": "1.0"} ]} }, {"id": "AN087_M_YELGIRAF", "attributes": { "color": "Yellow Giraffe" , "size": "M" }, "avLevels": {"IN_STOCK": 1.0, "PREORDER": 0.0, "BACKORDER": 0.0, "NOT_AVAILABLE": 0.0}, "avStatus":"IN_STOCK", "inStock":true, "ATS": 6.0, "inStockDate": "Sat May 24 12:00:00 GMT 2014" , "pricing": {"standard": "28.0", "sale": "22.99", "isPromoPrice": false, "quantities": [ {"unit": "", "value": "1.0"} ]} }, {"id": "AN087_S_HOUNDSTH", "attributes": { "color": "Houndstooth" , "size": "S" }, "avLevels": {"IN_STOCK": 1.0, "PREORDER": 0.0, "BACKORDER": 0.0, "NOT_AVAILABLE": 0.0}, "avStatus":"IN_STOCK", "inStock":true, "ATS": 7.0, "inStockDate": "Sat May 24 12:00:00 GMT 2014" , "pricing": {"standard": "28.0", "sale": "22.99", "isPromoPrice": false, "quantities": [ {"unit": "", "value": "1.0"} ]} }, {"id": "AN087_S_MARATHON", "attributes": { "color": "Marathoner" , "size": "S" }, "avLevels": {"IN_STOCK": 1.0, "PREORDER": 0.0, "BACKORDER": 0.0, "NOT_AVAILABLE": 0.0}, "avStatus":"IN_STOCK", "inStock":true, "ATS": 6.0, "inStockDate": "Sat May 24 12:00:00 GMT 2014" , "pricing": {"standard": "28.0", "sale": "22.99", "isPromoPrice": false, "quantities": [ {"unit": "", "value": "1.0"} ]} }, {"id": "AN087_S_METS", "attributes": { "color": "Mets" , "size": "S" }, "avLevels": {"IN_STOCK": 1.0, "PREORDER": 0.0, "BACKORDER": 0.0, "NOT_AVAILABLE": 0.0}, "avStatus":"IN_STOCK", "inStock":true, "ATS": 7.0, "inStockDate": "Sat May 24 12:00:00 GMT 2014" , "pricing": {"standard": "28.0", "sale": "22.99", "isPromoPrice": false, "quantities": [ {"unit": "", "value": "1.0"} ]} }, {"id": "AN087_S_REDDANCE", "attributes": { "color": "Red Dance" , "size": "S" }, "avLevels": {"IN_STOCK": 1.0, "PREORDER": 0.0, "BACKORDER": 0.0, "NOT_AVAILABLE": 0.0}, "avStatus":"IN_STOCK", "inStock":true, "ATS": 7.0, "inStockDate": "Sat May 24 12:00:00 GMT 2014" , "pricing": {"standard": "28.0", "sale": "22.99", "isPromoPrice": false, "quantities": [ {"unit": "", "value": "1.0"} ]} }, {"id": "AN087_S_YELGIRAF", "attributes": { "color": "Yellow Giraffe" , "size": "S" }, "avLevels": {"IN_STOCK": 1.0, "PREORDER": 0.0, "BACKORDER": 0.0, "NOT_AVAILABLE": 0.0}, "avStatus":"IN_STOCK", "inStock":true, "ATS": 7.0, "inStockDate": "Sat May 24 12:00:00 GMT 2014" , "pricing": {"standard": "28.0", "sale": "22.99", "isPromoPrice": false, "quantities": [ {"unit": "", "value": "1.0"} ]} }, {"id": "AN087_XL_HOUNDSTH", "attributes": { "color": "Houndstooth" , "size": "XL" }, "avLevels": {"IN_STOCK": 1.0, "PREORDER": 0.0, "BACKORDER": 0.0, "NOT_AVAILABLE": 0.0}, "avStatus":"IN_STOCK", "inStock":true, "ATS": 5.0, "inStockDate": "Sat May 24 12:00:00 GMT 2014" , "pricing": {"standard": "28.0", "sale": "22.99", "isPromoPrice": false, "quantities": [ {"unit": "", "value": "1.0"} ]} }, {"id": "AN087_XL_MARATHON", "attributes": { "color": "Marathoner" , "size": "XL" }, "avLevels": {"IN_STOCK": 1.0, "PREORDER": 0.0, "BACKORDER": 0.0, "NOT_AVAILABLE": 0.0}, "avStatus":"IN_STOCK", "inStock":true, "ATS": 4.0, "inStockDate": "Sat May 24 12:00:00 GMT 2014" , "pricing": {"standard": "28.0", "sale": "22.99", "isPromoPrice": false, "quantities": [ {"unit": "", "value": "1.0"} ]} }, {"id": "AN087_XL_METS", "attributes": { "color": "Mets" , "size": "XL" }, "avLevels": {"IN_STOCK": 1.0, "PREORDER": 0.0, "BACKORDER": 0.0, "NOT_AVAILABLE": 0.0}, "avStatus":"IN_STOCK", "inStock":true, "ATS": 5.0, "inStockDate": "Sat May 24 12:00:00 GMT 2014" , "pricing": {"standard": "28.0", "sale": "22.99", "isPromoPrice": false, "quantities": [ {"unit": "", "value": "1.0"} ]} }, {"id": "AN087_XL_REDDANCE", "attributes": { "color": "Red Dance" , "size": "XL" }, "avLevels": {"IN_STOCK": 1.0, "PREORDER": 0.0, "BACKORDER": 0.0, "NOT_AVAILABLE": 0.0}, "avStatus":"IN_STOCK", "inStock":true, "ATS": 6.0, "inStockDate": "Sat May 24 12:00:00 GMT 2014" , "pricing": {"standard": "28.0", "sale": "22.99", "isPromoPrice": false, "quantities": [ {"unit": "", "value": "1.0"} ]} }, {"id": "AN087_XL_YELGIRAF", "attributes": { "color": "Yellow Giraffe" , "size": "XL" }, "avLevels": {"IN_STOCK": 1.0, "PREORDER": 0.0, "BACKORDER": 0.0, "NOT_AVAILABLE": 0.0}, "avStatus":"IN_STOCK", "inStock":true, "ATS": 6.0, "inStockDate": "Sat May 24 12:00:00 GMT 2014" , "pricing": {"standard": "28.0", "sale": "22.99", "isPromoPrice": false, "quantities": [ {"unit": "", "value": "1.0"} ]} } ] }}