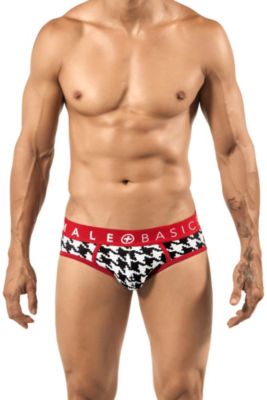 {"imageName":"http://s7d2.scene7.com/is/image/UnderGear/AM963_HNDFV_Q13?$dwpp$"}
{"imageName":"http://s7d2.scene7.com/is/image/UnderGear/AM963_HNDBV_Q13?$dwpp$"}
{"imageName":"http://s7d2.scene7.com/is/image/UnderGear/AM963_CHVFV_Q13?$dwpp$"}
{"imageName":"http://s7d2.scene7.com/is/image/UnderGear/AM963_CHVBV_Q13?$dwpp$"}
{"imageName":"http://s7d2.scene7.com/is/image/UnderGear/AM963_BYBFV_Q13?$dwpp$"}
{"imageName":"http://s7d2.scene7.com/is/image/UnderGear/AM963_BYBBV_Q13?$dwpp$"}
Malebasics® Geometrics Brief
UG # AM963
Special Offer:
20% OFF 3 OR MORE ITEMS (Details)
Select Quantity
Print
Men's briefs
Cotton / Lycra underwear for men
Machine wash
Imported
Male Basics underwear style MBG03
Designed to mesmerize, these fashionable men's briefs from Male Basics instantly draw the eye. Featuring an unexpected pattern enhanced with contrast piping in bright red, the Male Basics Geometrics Briefs are sure to put your pouch in the spotlight. Made from stretch cotton for all-day comfort.
{ "variations": { "variants": [ {"id": "AM963_L_HOU", "attributes": { "color": "Hound" , "size": "L" }, "avLevels": {"IN_STOCK": 1.0, "PREORDER": 0.0, "BACKORDER": 0.0, "NOT_AVAILABLE": 0.0}, "avStatus":"IN_STOCK", "inStock":true, "ATS": 10003.0, "inStockDate": "Sat May 24 12:00:00 GMT 2014" , "pricing": {"standard": "25.0", "sale": "25.0", "isPromoPrice": false, "quantities": [ {"unit": "", "value": "1.0"} ]} }, {"id": "AM963_M_HOU", "attributes": { "color": "Hound" , "size": "M" }, "avLevels": {"IN_STOCK": 0.0, "PREORDER": 0.0, "BACKORDER": 0.0, "NOT_AVAILABLE": 1.0}, "avStatus":"NOT_AVAILABLE", "inStock":false, "ATS": 0.0, "inStockDate": "Fri Mar 07 12:00:00 GMT 2014" , "pricing": {"standard": "25.0", "sale": "25.0", "isPromoPrice": false, "quantities": [ {"unit": "", "value": "1.0"} ]} }, {"id": "AM963_M_BYB", "attributes": { "color": "Byblos" , "size": "M" }, "avLevels": {"IN_STOCK": 1.0, "PREORDER": 0.0, "BACKORDER": 0.0, "NOT_AVAILABLE": 0.0}, "avStatus":"IN_STOCK", "inStock":true, "ATS": 10012.0, "inStockDate": "Sat May 24 12:00:00 GMT 2014" , "pricing": {"standard": "25.0", "sale": "25.0", "isPromoPrice": false, "quantities": [ {"unit": "", "value": "1.0"} ]} }, {"id": "AM963_L_CHE", "attributes": { "color": "Chevron" , "size": "L" }, "avLevels": {"IN_STOCK": 1.0, "PREORDER": 0.0, "BACKORDER": 0.0, "NOT_AVAILABLE": 0.0}, "avStatus":"IN_STOCK", "inStock":true, "ATS": 10001.0, "inStockDate": "Sat May 24 12:00:00 GMT 2014" , "pricing": {"standard": "25.0", "sale": "25.0", "isPromoPrice": false, "quantities": [ {"unit": "", "value": "1.0"} ]} }, {"id": "AM963_S_BYB", "attributes": { "color": "Byblos" , "size": "S" }, "avLevels": {"IN_STOCK": 0.0, "PREORDER": 0.0, "BACKORDER": 1.0, "NOT_AVAILABLE": 0.0}, "avStatus":"BACKORDER", "inStock":false, "ATS": 10000.0, "inStockDate": "Sat May 24 12:00:00 GMT 2014" , "pricing": {"standard": "25.0", "sale": "25.0", "isPromoPrice": false, "quantities": [ {"unit": "", "value": "1.0"} ]} }, {"id": "AM963_M_CHE", "attributes": { "color": "Chevron" , "size": "M" }, "avLevels": {"IN_STOCK": 1.0, "PREORDER": 0.0, "BACKORDER": 0.0, "NOT_AVAILABLE": 0.0}, "avStatus":"IN_STOCK", "inStock":true, "ATS": 10010.0, "inStockDate": "Sat May 24 12:00:00 GMT 2014" , "pricing": {"standard": "25.0", "sale": "25.0", "isPromoPrice": false, "quantities": [ {"unit": "", "value": "1.0"} ]} }, {"id": "AM963_XL_BYB", "attributes": { "color": "Byblos" , "size": "XL" }, "avLevels": {"IN_STOCK": 1.0, "PREORDER": 0.0, "BACKORDER": 0.0, "NOT_AVAILABLE": 0.0}, "avStatus":"IN_STOCK", "inStock":true, "ATS": 10008.0, "inStockDate": "Sat May 24 12:00:00 GMT 2014" , "pricing": {"standard": "25.0", "sale": "25.0", "isPromoPrice": false, "quantities": [ {"unit": "", "value": "1.0"} ]} }, {"id": "AM963_S_HOU", "attributes": { "color": "Hound" , "size": "S" }, "avLevels": {"IN_STOCK": 1.0, "PREORDER": 0.0, "BACKORDER": 0.0, "NOT_AVAILABLE": 0.0}, "avStatus":"IN_STOCK", "inStock":true, "ATS": 1.0, "inStockDate": "Wed Jan 01 12:00:00 GMT 2014" , "pricing": {"standard": "25.0", "sale": "25.0", "isPromoPrice": false, "quantities": [ {"unit": "", "value": "1.0"} ]} }, {"id": "AM963_XL_HOU", "attributes": { "color": "Hound" , "size": "XL" }, "avLevels": {"IN_STOCK": 1.0, "PREORDER": 0.0, "BACKORDER": 0.0, "NOT_AVAILABLE": 0.0}, "avStatus":"IN_STOCK", "inStock":true, "ATS": 10005.0, "inStockDate": "Sat May 24 12:00:00 GMT 2014" , "pricing": {"standard": "25.0", "sale": "25.0", "isPromoPrice": false, "quantities": [ {"unit": "", "value": "1.0"} ]} }, {"id": "AM963_S_CHE", "attributes": { "color": "Chevron" , "size": "S" }, "avLevels": {"IN_STOCK": 0.0, "PREORDER": 0.0, "BACKORDER": 0.0, "NOT_AVAILABLE": 1.0}, "avStatus":"NOT_AVAILABLE", "inStock":false, "ATS": 0.0, "inStockDate": "Wed Feb 26 12:00:00 GMT 2014" , "pricing": {"standard": "25.0", "sale": "25.0", "isPromoPrice": false, "quantities": [ {"unit": "", "value": "1.0"} ]} }, {"id": "AM963_XL_CHE", "attributes": { "color": "Chevron" , "size": "XL" }, "avLevels": {"IN_STOCK": 0.0, "PREORDER": 0.0, "BACKORDER": 0.0, "NOT_AVAILABLE": 1.0}, "avStatus":"NOT_AVAILABLE", "inStock":false, "ATS": 0.0, "inStockDate": "Wed Feb 26 12:00:00 GMT 2014" , "pricing": {"standard": "25.0", "sale": "25.0", "isPromoPrice": false, "quantities": [ {"unit": "", "value": "1.0"} ]} }, {"id": "AM963_L_BYB", "attributes": { "color": "Byblos" , "size": "L" }, "avLevels": {"IN_STOCK": 1.0, "PREORDER": 0.0, "BACKORDER": 0.0, "NOT_AVAILABLE": 0.0}, "avStatus":"IN_STOCK", "inStock":true, "ATS": 10004.0, "inStockDate": "Sat May 24 12:00:00 GMT 2014" , "pricing": {"standard": "25.0", "sale": "25.0", "isPromoPrice": false, "quantities": [ {"unit": "", "value": "1.0"} ]} } ] }}