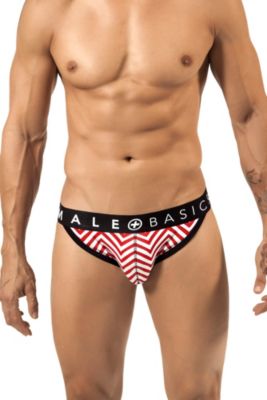 {"imageName":"http://s7d2.scene7.com/is/image/UnderGear/AM961_CHVFV_Q13?$dwpp$"}
{"imageName":"http://s7d2.scene7.com/is/image/UnderGear/AM961_BKBV_Q13?$dwpp$"}
{"imageName":"http://s7d2.scene7.com/is/image/UnderGear/AM961_BYBFV_Q13?$dwpp$"}
{"imageName":"http://s7d2.scene7.com/is/image/UnderGear/AM961_HNDFV_Q13?$dwpp$"}
{"imageName":"http://s7d2.scene7.com/is/image/UnderGear/AM961_RDBV_Q13?$dwpp$"}
Malebasics® Geometrics Jock
UG # AM961
Special Offer:
20% OFF 3 OR MORE ITEMS (Details)
Select Quantity
Print
Men's jockstrap underwear
Cotton / Lycra underwear for men
Machine wash
Imported
Male Basics underwear style MBG09
Mesmerize your audience in this eye-catching men's jockstrap from Male Basics. Designed with an unexpected red-and-white chevron print enhanced with contrast piping in black, the Male Basics Geometrics Jock puts your goods front and center. Made from stretch cotton for all-day comfort.
{ "variations": { "variants": [ {"id": "AM961_S_BYB", "attributes": { "color": "Byblos" , "size": "S" }, "avLevels": {"IN_STOCK": 0.0, "PREORDER": 0.0, "BACKORDER": 1.0, "NOT_AVAILABLE": 0.0}, "avStatus":"BACKORDER", "inStock":false, "ATS": 10000.0, "inStockDate": "Sat May 24 12:00:00 GMT 2014" , "pricing": {"standard": "25.0", "sale": "25.0", "isPromoPrice": false, "quantities": [ {"unit": "", "value": "1.0"} ]} }, {"id": "AM961_L_HOU", "attributes": { "color": "Hound" , "size": "L" }, "avLevels": {"IN_STOCK": 0.0, "PREORDER": 0.0, "BACKORDER": 0.0, "NOT_AVAILABLE": 1.0}, "avStatus":"NOT_AVAILABLE", "inStock":false, "ATS": 0.0, "inStockDate": "Wed May 14 12:00:00 GMT 2014" , "pricing": {"standard": "25.0", "sale": "25.0", "isPromoPrice": false, "quantities": [ {"unit": "", "value": "1.0"} ]} }, {"id": "AM961_M_BYB", "attributes": { "color": "Byblos" , "size": "M" }, "avLevels": {"IN_STOCK": 1.0, "PREORDER": 0.0, "BACKORDER": 0.0, "NOT_AVAILABLE": 0.0}, "avStatus":"IN_STOCK", "inStock":true, "ATS": 10012.0, "inStockDate": "Sat May 24 12:00:00 GMT 2014" , "pricing": {"standard": "25.0", "sale": "25.0", "isPromoPrice": false, "quantities": [ {"unit": "", "value": "1.0"} ]} }, {"id": "AM961_XL_CHE", "attributes": { "color": "Chevron" , "size": "XL" }, "avLevels": {"IN_STOCK": 1.0, "PREORDER": 0.0, "BACKORDER": 0.0, "NOT_AVAILABLE": 0.0}, "avStatus":"IN_STOCK", "inStock":true, "ATS": 10002.0, "inStockDate": "Sat May 24 12:00:00 GMT 2014" , "pricing": {"standard": "25.0", "sale": "25.0", "isPromoPrice": false, "quantities": [ {"unit": "", "value": "1.0"} ]} }, {"id": "AM961_M_HOU", "attributes": { "color": "Hound" , "size": "M" }, "avLevels": {"IN_STOCK": 0.0, "PREORDER": 0.0, "BACKORDER": 0.0, "NOT_AVAILABLE": 1.0}, "avStatus":"NOT_AVAILABLE", "inStock":false, "ATS": 0.0, "inStockDate": "Wed May 14 12:00:00 GMT 2014" , "pricing": {"standard": "25.0", "sale": "25.0", "isPromoPrice": false, "quantities": [ {"unit": "", "value": "1.0"} ]} }, {"id": "AM961_S_CHE", "attributes": { "color": "Chevron" , "size": "S" }, "avLevels": {"IN_STOCK": 0.0, "PREORDER": 0.0, "BACKORDER": 0.0, "NOT_AVAILABLE": 1.0}, "avStatus":"NOT_AVAILABLE", "inStock":false, "ATS": 0.0, "inStockDate": "Wed May 14 12:00:00 GMT 2014" , "pricing": {"standard": "25.0", "sale": "25.0", "isPromoPrice": false, "quantities": [ {"unit": "", "value": "1.0"} ]} }, {"id": "AM961_XL_HOU", "attributes": { "color": "Hound" , "size": "XL" }, "avLevels": {"IN_STOCK": 1.0, "PREORDER": 0.0, "BACKORDER": 0.0, "NOT_AVAILABLE": 0.0}, "avStatus":"IN_STOCK", "inStock":true, "ATS": 10003.0, "inStockDate": "Sat May 24 12:00:00 GMT 2014" , "pricing": {"standard": "25.0", "sale": "25.0", "isPromoPrice": false, "quantities": [ {"unit": "", "value": "1.0"} ]} }, {"id": "AM961_L_CHE", "attributes": { "color": "Chevron" , "size": "L" }, "avLevels": {"IN_STOCK": 0.0, "PREORDER": 0.0, "BACKORDER": 0.0, "NOT_AVAILABLE": 1.0}, "avStatus":"NOT_AVAILABLE", "inStock":false, "ATS": 0.0, "inStockDate": "Wed May 14 12:00:00 GMT 2014" , "pricing": {"standard": "25.0", "sale": "25.0", "isPromoPrice": false, "quantities": [ {"unit": "", "value": "1.0"} ]} }, {"id": "AM961_L_BYB", "attributes": { "color": "Byblos" , "size": "L" }, "avLevels": {"IN_STOCK": 1.0, "PREORDER": 0.0, "BACKORDER": 0.0, "NOT_AVAILABLE": 0.0}, "avStatus":"IN_STOCK", "inStock":true, "ATS": 10005.0, "inStockDate": "Sat May 24 12:00:00 GMT 2014" , "pricing": {"standard": "25.0", "sale": "25.0", "isPromoPrice": false, "quantities": [ {"unit": "", "value": "1.0"} ]} }, {"id": "AM961_XL_BYB", "attributes": { "color": "Byblos" , "size": "XL" }, "avLevels": {"IN_STOCK": 1.0, "PREORDER": 0.0, "BACKORDER": 0.0, "NOT_AVAILABLE": 0.0}, "avStatus":"IN_STOCK", "inStock":true, "ATS": 10008.0, "inStockDate": "Sat May 24 12:00:00 GMT 2014" , "pricing": {"standard": "25.0", "sale": "25.0", "isPromoPrice": false, "quantities": [ {"unit": "", "value": "1.0"} ]} }, {"id": "AM961_S_HOU", "attributes": { "color": "Hound" , "size": "S" }, "avLevels": {"IN_STOCK": 0.0, "PREORDER": 0.0, "BACKORDER": 0.0, "NOT_AVAILABLE": 1.0}, "avStatus":"NOT_AVAILABLE", "inStock":false, "ATS": 0.0, "inStockDate": "Wed May 14 12:00:00 GMT 2014" , "pricing": {"standard": "25.0", "sale": "25.0", "isPromoPrice": false, "quantities": [ {"unit": "", "value": "1.0"} ]} }, {"id": "AM961_M_CHE", "attributes": { "color": "Chevron" , "size": "M" }, "avLevels": {"IN_STOCK": 0.0, "PREORDER": 0.0, "BACKORDER": 0.0, "NOT_AVAILABLE": 1.0}, "avStatus":"NOT_AVAILABLE", "inStock":false, "ATS": 0.0, "inStockDate": "Wed May 14 12:00:00 GMT 2014" , "pricing": {"standard": "25.0", "sale": "25.0", "isPromoPrice": false, "quantities": [ {"unit": "", "value": "1.0"} ]} } ] }}