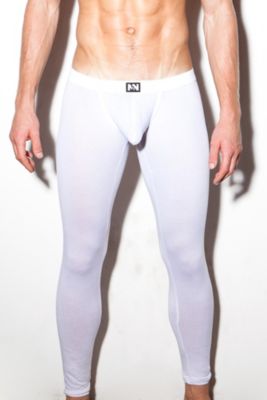 N2N® Classic Cotton Long John
UG # PE114
Special Offer:
20% OFF 3 OR MORE ITEMS (Details)
Select Quantity
Print
Men's long johns
Men's long underwear made from cotton/spandex
Machine wash
Made in USA
N2N style number UN9
Make yourself comfortable with Classic Cotton long johns from N2N. The supportive enhanced pouch ensures everything stays comfortably in place. Crafted from soft stretch cotton, these essential N2N long johns are so lightweight and easy-to-wear, you'll forget you have them on.
{ "variations": { "variants": [ {"id": "PE114_L_BA", "attributes": { "color": "Black" , "size": "L" }, "avLevels": {"IN_STOCK": 0.0, "PREORDER": 0.0, "BACKORDER": 0.0, "NOT_AVAILABLE": 1.0}, "avStatus":"NOT_AVAILABLE", "inStock":false, "ATS": 0.0, "inStockDate": "Tue Dec 31 12:00:00 GMT 2030" , "pricing": {"standard": "32.0", "sale": "32.0", "isPromoPrice": false, "quantities": [ {"unit": "", "value": "1.0"} ]} }, {"id": "PE114_L_WI", "attributes": { "color": "White" , "size": "L" }, "avLevels": {"IN_STOCK": 0.0, "PREORDER": 0.0, "BACKORDER": 0.0, "NOT_AVAILABLE": 1.0}, "avStatus":"NOT_AVAILABLE", "inStock":false, "ATS": 0.0, "inStockDate": "Tue Dec 31 12:00:00 GMT 2030" , "pricing": {"standard": "32.0", "sale": "32.0", "isPromoPrice": false, "quantities": [ {"unit": "", "value": "1.0"} ]} }, {"id": "PE114_M_BA", "attributes": { "color": "Black" , "size": "M" }, "avLevels": {"IN_STOCK": 0.0, "PREORDER": 0.0, "BACKORDER": 0.0, "NOT_AVAILABLE": 1.0}, "avStatus":"NOT_AVAILABLE", "inStock":false, "ATS": 0.0, "inStockDate": "Tue Dec 31 12:00:00 GMT 2030" , "pricing": {"standard": "32.0", "sale": "32.0", "isPromoPrice": false, "quantities": [ {"unit": "", "value": "1.0"} ]} }, {"id": "PE114_M_WI", "attributes": { "color": "White" , "size": "M" }, "avLevels": {"IN_STOCK": 0.0, "PREORDER": 0.0, "BACKORDER": 0.0, "NOT_AVAILABLE": 1.0}, "avStatus":"NOT_AVAILABLE", "inStock":false, "ATS": 0.0, "inStockDate": "Tue Dec 31 12:00:00 GMT 2030" , "pricing": {"standard": "32.0", "sale": "32.0", "isPromoPrice": false, "quantities": [ {"unit": "", "value": "1.0"} ]} }, {"id": "PE114_S_BA", "attributes": { "color": "Black" , "size": "S" }, "avLevels": {"IN_STOCK": 0.0, "PREORDER": 0.0, "BACKORDER": 0.0, "NOT_AVAILABLE": 1.0}, "avStatus":"NOT_AVAILABLE", "inStock":false, "ATS": 0.0, "inStockDate": "Tue Dec 31 12:00:00 GMT 2030" , "pricing": {"standard": "32.0", "sale": "32.0", "isPromoPrice": false, "quantities": [ {"unit": "", "value": "1.0"} ]} }, {"id": "PE114_S_WI", "attributes": { "color": "White" , "size": "S" }, "avLevels": {"IN_STOCK": 0.0, "PREORDER": 0.0, "BACKORDER": 0.0, "NOT_AVAILABLE": 1.0}, "avStatus":"NOT_AVAILABLE", "inStock":false, "ATS": 0.0, "inStockDate": "Tue Dec 31 12:00:00 GMT 2030" , "pricing": {"standard": "32.0", "sale": "32.0", "isPromoPrice": false, "quantities": [ {"unit": "", "value": "1.0"} ]} }, {"id": "PE114_XL_BA", "attributes": { "color": "Black" , "size": "XL" }, "avLevels": {"IN_STOCK": 0.0, "PREORDER": 0.0, "BACKORDER": 0.0, "NOT_AVAILABLE": 1.0}, "avStatus":"NOT_AVAILABLE", "inStock":false, "ATS": 0.0, "inStockDate": "Tue Dec 31 12:00:00 GMT 2030" , "pricing": {"standard": "32.0", "sale": "32.0", "isPromoPrice": false, "quantities": [ {"unit": "", "value": "1.0"} ]} }, {"id": "PE114_XL_WI", "attributes": { "color": "White" , "size": "XL" }, "avLevels": {"IN_STOCK": 0.0, "PREORDER": 0.0, "BACKORDER": 0.0, "NOT_AVAILABLE": 1.0}, "avStatus":"NOT_AVAILABLE", "inStock":false, "ATS": 0.0, "inStockDate": "Tue Dec 31 12:00:00 GMT 2030" , "pricing": {"standard": "32.0", "sale": "32.0", "isPromoPrice": false, "quantities": [ {"unit": "", "value": "1.0"} ]} } ] }}