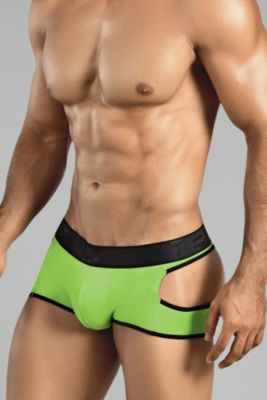 PPU® Cutout Trunk
UG # AM262
Special Offer:
20% OFF 3 OR MORE ITEMS (Details)
Select Quantity
Print
Men's trunks with sexy cutout
Men's underwear made from polyester / spandex
Machine wash
Imported
PPU underwear style 1232
Sleek, sexy men's underwear for special occasions, working out or your everyday routine. PPU presents a new and innovative design of men's trunks that you'll want to wear all the time: the PPU Cutout trunks. Designed with a sexy cutout to reveal some skin, these sexy men's trunks from PPU come in a bold blue body with a large, but subtle PPU logo on the waistband. Devised with quality in mind, th PPU Cutout men's trunks are both sporty and erotic.
{ "variations": { "variants": [ {"id": "AM262_L_BLU", "attributes": { "color": "Blue" , "size": "L" }, "avLevels": {"IN_STOCK": 0.0, "PREORDER": 0.0, "BACKORDER": 0.0, "NOT_AVAILABLE": 1.0}, "avStatus":"NOT_AVAILABLE", "inStock":false, "ATS": 0.0, "inStockDate": "Wed Apr 17 12:00:00 GMT 2013" , "pricing": {"standard": "25.0", "sale": "25.0", "isPromoPrice": false, "quantities": [ {"unit": "", "value": "1.0"} ]} }, {"id": "AM262_M_BLU", "attributes": { "color": "Blue" , "size": "M" }, "avLevels": {"IN_STOCK": 0.0, "PREORDER": 0.0, "BACKORDER": 0.0, "NOT_AVAILABLE": 1.0}, "avStatus":"NOT_AVAILABLE", "inStock":false, "ATS": 0.0, "inStockDate": "Thu Feb 14 12:00:00 GMT 2013" , "pricing": {"standard": "25.0", "sale": "25.0", "isPromoPrice": false, "quantities": [ {"unit": "", "value": "1.0"} ]} }, {"id": "AM262_S_BLU", "attributes": { "color": "Blue" , "size": "S" }, "avLevels": {"IN_STOCK": 0.0, "PREORDER": 0.0, "BACKORDER": 0.0, "NOT_AVAILABLE": 1.0}, "avStatus":"NOT_AVAILABLE", "inStock":false, "ATS": 0.0, "inStockDate": "Thu Feb 14 12:00:00 GMT 2013" , "pricing": {"standard": "25.0", "sale": "25.0", "isPromoPrice": false, "quantities": [ {"unit": "", "value": "1.0"} ]} }, {"id": "AM262_XL_BLU", "attributes": { "color": "Blue" , "size": "XL" }, "avLevels": {"IN_STOCK": 0.0, "PREORDER": 0.0, "BACKORDER": 0.0, "NOT_AVAILABLE": 1.0}, "avStatus":"NOT_AVAILABLE", "inStock":false, "ATS": 0.0, "inStockDate": "Thu Feb 14 12:00:00 GMT 2013" , "pricing": {"standard": "25.0", "sale": "25.0", "isPromoPrice": false, "quantities": [ {"unit": "", "value": "1.0"} ]} }, {"id": "AM262_L_GRE", "attributes": { "color": "Green" , "size": "L" }, "avLevels": {"IN_STOCK": 0.0, "PREORDER": 0.0, "BACKORDER": 0.0, "NOT_AVAILABLE": 1.0}, "avStatus":"NOT_AVAILABLE", "inStock":false, "ATS": 0.0, "inStockDate": "Wed Feb 26 12:00:00 GMT 2014" , "pricing": {"standard": "25.0", "sale": "25.0", "isPromoPrice": false, "quantities": [ {"unit": "", "value": "1.0"} ]} }, {"id": "AM262_XL_GRE", "attributes": { "color": "Green" , "size": "XL" }, "avLevels": {"IN_STOCK": 0.0, "PREORDER": 0.0, "BACKORDER": 0.0, "NOT_AVAILABLE": 1.0}, "avStatus":"NOT_AVAILABLE", "inStock":false, "ATS": 0.0, "inStockDate": "Thu Apr 10 12:00:00 GMT 2014" , "pricing": {"standard": "25.0", "sale": "25.0", "isPromoPrice": false, "quantities": [ {"unit": "", "value": "1.0"} ]} }, {"id": "AM262_S_GRE", "attributes": { "color": "Green" , "size": "S" }, "avLevels": {"IN_STOCK": 0.0, "PREORDER": 0.0, "BACKORDER": 0.0, "NOT_AVAILABLE": 1.0}, "avStatus":"NOT_AVAILABLE", "inStock":false, "ATS": 0.0, "inStockDate": "Wed Feb 26 12:00:00 GMT 2014" , "pricing": {"standard": "25.0", "sale": "25.0", "isPromoPrice": false, "quantities": [ {"unit": "", "value": "1.0"} ]} }, {"id": "AM262_M_GRE", "attributes": { "color": "Green" , "size": "M" }, "avLevels": {"IN_STOCK": 0.0, "PREORDER": 0.0, "BACKORDER": 0.0, "NOT_AVAILABLE": 1.0}, "avStatus":"NOT_AVAILABLE", "inStock":false, "ATS": 0.0, "inStockDate": "Wed Feb 26 12:00:00 GMT 2014" , "pricing": {"standard": "25.0", "sale": "25.0", "isPromoPrice": false, "quantities": [ {"unit": "", "value": "1.0"} ]} } ] }}