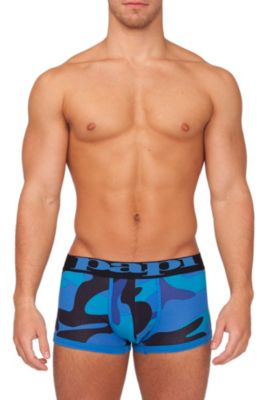 {"imageName":"http://s7d2.scene7.com/is/image/UnderGear/AM957_BB2FV_R13?$dwpp$"}
{"imageName":"http://s7d2.scene7.com/is/image/UnderGear/AM957_BB2BV_R13?$dwpp$"}
{"imageName":"http://s7d2.scene7.com/is/image/UnderGear/AM957_BBFV_R13?$dwpp$"}
{"imageName":"http://s7d2.scene7.com/is/image/UnderGear/AM957_BBBV_R13?$dwpp$"}
{"imageName":"http://s7d2.scene7.com/is/image/UnderGear/AM957_BG2FV_R13?$dwpp$"}
{"imageName":"http://s7d2.scene7.com/is/image/UnderGear/AM957_BG2BV_R13?$dwpp$"}
{"imageName":"http://s7d2.scene7.com/is/image/UnderGear/AM957_BGFV_R13?$dwpp$"}
Papi® Camo Flavor 2Pk Trunk
UG # AM957
Special Offer:
20% OFF 3 OR MORE ITEMS (Details)
Select Quantity
Print
2-pack men's trunks
Cotton / spandex camouflage underwear for men
Machine wash
Imported
Papi underwear style 980576
Bold black and blue colors give this camouflage underwear from Papi its sleek, stealthy looks. Made from a soft blend of cotton and spandex, the Papi Camo Flavor Trunks have an incredibly soft hand and comfortable stretch properties. Even better: this stylish camouflage underwear from Papi comes in a 2-pack, so you get twice the flavor, twice the fun.
{ "variations": { "variants": [ {"id": "AM957_L_BBU", "attributes": { "color": "Black/Blue" , "size": "L" }, "avLevels": {"IN_STOCK": 0.0, "PREORDER": 0.0, "BACKORDER": 1.0, "NOT_AVAILABLE": 0.0}, "avStatus":"BACKORDER", "inStock":false, "ATS": 10000.0, "inStockDate": "Sat May 24 12:00:00 GMT 2014" , "pricing": {"standard": "28.0", "sale": "28.0", "isPromoPrice": false, "quantities": [ {"unit": "", "value": "1.0"} ]} }, {"id": "AM957_L_BGE", "attributes": { "color": "Black/Green" , "size": "L" }, "avLevels": {"IN_STOCK": 0.0, "PREORDER": 0.0, "BACKORDER": 0.0, "NOT_AVAILABLE": 1.0}, "avStatus":"NOT_AVAILABLE", "inStock":false, "ATS": 0.0, "inStockDate": "Fri Feb 28 12:00:00 GMT 2014" , "pricing": {"standard": "28.0", "sale": "28.0", "isPromoPrice": false, "quantities": [ {"unit": "", "value": "1.0"} ]} }, {"id": "AM957_M_BBU", "attributes": { "color": "Black/Blue" , "size": "M" }, "avLevels": {"IN_STOCK": 0.0, "PREORDER": 0.0, "BACKORDER": 0.0, "NOT_AVAILABLE": 1.0}, "avStatus":"NOT_AVAILABLE", "inStock":false, "ATS": 0.0, "inStockDate": "Wed Feb 26 12:00:00 GMT 2014" , "pricing": {"standard": "28.0", "sale": "28.0", "isPromoPrice": false, "quantities": [ {"unit": "", "value": "1.0"} ]} }, {"id": "AM957_M_BGE", "attributes": { "color": "Black/Green" , "size": "M" }, "avLevels": {"IN_STOCK": 0.0, "PREORDER": 0.0, "BACKORDER": 0.0, "NOT_AVAILABLE": 1.0}, "avStatus":"NOT_AVAILABLE", "inStock":false, "ATS": 0.0, "inStockDate": "Wed Apr 23 12:00:00 GMT 2014" , "pricing": {"standard": "28.0", "sale": "28.0", "isPromoPrice": false, "quantities": [ {"unit": "", "value": "1.0"} ]} }, {"id": "AM957_S_BBU", "attributes": { "color": "Black/Blue" , "size": "S" }, "avLevels": {"IN_STOCK": 1.0, "PREORDER": 0.0, "BACKORDER": 0.0, "NOT_AVAILABLE": 0.0}, "avStatus":"IN_STOCK", "inStock":true, "ATS": 10003.0, "inStockDate": "Sat May 24 12:00:00 GMT 2014" , "pricing": {"standard": "28.0", "sale": "28.0", "isPromoPrice": false, "quantities": [ {"unit": "", "value": "1.0"} ]} }, {"id": "AM957_S_BGE", "attributes": { "color": "Black/Green" , "size": "S" }, "avLevels": {"IN_STOCK": 1.0, "PREORDER": 0.0, "BACKORDER": 0.0, "NOT_AVAILABLE": 0.0}, "avStatus":"IN_STOCK", "inStock":true, "ATS": 10001.0, "inStockDate": "Sat May 24 12:00:00 GMT 2014" , "pricing": {"standard": "28.0", "sale": "28.0", "isPromoPrice": false, "quantities": [ {"unit": "", "value": "1.0"} ]} }, {"id": "AM957_XL_BBU", "attributes": { "color": "Black/Blue" , "size": "XL" }, "avLevels": {"IN_STOCK": 0.0, "PREORDER": 0.0, "BACKORDER": 0.0, "NOT_AVAILABLE": 1.0}, "avStatus":"NOT_AVAILABLE", "inStock":false, "ATS": 0.0, "inStockDate": "Wed Feb 26 12:00:00 GMT 2014" , "pricing": {"standard": "28.0", "sale": "28.0", "isPromoPrice": false, "quantities": [ {"unit": "", "value": "1.0"} ]} }, {"id": "AM957_XL_BGE", "attributes": { "color": "Black/Green" , "size": "XL" }, "avLevels": {"IN_STOCK": 1.0, "PREORDER": 0.0, "BACKORDER": 0.0, "NOT_AVAILABLE": 0.0}, "avStatus":"IN_STOCK", "inStock":true, "ATS": 10002.0, "inStockDate": "Sat May 24 12:00:00 GMT 2014" , "pricing": {"standard": "28.0", "sale": "28.0", "isPromoPrice": false, "quantities": [ {"unit": "", "value": "1.0"} ]} } ] }}