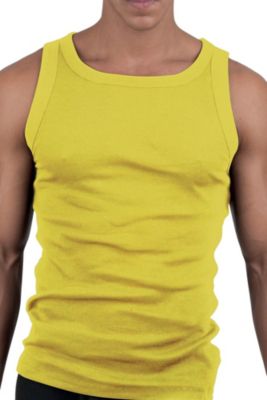 Papi® Eye Candy Tank
UG # AM520
Special Offer:
20% OFF 3 OR MORE ITEMS (Details)
Select Quantity
Print
Men's tank top
Cotton / spandex muscle shirt for men
Machine wash
Imported
Papi tank top style 980811
The name of this sexy men's tank top says it all. Available in two head-turning colors of yellow or green, Papi Eye Candy men's tank top is sure to get you noticed. The combination of cotton fibers with spandex gives the Papi tank top an unbeatable soft hand and stretch-ability. This fabric blend has all the benefits of cotton with the added advantage of stretch properties, making it the perfect men's tank top for working out or just hanging out. During the knitting process, the cotton is infused with spandex, resulting in a four-way, contouring stretch. This contouring allows the fabric to mold and shape to the body, creating a sleek silhouette, superior fit and a great look and feel under clothes – all the qualities that Papi underwear is known for.
{ "variations": { "variants": [ {"id": "AM520_L_GRE", "attributes": { "color": "Green" , "size": "L" }, "avLevels": {"IN_STOCK": 1.0, "PREORDER": 0.0, "BACKORDER": 0.0, "NOT_AVAILABLE": 0.0}, "avStatus":"IN_STOCK", "inStock":true, "ATS": 7.0, "inStockDate": "Wed Nov 27 12:00:00 GMT 2013" , "pricing": {"standard": "28.0", "sale": "24.99", "isPromoPrice": false, "quantities": [ {"unit": "", "value": "1.0"} ]} }, {"id": "AM520_L_YEL", "attributes": { "color": "Yellow" , "size": "L" }, "avLevels": {"IN_STOCK": 1.0, "PREORDER": 0.0, "BACKORDER": 0.0, "NOT_AVAILABLE": 0.0}, "avStatus":"IN_STOCK", "inStock":true, "ATS": 9.0, "inStockDate": "Wed Nov 27 12:00:00 GMT 2013" , "pricing": {"standard": "28.0", "sale": "24.99", "isPromoPrice": false, "quantities": [ {"unit": "", "value": "1.0"} ]} }, {"id": "AM520_M_GRE", "attributes": { "color": "Green" , "size": "M" }, "avLevels": {"IN_STOCK": 1.0, "PREORDER": 0.0, "BACKORDER": 0.0, "NOT_AVAILABLE": 0.0}, "avStatus":"IN_STOCK", "inStock":true, "ATS": 6.0, "inStockDate": "Wed Nov 27 12:00:00 GMT 2013" , "pricing": {"standard": "28.0", "sale": "24.99", "isPromoPrice": false, "quantities": [ {"unit": "", "value": "1.0"} ]} }, {"id": "AM520_M_YEL", "attributes": { "color": "Yellow" , "size": "M" }, "avLevels": {"IN_STOCK": 1.0, "PREORDER": 0.0, "BACKORDER": 0.0, "NOT_AVAILABLE": 0.0}, "avStatus":"IN_STOCK", "inStock":true, "ATS": 9.0, "inStockDate": "Wed Nov 27 12:00:00 GMT 2013" , "pricing": {"standard": "28.0", "sale": "24.99", "isPromoPrice": false, "quantities": [ {"unit": "", "value": "1.0"} ]} }, {"id": "AM520_S_GRE", "attributes": { "color": "Green" , "size": "S" }, "avLevels": {"IN_STOCK": 1.0, "PREORDER": 0.0, "BACKORDER": 0.0, "NOT_AVAILABLE": 0.0}, "avStatus":"IN_STOCK", "inStock":true, "ATS": 5.0, "inStockDate": "Wed Nov 27 12:00:00 GMT 2013" , "pricing": {"standard": "28.0", "sale": "24.99", "isPromoPrice": false, "quantities": [ {"unit": "", "value": "1.0"} ]} }, {"id": "AM520_S_YEL", "attributes": { "color": "Yellow" , "size": "S" }, "avLevels": {"IN_STOCK": 1.0, "PREORDER": 0.0, "BACKORDER": 0.0, "NOT_AVAILABLE": 0.0}, "avStatus":"IN_STOCK", "inStock":true, "ATS": 5.0, "inStockDate": "Wed Nov 27 12:00:00 GMT 2013" , "pricing": {"standard": "28.0", "sale": "24.99", "isPromoPrice": false, "quantities": [ {"unit": "", "value": "1.0"} ]} }, {"id": "AM520_XL_GRE", "attributes": { "color": "Green" , "size": "XL" }, "avLevels": {"IN_STOCK": 1.0, "PREORDER": 0.0, "BACKORDER": 0.0, "NOT_AVAILABLE": 0.0}, "avStatus":"IN_STOCK", "inStock":true, "ATS": 5.0, "inStockDate": "Wed Nov 27 12:00:00 GMT 2013" , "pricing": {"standard": "28.0", "sale": "24.99", "isPromoPrice": false, "quantities": [ {"unit": "", "value": "1.0"} ]} }, {"id": "AM520_XL_YEL", "attributes": { "color": "Yellow" , "size": "XL" }, "avLevels": {"IN_STOCK": 1.0, "PREORDER": 0.0, "BACKORDER": 0.0, "NOT_AVAILABLE": 0.0}, "avStatus":"IN_STOCK", "inStock":true, "ATS": 5.0, "inStockDate": "Wed Nov 27 12:00:00 GMT 2013" , "pricing": {"standard": "28.0", "sale": "24.99", "isPromoPrice": false, "quantities": [ {"unit": "", "value": "1.0"} ]} } ] }}