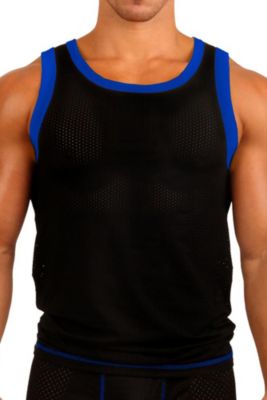 Papi® Meshing Around Tank
UG # AM516
Special Offer:
20% OFF 3 OR MORE ITEMS (Details)
Select Quantity
Print
Men's tank top
Nylon / spandex mesh muscle shirt for men
Machine wash
Imported
Papi tank top style 688813
Designed for guys who love to mesh around. The Papi Meshing Around Tank Top for men is made from airy, supportive mesh, letting your body breathe while offering a comfortable, contour fit. Featuring pops of bright color around the arms and neckline – available in your choice of yellow or blue on black – this sexy men's tank top from Papi offers a fresh athletic look you'll love to wear. The spandex gives extra support and gives the Papi tank top an exceptionally soft hand. Retains color brilliance, wash after wash. Deep scoop neckline.
{ "variations": { "variants": [ {"id": "AM516_L_BBU", "attributes": { "color": "Black/Blue" , "size": "L" }, "avLevels": {"IN_STOCK": 1.0, "PREORDER": 0.0, "BACKORDER": 0.0, "NOT_AVAILABLE": 0.0}, "avStatus":"IN_STOCK", "inStock":true, "ATS": 2.0, "inStockDate": "Wed Nov 27 12:00:00 GMT 2013" , "pricing": {"standard": "30.0", "sale": "24.99", "isPromoPrice": false, "quantities": [ {"unit": "", "value": "1.0"} ]} }, {"id": "AM516_L_BYL", "attributes": { "color": "Black/Yellow" , "size": "L" }, "avLevels": {"IN_STOCK": 1.0, "PREORDER": 0.0, "BACKORDER": 0.0, "NOT_AVAILABLE": 0.0}, "avStatus":"IN_STOCK", "inStock":true, "ATS": 7.0, "inStockDate": "Wed Nov 27 12:00:00 GMT 2013" , "pricing": {"standard": "30.0", "sale": "24.99", "isPromoPrice": false, "quantities": [ {"unit": "", "value": "1.0"} ]} }, {"id": "AM516_M_BBU", "attributes": { "color": "Black/Blue" , "size": "M" }, "avLevels": {"IN_STOCK": 0.0, "PREORDER": 0.0, "BACKORDER": 0.0, "NOT_AVAILABLE": 1.0}, "avStatus":"NOT_AVAILABLE", "inStock":false, "ATS": 0.0, "inStockDate": "Wed Nov 27 12:00:00 GMT 2013" , "pricing": {"standard": "30.0", "sale": "24.99", "isPromoPrice": false, "quantities": [ {"unit": "", "value": "1.0"} ]} }, {"id": "AM516_M_BYL", "attributes": { "color": "Black/Yellow" , "size": "M" }, "avLevels": {"IN_STOCK": 1.0, "PREORDER": 0.0, "BACKORDER": 0.0, "NOT_AVAILABLE": 0.0}, "avStatus":"IN_STOCK", "inStock":true, "ATS": 6.0, "inStockDate": "Wed Nov 27 12:00:00 GMT 2013" , "pricing": {"standard": "30.0", "sale": "24.99", "isPromoPrice": false, "quantities": [ {"unit": "", "value": "1.0"} ]} }, {"id": "AM516_S_BBU", "attributes": { "color": "Black/Blue" , "size": "S" }, "avLevels": {"IN_STOCK": 0.0, "PREORDER": 0.0, "BACKORDER": 0.0, "NOT_AVAILABLE": 1.0}, "avStatus":"NOT_AVAILABLE", "inStock":false, "ATS": 0.0, "inStockDate": "Wed Nov 27 12:00:00 GMT 2013" , "pricing": {"standard": "30.0", "sale": "24.99", "isPromoPrice": false, "quantities": [ {"unit": "", "value": "1.0"} ]} }, {"id": "AM516_S_BYL", "attributes": { "color": "Black/Yellow" , "size": "S" }, "avLevels": {"IN_STOCK": 1.0, "PREORDER": 0.0, "BACKORDER": 0.0, "NOT_AVAILABLE": 0.0}, "avStatus":"IN_STOCK", "inStock":true, "ATS": 3.0, "inStockDate": "Wed Nov 27 12:00:00 GMT 2013" , "pricing": {"standard": "30.0", "sale": "24.99", "isPromoPrice": false, "quantities": [ {"unit": "", "value": "1.0"} ]} }, {"id": "AM516_XL_BBU", "attributes": { "color": "Black/Blue" , "size": "XL" }, "avLevels": {"IN_STOCK": 0.0, "PREORDER": 0.0, "BACKORDER": 0.0, "NOT_AVAILABLE": 1.0}, "avStatus":"NOT_AVAILABLE", "inStock":false, "ATS": 0.0, "inStockDate": "Wed Nov 27 12:00:00 GMT 2013" , "pricing": {"standard": "30.0", "sale": "24.99", "isPromoPrice": false, "quantities": [ {"unit": "", "value": "1.0"} ]} }, {"id": "AM516_XL_BYL", "attributes": { "color": "Black/Yellow" , "size": "XL" }, "avLevels": {"IN_STOCK": 1.0, "PREORDER": 0.0, "BACKORDER": 0.0, "NOT_AVAILABLE": 0.0}, "avStatus":"IN_STOCK", "inStock":true, "ATS": 1.0, "inStockDate": "Wed Nov 27 12:00:00 GMT 2013" , "pricing": {"standard": "30.0", "sale": "24.99", "isPromoPrice": false, "quantities": [ {"unit": "", "value": "1.0"} ]} } ] }}