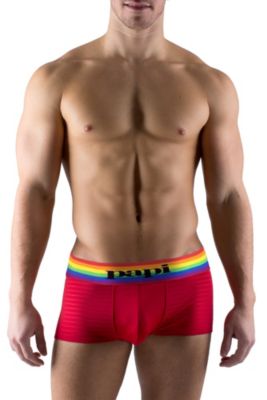 {"imageName":"http://s7d2.scene7.com/is/image/UnderGear/AM523_RFV_R13?$dwpp$"}
{"imageName":"http://s7d2.scene7.com/is/image/UnderGear/AM523_RBV_R13?$dwpp$"}
{"imageName":"http://s7d2.scene7.com/is/image/UnderGear/AM523_OFV_R13?$dwpp$"}
{"imageName":"http://s7d2.scene7.com/is/image/UnderGear/AM523_BFV_R13?$dwpp$"}
{"imageName":"http://s7d2.scene7.com/is/image/UnderGear/AM523_BBV_R13?$dwpp$"}
{"imageName":"http://s7d2.scene7.com/is/image/UnderGear/AM523_BLFV_R13?$dwpp$"}
{"imageName":"http://s7d2.scene7.com/is/image/UnderGear/AM523_BLBV_R13?$dwpp$"}
Papi® Pride Trunk
UG # AM523
Special Offer:
20% OFF 3 OR MORE ITEMS (Details)
Select Quantity
Print
Men's trunks
Polyester / spandex underwear for men
Machine wash
Imported
Papi underwear style 688515
It's said that pride is a sin. If that's true, then be as sinful as you want in these bold men's trunks from Papi. Topped with a rainbow-colored waistband above your choice of a fiery red or dark black body, the Papi Pride Trunks are a bright and bold addition to your underwear collection. Made from a smooth, comfortable blend of polyester and spandex.
{ "variations": { "variants": [ {"id": "AM523_L_BLA", "attributes": { "color": "Black" , "size": "L" }, "avLevels": {"IN_STOCK": 0.0, "PREORDER": 0.0, "BACKORDER": 0.0, "NOT_AVAILABLE": 1.0}, "avStatus":"NOT_AVAILABLE", "inStock":false, "ATS": 0.0, "inStockDate": "Fri Nov 29 12:00:00 GMT 2013" , "pricing": {"standard": "24.0", "sale": "24.0", "isPromoPrice": false, "quantities": [ {"unit": "", "value": "1.0"} ]} }, {"id": "AM523_L_BSE", "attributes": { "color": "Blue Swept" , "size": "L" }, "avLevels": {"IN_STOCK": 0.0, "PREORDER": 0.0, "BACKORDER": 0.0, "NOT_AVAILABLE": 1.0}, "avStatus":"NOT_AVAILABLE", "inStock":false, "ATS": 0.0, "inStockDate": "Fri Nov 29 12:00:00 GMT 2013" , "pricing": {"standard": "24.0", "sale": "24.0", "isPromoPrice": false, "quantities": [ {"unit": "", "value": "1.0"} ]} }, {"id": "AM523_L_IRD", "attributes": { "color": "Intensity Red" , "size": "L" }, "avLevels": {"IN_STOCK": 0.0, "PREORDER": 0.0, "BACKORDER": 0.0, "NOT_AVAILABLE": 1.0}, "avStatus":"NOT_AVAILABLE", "inStock":false, "ATS": 0.0, "inStockDate": "Fri Nov 29 12:00:00 GMT 2013" , "pricing": {"standard": "24.0", "sale": "24.0", "isPromoPrice": false, "quantities": [ {"unit": "", "value": "1.0"} ]} }, {"id": "AM523_L_TOA", "attributes": { "color": "Tropicana Orange" , "size": "L" }, "avLevels": {"IN_STOCK": 0.0, "PREORDER": 0.0, "BACKORDER": 0.0, "NOT_AVAILABLE": 1.0}, "avStatus":"NOT_AVAILABLE", "inStock":false, "ATS": 0.0, "inStockDate": "Fri Nov 29 12:00:00 GMT 2013" , "pricing": {"standard": "24.0", "sale": "24.0", "isPromoPrice": false, "quantities": [ {"unit": "", "value": "1.0"} ]} }, {"id": "AM523_M_BLA", "attributes": { "color": "Black" , "size": "M" }, "avLevels": {"IN_STOCK": 0.0, "PREORDER": 0.0, "BACKORDER": 0.0, "NOT_AVAILABLE": 1.0}, "avStatus":"NOT_AVAILABLE", "inStock":false, "ATS": 0.0, "inStockDate": "Thu Dec 26 12:00:00 GMT 2013" , "pricing": {"standard": "24.0", "sale": "24.0", "isPromoPrice": false, "quantities": [ {"unit": "", "value": "1.0"} ]} }, {"id": "AM523_M_BSE", "attributes": { "color": "Blue Swept" , "size": "M" }, "avLevels": {"IN_STOCK": 0.0, "PREORDER": 0.0, "BACKORDER": 0.0, "NOT_AVAILABLE": 1.0}, "avStatus":"NOT_AVAILABLE", "inStock":false, "ATS": 0.0, "inStockDate": "Thu Dec 26 12:00:00 GMT 2013" , "pricing": {"standard": "24.0", "sale": "24.0", "isPromoPrice": false, "quantities": [ {"unit": "", "value": "1.0"} ]} }, {"id": "AM523_M_IRD", "attributes": { "color": "Intensity Red" , "size": "M" }, "avLevels": {"IN_STOCK": 0.0, "PREORDER": 0.0, "BACKORDER": 0.0, "NOT_AVAILABLE": 1.0}, "avStatus":"NOT_AVAILABLE", "inStock":false, "ATS": 0.0, "inStockDate": "Thu Dec 26 12:00:00 GMT 2013" , "pricing": {"standard": "24.0", "sale": "24.0", "isPromoPrice": false, "quantities": [ {"unit": "", "value": "1.0"} ]} }, {"id": "AM523_M_TOA", "attributes": { "color": "Tropicana Orange" , "size": "M" }, "avLevels": {"IN_STOCK": 0.0, "PREORDER": 0.0, "BACKORDER": 0.0, "NOT_AVAILABLE": 1.0}, "avStatus":"NOT_AVAILABLE", "inStock":false, "ATS": 0.0, "inStockDate": "Fri Nov 29 12:00:00 GMT 2013" , "pricing": {"standard": "24.0", "sale": "24.0", "isPromoPrice": false, "quantities": [ {"unit": "", "value": "1.0"} ]} }, {"id": "AM523_S_BLA", "attributes": { "color": "Black" , "size": "S" }, "avLevels": {"IN_STOCK": 0.0, "PREORDER": 0.0, "BACKORDER": 0.0, "NOT_AVAILABLE": 1.0}, "avStatus":"NOT_AVAILABLE", "inStock":false, "ATS": 0.0, "inStockDate": "Thu Dec 26 12:00:00 GMT 2013" , "pricing": {"standard": "24.0", "sale": "24.0", "isPromoPrice": false, "quantities": [ {"unit": "", "value": "1.0"} ]} }, {"id": "AM523_S_BSE", "attributes": { "color": "Blue Swept" , "size": "S" }, "avLevels": {"IN_STOCK": 0.0, "PREORDER": 0.0, "BACKORDER": 0.0, "NOT_AVAILABLE": 1.0}, "avStatus":"NOT_AVAILABLE", "inStock":false, "ATS": 0.0, "inStockDate": "Fri Nov 29 12:00:00 GMT 2013" , "pricing": {"standard": "24.0", "sale": "24.0", "isPromoPrice": false, "quantities": [ {"unit": "", "value": "1.0"} ]} }, {"id": "AM523_S_IRD", "attributes": { "color": "Intensity Red" , "size": "S" }, "avLevels": {"IN_STOCK": 0.0, "PREORDER": 0.0, "BACKORDER": 0.0, "NOT_AVAILABLE": 1.0}, "avStatus":"NOT_AVAILABLE", "inStock":false, "ATS": 0.0, "inStockDate": "Thu Dec 26 12:00:00 GMT 2013" , "pricing": {"standard": "24.0", "sale": "24.0", "isPromoPrice": false, "quantities": [ {"unit": "", "value": "1.0"} ]} }, {"id": "AM523_S_TOA", "attributes": { "color": "Tropicana Orange" , "size": "S" }, "avLevels": {"IN_STOCK": 1.0, "PREORDER": 0.0, "BACKORDER": 0.0, "NOT_AVAILABLE": 0.0}, "avStatus":"IN_STOCK", "inStock":true, "ATS": 1.0, "inStockDate": "Fri Nov 29 12:00:00 GMT 2013" , "pricing": {"standard": "24.0", "sale": "24.0", "isPromoPrice": false, "quantities": [ {"unit": "", "value": "1.0"} ]} }, {"id": "AM523_XL_BLA", "attributes": { "color": "Black" , "size": "XL" }, "avLevels": {"IN_STOCK": 0.0, "PREORDER": 0.0, "BACKORDER": 0.0, "NOT_AVAILABLE": 1.0}, "avStatus":"NOT_AVAILABLE", "inStock":false, "ATS": 0.0, "inStockDate": "Thu Dec 26 12:00:00 GMT 2013" , "pricing": {"standard": "24.0", "sale": "24.0", "isPromoPrice": false, "quantities": [ {"unit": "", "value": "1.0"} ]} }, {"id": "AM523_XL_BSE", "attributes": { "color": "Blue Swept" , "size": "XL" }, "avLevels": {"IN_STOCK": 0.0, "PREORDER": 0.0, "BACKORDER": 0.0, "NOT_AVAILABLE": 1.0}, "avStatus":"NOT_AVAILABLE", "inStock":false, "ATS": 0.0, "inStockDate": "Fri Nov 29 12:00:00 GMT 2013" , "pricing": {"standard": "24.0", "sale": "24.0", "isPromoPrice": false, "quantities": [ {"unit": "", "value": "1.0"} ]} }, {"id": "AM523_XL_IRD", "attributes": { "color": "Intensity Red" , "size": "XL" }, "avLevels": {"IN_STOCK": 0.0, "PREORDER": 0.0, "BACKORDER": 0.0, "NOT_AVAILABLE": 1.0}, "avStatus":"NOT_AVAILABLE", "inStock":false, "ATS": 0.0, "inStockDate": "Fri Nov 29 12:00:00 GMT 2013" , "pricing": {"standard": "24.0", "sale": "24.0", "isPromoPrice": false, "quantities": [ {"unit": "", "value": "1.0"} ]} }, {"id": "AM523_XL_TOA", "attributes": { "color": "Tropicana Orange" , "size": "XL" }, "avLevels": {"IN_STOCK": 0.0, "PREORDER": 0.0, "BACKORDER": 0.0, "NOT_AVAILABLE": 1.0}, "avStatus":"NOT_AVAILABLE", "inStock":false, "ATS": 0.0, "inStockDate": "Fri Nov 29 12:00:00 GMT 2013" , "pricing": {"standard": "24.0", "sale": "24.0", "isPromoPrice": false, "quantities": [ {"unit": "", "value": "1.0"} ]} } ] }}