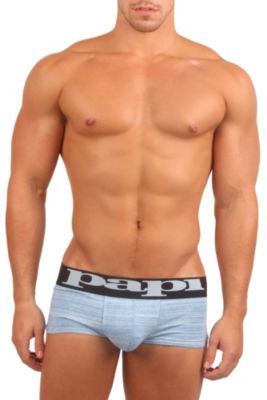 {"imageName":"http://s7d2.scene7.com/is/image/UnderGear/AM519_BFV_1113SBB?$dwpp$"}
{"imageName":"http://s7d2.scene7.com/is/image/UnderGear/AM519_BBV_1113SBB?$dwpp$"}
{"imageName":"http://s7d2.scene7.com/is/image/UnderGear/AM519_PFV_1113SBB?$dwpp$"}
{"imageName":"http://s7d2.scene7.com/is/image/UnderGear/AM519_PBV_1113SBB?$dwpp$"}
Papi® Space Dye Trunk
UG # AM519
Special Offer:
20% OFF 3 OR MORE ITEMS (Details)
Select Quantity
Print
Men's trunks
Cotton / spandex underwear for men
Machine wash
Imported
Papi underwear style 980578
Great men's trunks for special occasions or the everyday, this underwear from Papi is made with a unique ""space dying"" technique that produces the trunks' muted shades with flecks of color. Made from a combination of cotton and spandex, the Papi Space Dye Trunks for men provide the right amount of comfort and fit. The addition of spandex to cotton ensures that the garment will retain its shape, while offering an unbeatable soft hand. The waistband features an extra-bold Papi logo that cannot be missed.
{ "variations": { "variants": [ {"id": "AM519_L_BLU", "attributes": { "color": "Blue" , "size": "L" }, "avLevels": {"IN_STOCK": 0.0, "PREORDER": 0.0, "BACKORDER": 0.0, "NOT_AVAILABLE": 1.0}, "avStatus":"NOT_AVAILABLE", "inStock":false, "ATS": 0.0, "inStockDate": "Wed Nov 27 12:00:00 GMT 2013" , "pricing": {"standard": "24.0", "sale": "20.99", "isPromoPrice": false, "quantities": [ {"unit": "", "value": "1.0"} ]} }, {"id": "AM519_L_PUR", "attributes": { "color": "Purple" , "size": "L" }, "avLevels": {"IN_STOCK": 1.0, "PREORDER": 0.0, "BACKORDER": 0.0, "NOT_AVAILABLE": 0.0}, "avStatus":"IN_STOCK", "inStock":true, "ATS": 4.0, "inStockDate": "Wed Nov 27 12:00:00 GMT 2013" , "pricing": {"standard": "24.0", "sale": "20.99", "isPromoPrice": false, "quantities": [ {"unit": "", "value": "1.0"} ]} }, {"id": "AM519_M_BLU", "attributes": { "color": "Blue" , "size": "M" }, "avLevels": {"IN_STOCK": 0.0, "PREORDER": 0.0, "BACKORDER": 0.0, "NOT_AVAILABLE": 1.0}, "avStatus":"NOT_AVAILABLE", "inStock":false, "ATS": 0.0, "inStockDate": "Wed Nov 27 12:00:00 GMT 2013" , "pricing": {"standard": "24.0", "sale": "20.99", "isPromoPrice": false, "quantities": [ {"unit": "", "value": "1.0"} ]} }, {"id": "AM519_M_PUR", "attributes": { "color": "Purple" , "size": "M" }, "avLevels": {"IN_STOCK": 0.0, "PREORDER": 0.0, "BACKORDER": 0.0, "NOT_AVAILABLE": 1.0}, "avStatus":"NOT_AVAILABLE", "inStock":false, "ATS": 0.0, "inStockDate": "Wed Nov 27 12:00:00 GMT 2013" , "pricing": {"standard": "24.0", "sale": "20.99", "isPromoPrice": false, "quantities": [ {"unit": "", "value": "1.0"} ]} }, {"id": "AM519_S_BLU", "attributes": { "color": "Blue" , "size": "S" }, "avLevels": {"IN_STOCK": 0.0, "PREORDER": 0.0, "BACKORDER": 0.0, "NOT_AVAILABLE": 1.0}, "avStatus":"NOT_AVAILABLE", "inStock":false, "ATS": 0.0, "inStockDate": "Wed Nov 27 12:00:00 GMT 2013" , "pricing": {"standard": "24.0", "sale": "20.99", "isPromoPrice": false, "quantities": [ {"unit": "", "value": "1.0"} ]} }, {"id": "AM519_S_PUR", "attributes": { "color": "Purple" , "size": "S" }, "avLevels": {"IN_STOCK": 1.0, "PREORDER": 0.0, "BACKORDER": 0.0, "NOT_AVAILABLE": 0.0}, "avStatus":"IN_STOCK", "inStock":true, "ATS": 3.0, "inStockDate": "Wed Nov 27 12:00:00 GMT 2013" , "pricing": {"standard": "24.0", "sale": "20.99", "isPromoPrice": false, "quantities": [ {"unit": "", "value": "1.0"} ]} }, {"id": "AM519_XL_BLU", "attributes": { "color": "Blue" , "size": "XL" }, "avLevels": {"IN_STOCK": 0.0, "PREORDER": 0.0, "BACKORDER": 0.0, "NOT_AVAILABLE": 1.0}, "avStatus":"NOT_AVAILABLE", "inStock":false, "ATS": 0.0, "inStockDate": "Wed Nov 27 12:00:00 GMT 2013" , "pricing": {"standard": "24.0", "sale": "20.99", "isPromoPrice": false, "quantities": [ {"unit": "", "value": "1.0"} ]} }, {"id": "AM519_XL_PUR", "attributes": { "color": "Purple" , "size": "XL" }, "avLevels": {"IN_STOCK": 0.0, "PREORDER": 0.0, "BACKORDER": 0.0, "NOT_AVAILABLE": 1.0}, "avStatus":"NOT_AVAILABLE", "inStock":false, "ATS": 0.0, "inStockDate": "Wed Nov 27 12:00:00 GMT 2013" , "pricing": {"standard": "24.0", "sale": "20.99", "isPromoPrice": false, "quantities": [ {"unit": "", "value": "1.0"} ]} } ] }}