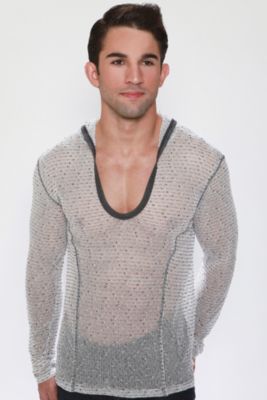 {"imageName":"http://s7d2.scene7.com/is/image/UnderGear/DV974_GFV_SBB1023?$dwpp$"}
{"imageName":"http://s7d2.scene7.com/is/image/UnderGear/DV974_GDV_SBB1023?$dwpp$"}
{"imageName":"http://s7d2.scene7.com/is/image/UnderGear/DV974_GBV_SBB1023?$dwpp$"}
{"imageName":"http://s7d2.scene7.com/is/image/UnderGear/DV974_FV_SBB1023?$dwpp$"}
{"imageName":"http://s7d2.scene7.com/is/image/UnderGear/DV974_DV_SBB1023?$dwpp$"}
{"imageName":"http://s7d2.scene7.com/is/image/UnderGear/DV974_BV_SBB1023?$dwpp$"}
Pistol Pete® Explorer L/S Hoodie
UG # DV974
Special Offer:
20% OFF 3 OR MORE ITEMS (Details)
Select Quantity
Print
Men's hoodie
Polyester / rayon sheer shirt for men
Machine wash
Made in USA
Pistol Pete style LS590-405
Enter uncharted territory in this sexy, sheer men's shirt from Pistol Pete. Designed to flaunt your assets, the Pistol Pete Explorer Hoodie for men is made from sheer slub yarn with contrast trim for a touch of glam. Great for cool nights on the patio, walks along the beach, or post-workout cool downs, this Pistol Pete sheer shirt for men offers lightweight comfort while giving your physique the attention it deserves.
{ "variations": { "variants": [ {"id": "DV974_L_GRE", "attributes": { "color": "Grey" , "size": "L" }, "avLevels": {"IN_STOCK": 1.0, "PREORDER": 0.0, "BACKORDER": 0.0, "NOT_AVAILABLE": 0.0}, "avStatus":"IN_STOCK", "inStock":true, "ATS": 10003.0, "inStockDate": "Sat May 24 12:00:00 GMT 2014" , "pricing": {"standard": "56.0", "sale": "24.99", "isPromoPrice": false, "quantities": [ {"unit": "", "value": "1.0"} ]} }, {"id": "DV974_L_NAV", "attributes": { "color": "Navy" , "size": "L" }, "avLevels": {"IN_STOCK": 1.0, "PREORDER": 0.0, "BACKORDER": 0.0, "NOT_AVAILABLE": 0.0}, "avStatus":"IN_STOCK", "inStock":true, "ATS": 10005.0, "inStockDate": "Sat May 24 12:00:00 GMT 2014" , "pricing": {"standard": "56.0", "sale": "24.99", "isPromoPrice": false, "quantities": [ {"unit": "", "value": "1.0"} ]} }, {"id": "DV974_M_GRE", "attributes": { "color": "Grey" , "size": "M" }, "avLevels": {"IN_STOCK": 0.0, "PREORDER": 0.0, "BACKORDER": 1.0, "NOT_AVAILABLE": 0.0}, "avStatus":"BACKORDER", "inStock":false, "ATS": 10000.0, "inStockDate": "Sat May 24 12:00:00 GMT 2014" , "pricing": {"standard": "56.0", "sale": "24.99", "isPromoPrice": false, "quantities": [ {"unit": "", "value": "1.0"} ]} }, {"id": "DV974_M_NAV", "attributes": { "color": "Navy" , "size": "M" }, "avLevels": {"IN_STOCK": 1.0, "PREORDER": 0.0, "BACKORDER": 0.0, "NOT_AVAILABLE": 0.0}, "avStatus":"IN_STOCK", "inStock":true, "ATS": 10002.0, "inStockDate": "Sat May 24 12:00:00 GMT 2014" , "pricing": {"standard": "56.0", "sale": "24.99", "isPromoPrice": false, "quantities": [ {"unit": "", "value": "1.0"} ]} }, {"id": "DV974_S_GRE", "attributes": { "color": "Grey" , "size": "S" }, "avLevels": {"IN_STOCK": 0.0, "PREORDER": 0.0, "BACKORDER": 1.0, "NOT_AVAILABLE": 0.0}, "avStatus":"BACKORDER", "inStock":false, "ATS": 10000.0, "inStockDate": "Sat May 24 12:00:00 GMT 2014" , "pricing": {"standard": "56.0", "sale": "24.99", "isPromoPrice": false, "quantities": [ {"unit": "", "value": "1.0"} ]} }, {"id": "DV974_S_NAV", "attributes": { "color": "Navy" , "size": "S" }, "avLevels": {"IN_STOCK": 0.0, "PREORDER": 0.0, "BACKORDER": 0.0, "NOT_AVAILABLE": 1.0}, "avStatus":"NOT_AVAILABLE", "inStock":false, "ATS": 0.0, "inStockDate": "Wed May 14 12:00:00 GMT 2014" , "pricing": {"standard": "56.0", "sale": "24.99", "isPromoPrice": false, "quantities": [ {"unit": "", "value": "1.0"} ]} }, {"id": "DV974_XL_GRE", "attributes": { "color": "Grey" , "size": "XL" }, "avLevels": {"IN_STOCK": 1.0, "PREORDER": 0.0, "BACKORDER": 0.0, "NOT_AVAILABLE": 0.0}, "avStatus":"IN_STOCK", "inStock":true, "ATS": 10002.0, "inStockDate": "Sat May 24 12:00:00 GMT 2014" , "pricing": {"standard": "56.0", "sale": "24.99", "isPromoPrice": false, "quantities": [ {"unit": "", "value": "1.0"} ]} }, {"id": "DV974_XL_NAV", "attributes": { "color": "Navy" , "size": "XL" }, "avLevels": {"IN_STOCK": 0.0, "PREORDER": 0.0, "BACKORDER": 1.0, "NOT_AVAILABLE": 0.0}, "avStatus":"BACKORDER", "inStock":false, "ATS": 10000.0, "inStockDate": "Sat May 24 12:00:00 GMT 2014" , "pricing": {"standard": "56.0", "sale": "24.99", "isPromoPrice": false, "quantities": [ {"unit": "", "value": "1.0"} ]} } ] }}