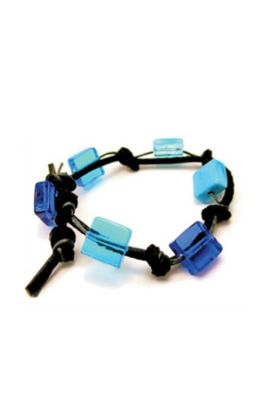 {"imageName":"http://s7d2.scene7.com/is/image/UnderGear/SB467_BM_J13?$dwpp$"}
{"imageName":"http://s7d2.scene7.com/is/image/UnderGear/SB467_BLKM_J13?$dwpp$"}
{"imageName":"http://s7d2.scene7.com/is/image/UnderGear/SB467_BWM_J13?$dwpp$"}
{"imageName":"http://s7d2.scene7.com/is/image/UnderGear/SB467_GM_J13?$dwpp$"}
{"imageName":"http://s7d2.scene7.com/is/image/UnderGear/SB467_GRBM_J13?$dwpp$"}
Rave® Retro B**Ch Glass Beads Leather Bracelet
UG # SB467
Special Offer:
20% OFF 3 OR MORE ITEMS (Details)
Select Quantity
Print
Men's bracelet
Glass bead bracelet in retro colors
Knotted strands of stretch leather
Imported
Fun and funky, the Rave Retro Glass Bead Bracelet for men adds a pop of color to any outfit. This unique men's bracelet features knotted strands of stretch leather, strung with chunky squared glass beads in retro colors. Choose from five different color palettes, including Black/White, Golden, Green, Blue and Black.
{ "variations": { "variants": [ {"id": "SB467_OS_BLA", "attributes": { "color": "Black" , "size": "One Size" }, "avLevels": {"IN_STOCK": 1.0, "PREORDER": 0.0, "BACKORDER": 0.0, "NOT_AVAILABLE": 0.0}, "avStatus":"IN_STOCK", "inStock":true, "ATS": 39.0, "inStockDate": "Thu Nov 21 12:00:00 GMT 2013" , "pricing": {"standard": "29.0", "sale": "21.99", "isPromoPrice": false, "quantities": [ {"unit": "", "value": "1.0"} ]} }, {"id": "SB467_OS_BLU", "attributes": { "color": "Blue" , "size": "One Size" }, "avLevels": {"IN_STOCK": 1.0, "PREORDER": 0.0, "BACKORDER": 0.0, "NOT_AVAILABLE": 0.0}, "avStatus":"IN_STOCK", "inStock":true, "ATS": 29.0, "inStockDate": "Thu Nov 21 12:00:00 GMT 2013" , "pricing": {"standard": "29.0", "sale": "21.99", "isPromoPrice": false, "quantities": [ {"unit": "", "value": "1.0"} ]} }, {"id": "SB467_OS_BWH", "attributes": { "color": "Black/White" , "size": "One Size" }, "avLevels": {"IN_STOCK": 1.0, "PREORDER": 0.0, "BACKORDER": 0.0, "NOT_AVAILABLE": 0.0}, "avStatus":"IN_STOCK", "inStock":true, "ATS": 53.0, "inStockDate": "Thu Nov 21 12:00:00 GMT 2013" , "pricing": {"standard": "29.0", "sale": "21.99", "isPromoPrice": false, "quantities": [ {"unit": "", "value": "1.0"} ]} }, {"id": "SB467_OS_GOL", "attributes": { "color": "Golden" , "size": "One Size" }, "avLevels": {"IN_STOCK": 1.0, "PREORDER": 0.0, "BACKORDER": 0.0, "NOT_AVAILABLE": 0.0}, "avStatus":"IN_STOCK", "inStock":true, "ATS": 35.0, "inStockDate": "Thu Nov 21 12:00:00 GMT 2013" , "pricing": {"standard": "29.0", "sale": "21.99", "isPromoPrice": false, "quantities": [ {"unit": "", "value": "1.0"} ]} }, {"id": "SB467_OS_GRE", "attributes": { "color": "Green" , "size": "One Size" }, "avLevels": {"IN_STOCK": 1.0, "PREORDER": 0.0, "BACKORDER": 0.0, "NOT_AVAILABLE": 0.0}, "avStatus":"IN_STOCK", "inStock":true, "ATS": 39.0, "inStockDate": "Thu Nov 21 12:00:00 GMT 2013" , "pricing": {"standard": "29.0", "sale": "21.99", "isPromoPrice": false, "quantities": [ {"unit": "", "value": "1.0"} ]} } ] }}