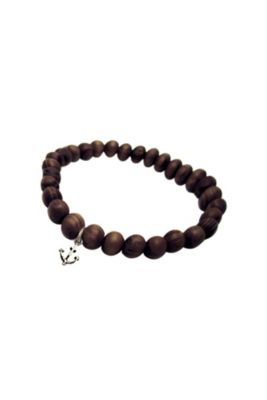 {"imageName":"http://s7d2.scene7.com/is/image/UnderGear/SB468_WA_J13?$dwpp$"}
{"imageName":"http://s7d2.scene7.com/is/image/UnderGear/SB468_WBD_J13?$dwpp$"}
{"imageName":"http://s7d2.scene7.com/is/image/UnderGear/SB468_WBCR_J13?$dwpp$"}
{"imageName":"http://s7d2.scene7.com/is/image/UnderGear/SB468_WC_J13?$dwpp$"}
{"imageName":"http://s7d2.scene7.com/is/image/UnderGear/SB468_WGC_J13?$dwpp$"}
Rave® Wooden Charm Bracelet
UG # SB468
Special Offer:
20% OFF 3 OR MORE ITEMS (Details)
Select Quantity
Print
Men's charm bracelet
Wood bead bracelet for men
Sterling silver charm
Imported
An absolutely charming men's bracelet that's fashionable too. Available in five different color options, each with its own unique charm, the Rave Wooden Charm Bracelet is a great way to add interest to your look. This unique wood bead bracelet from Race features a stretchy strand of polished wood beads with a sterling silver charm of choice: Brown with Horseshoe, Black with Cross, Blue with Dove, Brown with Anchor, Green with Clover.
{ "variations": { "variants": [ {"id": "SB468_OS_BCR", "attributes": { "color": "Black/Cross" , "size": "One Size" }, "avLevels": {"IN_STOCK": 0.0, "PREORDER": 0.0, "BACKORDER": 0.0, "NOT_AVAILABLE": 1.0}, "avStatus":"NOT_AVAILABLE", "inStock":false, "ATS": 0.0, "inStockDate": "Thu Nov 21 12:00:00 GMT 2013" , "pricing": {"standard": "24.0", "sale": "19.99", "isPromoPrice": false, "quantities": [ {"unit": "", "value": "1.0"} ]} }, {"id": "SB468_OS_BDO", "attributes": { "color": "Blue/Dove" , "size": "One Size" }, "avLevels": {"IN_STOCK": 1.0, "PREORDER": 0.0, "BACKORDER": 0.0, "NOT_AVAILABLE": 0.0}, "avStatus":"IN_STOCK", "inStock":true, "ATS": 13.0, "inStockDate": "Thu Nov 21 12:00:00 GMT 2013" , "pricing": {"standard": "24.0", "sale": "19.99", "isPromoPrice": false, "quantities": [ {"unit": "", "value": "1.0"} ]} }, {"id": "SB468_OS_DBA", "attributes": { "color": "Dark Brown/Anchor" , "size": "One Size" }, "avLevels": {"IN_STOCK": 1.0, "PREORDER": 0.0, "BACKORDER": 0.0, "NOT_AVAILABLE": 0.0}, "avStatus":"IN_STOCK", "inStock":true, "ATS": 14.0, "inStockDate": "Thu Nov 21 12:00:00 GMT 2013" , "pricing": {"standard": "24.0", "sale": "19.99", "isPromoPrice": false, "quantities": [ {"unit": "", "value": "1.0"} ]} }, {"id": "SB468_OS_GCL", "attributes": { "color": "Green/Clover" , "size": "One Size" }, "avLevels": {"IN_STOCK": 1.0, "PREORDER": 0.0, "BACKORDER": 0.0, "NOT_AVAILABLE": 0.0}, "avStatus":"IN_STOCK", "inStock":true, "ATS": 7.0, "inStockDate": "Thu Nov 21 12:00:00 GMT 2013" , "pricing": {"standard": "24.0", "sale": "19.99", "isPromoPrice": false, "quantities": [ {"unit": "", "value": "1.0"} ]} }, {"id": "SB468_OS_MBH", "attributes": { "color": "Brown/Horse Shoe" , "size": "One Size" }, "avLevels": {"IN_STOCK": 1.0, "PREORDER": 0.0, "BACKORDER": 0.0, "NOT_AVAILABLE": 0.0}, "avStatus":"IN_STOCK", "inStock":true, "ATS": 13.0, "inStockDate": "Thu Nov 21 12:00:00 GMT 2013" , "pricing": {"standard": "24.0", "sale": "19.99", "isPromoPrice": false, "quantities": [ {"unit": "", "value": "1.0"} ]} } ] }}