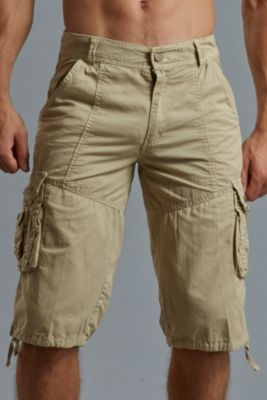 {"imageName":"http://s7d2.scene7.com/is/image/UnderGear/LA07_FV_R13?$dwpp$"}
{"imageName":"http://s7d2.scene7.com/is/image/UnderGear/LA07_DV_R13?$dwpp$"}
{"imageName":"http://s7d2.scene7.com/is/image/UnderGear/LA07_SV_R13?$dwpp$"}
{"imageName":"http://s7d2.scene7.com/is/image/UnderGear/LA07_BV_R13?$dwpp$"}
Seduka® Short
UG # LA07
Special Offer:
20% OFF 3 OR MORE ITEMS (Details)
Select Quantity
Print
Men's cargo shorts
Cotton shorts for men
Machine wash
Imported
Seduka style RP-1026KKH48
These versatile, slim-fit cargo shorts from Seduka are a must-have for warm weather. In classic, wear-anywhere cargo styling, the Seduka Shorts fall right below the knee and feature lots of pockets to hold all your gear. The Seduka cargos feature flap pockets with military-inspired details, offering a great combination of style and comfort. Cotton.
{ "variations": { "variants": [ {"id": "LA07_28_KHA", "attributes": { "color": "Khaki" , "size": "28" }, "avLevels": {"IN_STOCK": 0.0, "PREORDER": 0.0, "BACKORDER": 0.0, "NOT_AVAILABLE": 1.0}, "avStatus":"NOT_AVAILABLE", "inStock":false, "ATS": 0.0, "inStockDate": "Wed Nov 06 12:00:00 GMT 2013" , "pricing": {"standard": "35.0", "sale": "29.99", "isPromoPrice": false, "quantities": [ {"unit": "", "value": "1.0"} ]} }, {"id": "LA07_29_KHA", "attributes": { "color": "Khaki" , "size": "29" }, "avLevels": {"IN_STOCK": 0.0, "PREORDER": 0.0, "BACKORDER": 0.0, "NOT_AVAILABLE": 1.0}, "avStatus":"NOT_AVAILABLE", "inStock":false, "ATS": 0.0, "inStockDate": "Thu Nov 21 12:00:00 GMT 2013" , "pricing": {"standard": "35.0", "sale": "29.99", "isPromoPrice": false, "quantities": [ {"unit": "", "value": "1.0"} ]} }, {"id": "LA07_30_KHA", "attributes": { "color": "Khaki" , "size": "30" }, "avLevels": {"IN_STOCK": 0.0, "PREORDER": 0.0, "BACKORDER": 0.0, "NOT_AVAILABLE": 1.0}, "avStatus":"NOT_AVAILABLE", "inStock":false, "ATS": 0.0, "inStockDate": "Thu Nov 21 12:00:00 GMT 2013" , "pricing": {"standard": "35.0", "sale": "29.99", "isPromoPrice": false, "quantities": [ {"unit": "", "value": "1.0"} ]} }, {"id": "LA07_31_KHA", "attributes": { "color": "Khaki" , "size": "31" }, "avLevels": {"IN_STOCK": 0.0, "PREORDER": 0.0, "BACKORDER": 0.0, "NOT_AVAILABLE": 1.0}, "avStatus":"NOT_AVAILABLE", "inStock":false, "ATS": 0.0, "inStockDate": "Thu Nov 21 12:00:00 GMT 2013" , "pricing": {"standard": "35.0", "sale": "29.99", "isPromoPrice": false, "quantities": [ {"unit": "", "value": "1.0"} ]} }, {"id": "LA07_32_KHA", "attributes": { "color": "Khaki" , "size": "32" }, "avLevels": {"IN_STOCK": 0.0, "PREORDER": 0.0, "BACKORDER": 0.0, "NOT_AVAILABLE": 1.0}, "avStatus":"NOT_AVAILABLE", "inStock":false, "ATS": 0.0, "inStockDate": "Thu Nov 21 12:00:00 GMT 2013" , "pricing": {"standard": "35.0", "sale": "29.99", "isPromoPrice": false, "quantities": [ {"unit": "", "value": "1.0"} ]} }, {"id": "LA07_34_KHA", "attributes": { "color": "Khaki" , "size": "34" }, "avLevels": {"IN_STOCK": 0.0, "PREORDER": 0.0, "BACKORDER": 0.0, "NOT_AVAILABLE": 1.0}, "avStatus":"NOT_AVAILABLE", "inStock":false, "ATS": 0.0, "inStockDate": "Thu Nov 21 12:00:00 GMT 2013" , "pricing": {"standard": "35.0", "sale": "29.99", "isPromoPrice": false, "quantities": [ {"unit": "", "value": "1.0"} ]} }, {"id": "LA07_36_KHA", "attributes": { "color": "Khaki" , "size": "36" }, "avLevels": {"IN_STOCK": 0.0, "PREORDER": 0.0, "BACKORDER": 0.0, "NOT_AVAILABLE": 1.0}, "avStatus":"NOT_AVAILABLE", "inStock":false, "ATS": 0.0, "inStockDate": "Thu Nov 21 12:00:00 GMT 2013" , "pricing": {"standard": "35.0", "sale": "29.99", "isPromoPrice": false, "quantities": [ {"unit": "", "value": "1.0"} ]} } ] }}