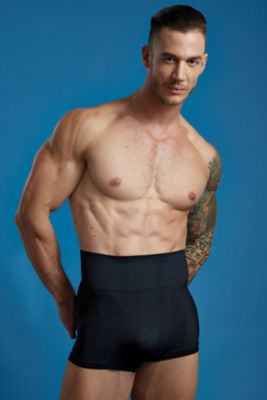 {"imageName":"http://s7d2.scene7.com/is/image/UnderGear/AJ493_B?$dwpp$"}
{"imageName":"http://s7d2.scene7.com/is/image/UnderGear/AJ493_BBV?$dwpp$"}
{"imageName":"http://s7d2.scene7.com/is/image/UnderGear/AJ493_RY?$dwpp$"}
{"imageName":"http://s7d2.scene7.com/is/image/UnderGear/AJ493_BUR_Q13?$dwpp$"}
Shape Enhancer® Seamless Trunk
UG # AJ493
Special Offer:
20% OFF 3 OR MORE ITEMS (Details)
Select Quantity
Print
Men's shape enhancer seamless trunks
Imported
Machine wash
Get in shape without the gym. The newest men's shapewear from Shape Enhancer®, these seamless trunks trim and slim your sides, giving you a well-toned look – with no workout necessary! Smooth, seamless fabric for clean lines under clothes.
{ "variations": { "variants": [ {"id": "AJ493_XXL_BA", "attributes": { "color": "Black" , "size": "XXL" }, "avLevels": {"IN_STOCK": 1.0, "PREORDER": 0.0, "BACKORDER": 0.0, "NOT_AVAILABLE": 0.0}, "avStatus":"IN_STOCK", "inStock":true, "ATS": 11.0, "inStockDate": "Wed Mar 19 12:00:00 GMT 2014" , "pricing": {"standard": "39.0", "sale": "13.5", "isPromoPrice": false, "quantities": [ {"unit": "", "value": "1.0"} ]} }, {"id": "AJ493_SM_BA", "attributes": { "color": "Black" , "size": "SM" }, "avLevels": {"IN_STOCK": 0.0, "PREORDER": 0.0, "BACKORDER": 0.0, "NOT_AVAILABLE": 1.0}, "avStatus":"NOT_AVAILABLE", "inStock":false, "ATS": 0.0, "inStockDate": "Wed Mar 19 12:00:00 GMT 2014" , "pricing": {"standard": "39.0", "sale": "13.5", "isPromoPrice": false, "quantities": [ {"unit": "", "value": "1.0"} ]} }, {"id": "AJ493_LXL_BA", "attributes": { "color": "Black" , "size": "LXL" }, "avLevels": {"IN_STOCK": 1.0, "PREORDER": 0.0, "BACKORDER": 0.0, "NOT_AVAILABLE": 0.0}, "avStatus":"IN_STOCK", "inStock":true, "ATS": 188.0, "inStockDate": "Wed Mar 19 12:00:00 GMT 2014" , "pricing": {"standard": "39.0", "sale": "13.5", "isPromoPrice": false, "quantities": [ {"unit": "", "value": "1.0"} ]} }, {"id": "AJ493_LXL_RY", "attributes": { "color": "Royal" , "size": "LXL" }, "avLevels": {"IN_STOCK": 1.0, "PREORDER": 0.0, "BACKORDER": 0.0, "NOT_AVAILABLE": 0.0}, "avStatus":"IN_STOCK", "inStock":true, "ATS": 401.0, "inStockDate": "Wed Mar 19 12:00:00 GMT 2014" , "pricing": {"standard": "39.0", "sale": "13.5", "isPromoPrice": false, "quantities": [ {"unit": "", "value": "1.0"} ]} }, {"id": "AJ493_SM_RY", "attributes": { "color": "Royal" , "size": "SM" }, "avLevels": {"IN_STOCK": 1.0, "PREORDER": 0.0, "BACKORDER": 0.0, "NOT_AVAILABLE": 0.0}, "avStatus":"IN_STOCK", "inStock":true, "ATS": 184.0, "inStockDate": "Wed Mar 19 12:00:00 GMT 2014" , "pricing": {"standard": "39.0", "sale": "13.5", "isPromoPrice": false, "quantities": [ {"unit": "", "value": "1.0"} ]} }, {"id": "AJ493_XXL_WN", "attributes": { "color": "Wine" , "size": "XXL" }, "avLevels": {"IN_STOCK": 1.0, "PREORDER": 0.0, "BACKORDER": 0.0, "NOT_AVAILABLE": 0.0}, "avStatus":"IN_STOCK", "inStock":true, "ATS": 107.0, "inStockDate": "Wed Mar 19 12:00:00 GMT 2014" , "pricing": {"standard": "39.0", "sale": "13.5", "isPromoPrice": false, "quantities": [ {"unit": "", "value": "1.0"} ]} }, {"id": "AJ493_LXL_WN", "attributes": { "color": "Wine" , "size": "LXL" }, "avLevels": {"IN_STOCK": 1.0, "PREORDER": 0.0, "BACKORDER": 0.0, "NOT_AVAILABLE": 0.0}, "avStatus":"IN_STOCK", "inStock":true, "ATS": 390.0, "inStockDate": "Wed Mar 19 12:00:00 GMT 2014" , "pricing": {"standard": "39.0", "sale": "13.5", "isPromoPrice": false, "quantities": [ {"unit": "", "value": "1.0"} ]} }, {"id": "AJ493_XXL_RY", "attributes": { "color": "Royal" , "size": "XXL" }, "avLevels": {"IN_STOCK": 1.0, "PREORDER": 0.0, "BACKORDER": 0.0, "NOT_AVAILABLE": 0.0}, "avStatus":"IN_STOCK", "inStock":true, "ATS": 114.0, "inStockDate": "Wed Mar 19 12:00:00 GMT 2014" , "pricing": {"standard": "39.0", "sale": "13.5", "isPromoPrice": false, "quantities": [ {"unit": "", "value": "1.0"} ]} }, {"id": "AJ493_SM_WN", "attributes": { "color": "Wine" , "size": "SM" }, "avLevels": {"IN_STOCK": 1.0, "PREORDER": 0.0, "BACKORDER": 0.0, "NOT_AVAILABLE": 0.0}, "avStatus":"IN_STOCK", "inStock":true, "ATS": 189.0, "inStockDate": "Wed Mar 19 12:00:00 GMT 2014" , "pricing": {"standard": "39.0", "sale": "13.5", "isPromoPrice": false, "quantities": [ {"unit": "", "value": "1.0"} ]} } ] }}