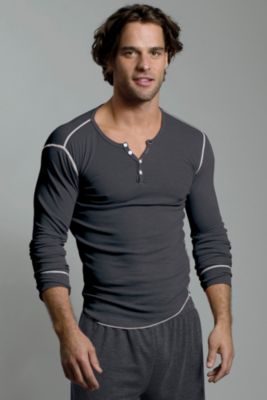 {"imageName":"http://s7d2.scene7.com/is/image/UnderGear/DV898_GFV_UGP13?$dwpp$"}
{"imageName":"http://s7d2.scene7.com/is/image/UnderGear/DV898_BUR_A13?$dwpp$"}
{"imageName":"http://s7d2.scene7.com/is/image/UnderGear/DV898_M_A13?$dwpp$"}
{"imageName":"http://s7d2.scene7.com/is/image/UnderGear/DV898_GR_A13?$dwpp$"}
YMLA® Long Sleeve Thermal
UG # DV898
Special Offer:
20% OFF 3 OR MORE ITEMS (Details)
Select Quantity
Print
Men's shirt
Men's thermal Henley made from polyester/cotton
Machine wash
Imported
YMLA style TPC270
A versatile addition to your wardrobe, this casually cool YMLA men's shirt is a need-now essential. Made from a soft polyester/cotton blend, this long-sleeved men's Thermal Henley from YMLA boasts a defining fit, contrast stitching and button placket at the neckline. Choose the YMLA Henley shirt for men in three different color options (Indigo, Rumba and Fog) and make it a go-to.
{ "variations": { "variants": [ {"id": "DV898_L_FOG", "attributes": { "color": "Fog" , "size": "L" }, "avLevels": {"IN_STOCK": 0.0, "PREORDER": 0.0, "BACKORDER": 0.0, "NOT_AVAILABLE": 1.0}, "avStatus":"NOT_AVAILABLE", "inStock":false, "ATS": 0.0, "inStockDate": "Wed Mar 27 12:00:00 GMT 2013" , "pricing": {"standard": "37.0", "sale": "23.99", "isPromoPrice": false, "quantities": [ {"unit": "", "value": "1.0"} ]} }, {"id": "DV898_L_IND", "attributes": { "color": "Indigo" , "size": "L" }, "avLevels": {"IN_STOCK": 0.0, "PREORDER": 0.0, "BACKORDER": 0.0, "NOT_AVAILABLE": 1.0}, "avStatus":"NOT_AVAILABLE", "inStock":false, "ATS": 0.0, "inStockDate": "Wed Mar 27 12:00:00 GMT 2013" , "pricing": {"standard": "37.0", "sale": "23.99", "isPromoPrice": false, "quantities": [ {"unit": "", "value": "1.0"} ]} }, {"id": "DV898_L_RUM", "attributes": { "color": "Rumba" , "size": "L" }, "avLevels": {"IN_STOCK": 0.0, "PREORDER": 0.0, "BACKORDER": 0.0, "NOT_AVAILABLE": 1.0}, "avStatus":"NOT_AVAILABLE", "inStock":false, "ATS": 0.0, "inStockDate": "Fri Jul 19 12:00:00 GMT 2013" , "pricing": {"standard": "37.0", "sale": "23.99", "isPromoPrice": false, "quantities": [ {"unit": "", "value": "1.0"} ]} }, {"id": "DV898_M_FOG", "attributes": { "color": "Fog" , "size": "M" }, "avLevels": {"IN_STOCK": 1.0, "PREORDER": 0.0, "BACKORDER": 0.0, "NOT_AVAILABLE": 0.0}, "avStatus":"IN_STOCK", "inStock":true, "ATS": 1.0, "inStockDate": "Tue Dec 31 12:00:00 GMT 2030" , "pricing": {"standard": "37.0", "sale": "23.99", "isPromoPrice": false, "quantities": [ {"unit": "", "value": "1.0"} ]} }, {"id": "DV898_M_IND", "attributes": { "color": "Indigo" , "size": "M" }, "avLevels": {"IN_STOCK": 0.0, "PREORDER": 0.0, "BACKORDER": 0.0, "NOT_AVAILABLE": 1.0}, "avStatus":"NOT_AVAILABLE", "inStock":false, "ATS": 0.0, "inStockDate": "Tue Dec 31 12:00:00 GMT 2030" , "pricing": {"standard": "37.0", "sale": "23.99", "isPromoPrice": false, "quantities": [ {"unit": "", "value": "1.0"} ]} }, {"id": "DV898_M_RUM", "attributes": { "color": "Rumba" , "size": "M" }, "avLevels": {"IN_STOCK": 1.0, "PREORDER": 0.0, "BACKORDER": 0.0, "NOT_AVAILABLE": 0.0}, "avStatus":"IN_STOCK", "inStock":true, "ATS": 9.0, "inStockDate": "Fri Jul 19 12:00:00 GMT 2013" , "pricing": {"standard": "37.0", "sale": "23.99", "isPromoPrice": false, "quantities": [ {"unit": "", "value": "1.0"} ]} }, {"id": "DV898_S_FOG", "attributes": { "color": "Fog" , "size": "S" }, "avLevels": {"IN_STOCK": 0.0, "PREORDER": 0.0, "BACKORDER": 0.0, "NOT_AVAILABLE": 1.0}, "avStatus":"NOT_AVAILABLE", "inStock":false, "ATS": 0.0, "inStockDate": "Tue Dec 31 12:00:00 GMT 2030" , "pricing": {"standard": "37.0", "sale": "23.99", "isPromoPrice": false, "quantities": [ {"unit": "", "value": "1.0"} ]} }, {"id": "DV898_S_IND", "attributes": { "color": "Indigo" , "size": "S" }, "avLevels": {"IN_STOCK": 0.0, "PREORDER": 0.0, "BACKORDER": 0.0, "NOT_AVAILABLE": 1.0}, "avStatus":"NOT_AVAILABLE", "inStock":false, "ATS": 0.0, "inStockDate": "Thu Mar 28 12:00:00 GMT 2013" , "pricing": {"standard": "37.0", "sale": "23.99", "isPromoPrice": false, "quantities": [ {"unit": "", "value": "1.0"} ]} }, {"id": "DV898_S_RUM", "attributes": { "color": "Rumba" , "size": "S" }, "avLevels": {"IN_STOCK": 1.0, "PREORDER": 0.0, "BACKORDER": 0.0, "NOT_AVAILABLE": 0.0}, "avStatus":"IN_STOCK", "inStock":true, "ATS": 10.0, "inStockDate": "Fri Jul 19 12:00:00 GMT 2013" , "pricing": {"standard": "37.0", "sale": "23.99", "isPromoPrice": false, "quantities": [ {"unit": "", "value": "1.0"} ]} }, {"id": "DV898_XL_FOG", "attributes": { "color": "Fog" , "size": "XL" }, "avLevels": {"IN_STOCK": 0.0, "PREORDER": 0.0, "BACKORDER": 0.0, "NOT_AVAILABLE": 1.0}, "avStatus":"NOT_AVAILABLE", "inStock":false, "ATS": 0.0, "inStockDate": "Wed Mar 27 12:00:00 GMT 2013" , "pricing": {"standard": "37.0", "sale": "23.99", "isPromoPrice": false, "quantities": [ {"unit": "", "value": "1.0"} ]} }, {"id": "DV898_XL_IND", "attributes": { "color": "Indigo" , "size": "XL" }, "avLevels": {"IN_STOCK": 0.0, "PREORDER": 0.0, "BACKORDER": 0.0, "NOT_AVAILABLE": 1.0}, "avStatus":"NOT_AVAILABLE", "inStock":false, "ATS": 0.0, "inStockDate": "Wed Mar 27 12:00:00 GMT 2013" , "pricing": {"standard": "37.0", "sale": "23.99", "isPromoPrice": false, "quantities": [ {"unit": "", "value": "1.0"} ]} }, {"id": "DV898_XL_RUM", "attributes": { "color": "Rumba" , "size": "XL" }, "avLevels": {"IN_STOCK": 0.0, "PREORDER": 0.0, "BACKORDER": 0.0, "NOT_AVAILABLE": 1.0}, "avStatus":"NOT_AVAILABLE", "inStock":false, "ATS": 0.0, "inStockDate": "Fri Jul 19 12:00:00 GMT 2013" , "pricing": {"standard": "37.0", "sale": "23.99", "isPromoPrice": false, "quantities": [ {"unit": "", "value": "1.0"} ]} }, {"id": "DV898_XL_ORA", "attributes": { "color": "Orange" , "size": "XL" }, "avLevels": {"IN_STOCK": 0.0, "PREORDER": 0.0, "BACKORDER": 0.0, "NOT_AVAILABLE": 1.0}, "avStatus":"NOT_AVAILABLE", "inStock":false, "ATS": 0.0, "inStockDate": "Wed Feb 26 12:00:00 GMT 2014" , "pricing": {"standard": "37.0", "sale": "23.99", "isPromoPrice": false, "quantities": [ {"unit": "", "value": "1.0"} ]} }, {"id": "DV898_S_BLU", "attributes": { "color": "Blue" , "size": "S" }, "avLevels": {"IN_STOCK": 0.0, "PREORDER": 0.0, "BACKORDER": 0.0, "NOT_AVAILABLE": 1.0}, "avStatus":"NOT_AVAILABLE", "inStock":false, "ATS": 0.0, "inStockDate": "Wed Jan 01 12:00:00 GMT 2014" , "pricing": {"standard": "37.0", "sale": "23.99", "isPromoPrice": false, "quantities": [ {"unit": "", "value": "1.0"} ]} }, {"id": "DV898_M_ORA", "attributes": { "color": "Orange" , "size": "M" }, "avLevels": {"IN_STOCK": 0.0, "PREORDER": 0.0, "BACKORDER": 0.0, "NOT_AVAILABLE": 1.0}, "avStatus":"NOT_AVAILABLE", "inStock":false, "ATS": 0.0, "inStockDate": "Wed Feb 26 12:00:00 GMT 2014" , "pricing": {"standard": "37.0", "sale": "23.99", "isPromoPrice": false, "quantities": [ {"unit": "", "value": "1.0"} ]} }, {"id": "DV898_L_ORA", "attributes": { "color": "Orange" , "size": "L" }, "avLevels": {"IN_STOCK": 0.0, "PREORDER": 0.0, "BACKORDER": 0.0, "NOT_AVAILABLE": 1.0}, "avStatus":"NOT_AVAILABLE", "inStock":false, "ATS": 0.0, "inStockDate": "Wed Jan 01 12:00:00 GMT 2014" , "pricing": {"standard": "37.0", "sale": "23.99", "isPromoPrice": false, "quantities": [ {"unit": "", "value": "1.0"} ]} }, {"id": "DV898_L_BLU", "attributes": { "color": "Blue" , "size": "L" }, "avLevels": {"IN_STOCK": 0.0, "PREORDER": 0.0, "BACKORDER": 0.0, "NOT_AVAILABLE": 1.0}, "avStatus":"NOT_AVAILABLE", "inStock":false, "ATS": 0.0, "inStockDate": "Wed Jan 01 12:00:00 GMT 2014" , "pricing": {"standard": "37.0", "sale": "23.99", "isPromoPrice": false, "quantities": [ {"unit": "", "value": "1.0"} ]} }, {"id": "DV898_XL_BLU", "attributes": { "color": "Blue" , "size": "XL" }, "avLevels": {"IN_STOCK": 0.0, "PREORDER": 0.0, "BACKORDER": 0.0, "NOT_AVAILABLE": 1.0}, "avStatus":"NOT_AVAILABLE", "inStock":false, "ATS": 0.0, "inStockDate": "Wed Feb 26 12:00:00 GMT 2014" , "pricing": {"standard": "37.0", "sale": "23.99", "isPromoPrice": false, "quantities": [ {"unit": "", "value": "1.0"} ]} }, {"id": "DV898_M_BLU", "attributes": { "color": "Blue" , "size": "M" }, "avLevels": {"IN_STOCK": 0.0, "PREORDER": 0.0, "BACKORDER": 0.0, "NOT_AVAILABLE": 1.0}, "avStatus":"NOT_AVAILABLE", "inStock":false, "ATS": 0.0, "inStockDate": "Sun May 11 12:00:00 GMT 2014" , "pricing": {"standard": "37.0", "sale": "23.99", "isPromoPrice": false, "quantities": [ {"unit": "", "value": "1.0"} ]} }, {"id": "DV898_L_CHA", "attributes": { "color": "Charcoal" , "size": "L" }, "avLevels": {"IN_STOCK": 0.0, "PREORDER": 0.0, "BACKORDER": 0.0, "NOT_AVAILABLE": 1.0}, "avStatus":"NOT_AVAILABLE", "inStock":false, "ATS": 0.0, "inStockDate": "Sun May 11 12:00:00 GMT 2014" , "pricing": {"standard": "37.0", "sale": "23.99", "isPromoPrice": false, "quantities": [ {"unit": "", "value": "1.0"} ]} }, {"id": "DV898_M_CHA", "attributes": { "color": "Charcoal" , "size": "M" }, "avLevels": {"IN_STOCK": 1.0, "PREORDER": 0.0, "BACKORDER": 0.0, "NOT_AVAILABLE": 0.0}, "avStatus":"IN_STOCK", "inStock":true, "ATS": 10.0, "inStockDate": "Sun May 11 12:00:00 GMT 2014" , "pricing": {"standard": "37.0", "sale": "23.99", "isPromoPrice": false, "quantities": [ {"unit": "", "value": "1.0"} ]} }, {"id": "DV898_XL_CHA", "attributes": { "color": "Charcoal" , "size": "XL" }, "avLevels": {"IN_STOCK": 0.0, "PREORDER": 0.0, "BACKORDER": 0.0, "NOT_AVAILABLE": 1.0}, "avStatus":"NOT_AVAILABLE", "inStock":false, "ATS": 0.0, "inStockDate": "Wed Feb 26 12:00:00 GMT 2014" , "pricing": {"standard": "37.0", "sale": "23.99", "isPromoPrice": false, "quantities": [ {"unit": "", "value": "1.0"} ]} }, {"id": "DV898_S_CHA", "attributes": { "color": "Charcoal" , "size": "S" }, "avLevels": {"IN_STOCK": 1.0, "PREORDER": 0.0, "BACKORDER": 0.0, "NOT_AVAILABLE": 0.0}, "avStatus":"IN_STOCK", "inStock":true, "ATS": 14.0, "inStockDate": "Sun May 11 12:00:00 GMT 2014" , "pricing": {"standard": "37.0", "sale": "23.99", "isPromoPrice": false, "quantities": [ {"unit": "", "value": "1.0"} ]} }, {"id": "DV898_S_ORA", "attributes": { "color": "Orange" , "size": "S" }, "avLevels": {"IN_STOCK": 0.0, "PREORDER": 0.0, "BACKORDER": 0.0, "NOT_AVAILABLE": 1.0}, "avStatus":"NOT_AVAILABLE", "inStock":false, "ATS": 0.0, "inStockDate": "Fri Feb 28 12:00:00 GMT 2014" , "pricing": {"standard": "37.0", "sale": "23.99", "isPromoPrice": false, "quantities": [ {"unit": "", "value": "1.0"} ]} } ] }}