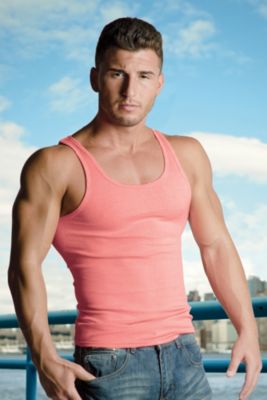 YMLA® Neon Rib Tank
UG # DV891
Special Offer:
20% OFF 3 OR MORE ITEMS (Details)
Select Quantity
Print
Men's tank top
Men's top made from cotton
Machine wash
Made in USA
YMLA style number DV891
The Neon Rib men's tank top from YMLA infuses bright and bold style into your everyday look. Made from lightweight cotton, this versatile YMLA tank top has a subtly ribbed texture and flattering fit that contours to your chest, shoulders and back. This colorful YMLA tank top for men looks great with jeans, shorts, athletic pants and more.
{ "variations": { "variants": [ {"id": "DV891_L_HPI", "attributes": { "color": "Hot Pink" , "size": "L" }, "avLevels": {"IN_STOCK": 0.0, "PREORDER": 0.0, "BACKORDER": 0.0, "NOT_AVAILABLE": 1.0}, "avStatus":"NOT_AVAILABLE", "inStock":false, "ATS": 0.0, "inStockDate": "Wed Mar 27 12:00:00 GMT 2013" , "pricing": {"standard": "19.0", "sale": "19.0", "isPromoPrice": false, "quantities": [ {"unit": "", "value": "1.0"} ]} }, {"id": "DV891_L_LIM", "attributes": { "color": "Lime" , "size": "L" }, "avLevels": {"IN_STOCK": 0.0, "PREORDER": 0.0, "BACKORDER": 0.0, "NOT_AVAILABLE": 1.0}, "avStatus":"NOT_AVAILABLE", "inStock":false, "ATS": 0.0, "inStockDate": "Wed Mar 27 12:00:00 GMT 2013" , "pricing": {"standard": "19.0", "sale": "19.0", "isPromoPrice": false, "quantities": [ {"unit": "", "value": "1.0"} ]} }, {"id": "DV891_L_ORA", "attributes": { "color": "Orange" , "size": "L" }, "avLevels": {"IN_STOCK": 0.0, "PREORDER": 0.0, "BACKORDER": 0.0, "NOT_AVAILABLE": 1.0}, "avStatus":"NOT_AVAILABLE", "inStock":false, "ATS": 0.0, "inStockDate": "Wed Mar 27 12:00:00 GMT 2013" , "pricing": {"standard": "19.0", "sale": "19.0", "isPromoPrice": false, "quantities": [ {"unit": "", "value": "1.0"} ]} }, {"id": "DV891_M_HPI", "attributes": { "color": "Hot Pink" , "size": "M" }, "avLevels": {"IN_STOCK": 0.0, "PREORDER": 0.0, "BACKORDER": 0.0, "NOT_AVAILABLE": 1.0}, "avStatus":"NOT_AVAILABLE", "inStock":false, "ATS": 0.0, "inStockDate": "Wed Mar 27 12:00:00 GMT 2013" , "pricing": {"standard": "19.0", "sale": "19.0", "isPromoPrice": false, "quantities": [ {"unit": "", "value": "1.0"} ]} }, {"id": "DV891_M_LIM", "attributes": { "color": "Lime" , "size": "M" }, "avLevels": {"IN_STOCK": 0.0, "PREORDER": 0.0, "BACKORDER": 0.0, "NOT_AVAILABLE": 1.0}, "avStatus":"NOT_AVAILABLE", "inStock":false, "ATS": 0.0, "inStockDate": "Wed Mar 27 12:00:00 GMT 2013" , "pricing": {"standard": "19.0", "sale": "19.0", "isPromoPrice": false, "quantities": [ {"unit": "", "value": "1.0"} ]} }, {"id": "DV891_M_ORA", "attributes": { "color": "Orange" , "size": "M" }, "avLevels": {"IN_STOCK": 0.0, "PREORDER": 0.0, "BACKORDER": 0.0, "NOT_AVAILABLE": 1.0}, "avStatus":"NOT_AVAILABLE", "inStock":false, "ATS": 0.0, "inStockDate": "Wed Mar 27 12:00:00 GMT 2013" , "pricing": {"standard": "19.0", "sale": "19.0", "isPromoPrice": false, "quantities": [ {"unit": "", "value": "1.0"} ]} }, {"id": "DV891_S_HPI", "attributes": { "color": "Hot Pink" , "size": "S" }, "avLevels": {"IN_STOCK": 1.0, "PREORDER": 0.0, "BACKORDER": 0.0, "NOT_AVAILABLE": 0.0}, "avStatus":"IN_STOCK", "inStock":true, "ATS": 1.0, "inStockDate": "Wed Mar 27 12:00:00 GMT 2013" , "pricing": {"standard": "19.0", "sale": "19.0", "isPromoPrice": false, "quantities": [ {"unit": "", "value": "1.0"} ]} }, {"id": "DV891_S_LIM", "attributes": { "color": "Lime" , "size": "S" }, "avLevels": {"IN_STOCK": 0.0, "PREORDER": 0.0, "BACKORDER": 0.0, "NOT_AVAILABLE": 1.0}, "avStatus":"NOT_AVAILABLE", "inStock":false, "ATS": 0.0, "inStockDate": "Wed Mar 27 12:00:00 GMT 2013" , "pricing": {"standard": "19.0", "sale": "19.0", "isPromoPrice": false, "quantities": [ {"unit": "", "value": "1.0"} ]} }, {"id": "DV891_S_ORA", "attributes": { "color": "Orange" , "size": "S" }, "avLevels": {"IN_STOCK": 0.0, "PREORDER": 0.0, "BACKORDER": 0.0, "NOT_AVAILABLE": 1.0}, "avStatus":"NOT_AVAILABLE", "inStock":false, "ATS": 0.0, "inStockDate": "Wed Mar 27 12:00:00 GMT 2013" , "pricing": {"standard": "19.0", "sale": "19.0", "isPromoPrice": false, "quantities": [ {"unit": "", "value": "1.0"} ]} }, {"id": "DV891_XL_HPI", "attributes": { "color": "Hot Pink" , "size": "XL" }, "avLevels": {"IN_STOCK": 0.0, "PREORDER": 0.0, "BACKORDER": 0.0, "NOT_AVAILABLE": 1.0}, "avStatus":"NOT_AVAILABLE", "inStock":false, "ATS": 0.0, "inStockDate": "Wed Mar 27 12:00:00 GMT 2013" , "pricing": {"standard": "19.0", "sale": "19.0", "isPromoPrice": false, "quantities": [ {"unit": "", "value": "1.0"} ]} }, {"id": "DV891_XL_LIM", "attributes": { "color": "Lime" , "size": "XL" }, "avLevels": {"IN_STOCK": 0.0, "PREORDER": 0.0, "BACKORDER": 0.0, "NOT_AVAILABLE": 1.0}, "avStatus":"NOT_AVAILABLE", "inStock":false, "ATS": 0.0, "inStockDate": "Wed Mar 27 12:00:00 GMT 2013" , "pricing": {"standard": "19.0", "sale": "19.0", "isPromoPrice": false, "quantities": [ {"unit": "", "value": "1.0"} ]} }, {"id": "DV891_XL_ORA", "attributes": { "color": "Orange" , "size": "XL" }, "avLevels": {"IN_STOCK": 0.0, "PREORDER": 0.0, "BACKORDER": 0.0, "NOT_AVAILABLE": 1.0}, "avStatus":"NOT_AVAILABLE", "inStock":false, "ATS": 0.0, "inStockDate": "Wed Mar 27 12:00:00 GMT 2013" , "pricing": {"standard": "19.0", "sale": "19.0", "isPromoPrice": false, "quantities": [ {"unit": "", "value": "1.0"} ]} } ] }}