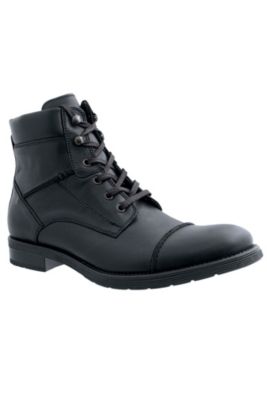 {"imageName":"http://s7d2.scene7.com/is/image/UnderGear/QC334_BK_UGP13?$dwpp$"}
{"imageName":"http://s7d2.scene7.com/is/image/UnderGear/QC334_BSV_UGP13?$dwpp$"}
{"imageName":"http://s7d2.scene7.com/is/image/UnderGear/QC334_BBV_UGP13?$dwpp$"}
{"imageName":"http://s7d2.scene7.com/is/image/UnderGear/QC334_BTV_UGP13?$dwpp$"}
{"imageName":"http://s7d2.scene7.com/is/image/UnderGear/QC334_BUV_UGP13?$dwpp$"}
{"imageName":"http://s7d2.scene7.com/is/image/UnderGear/QC334_BR_UGP13?$dwpp$"}
{"imageName":"http://s7d2.scene7.com/is/image/UnderGear/QC334_BRSV_UGP13?$dwpp$"}
GBX® Leonardo Boot
UG # QC334
Special Offer:
$15/$50, $20/$75, $25/$100 OR MORE (Details)
Select Quantity
Print
Men's boots
Fabric and leather upper; fabric lining
Whole and half sizes 8-11, 12, 13
Imported
GBX styles 091212 and 091211
GBX Leonardo men's boots offer a rugged combo of leather and fabric. Designed with a lace-up front and padded collar, the GBX boots have a fabric-lined interior and cushioned footbed for exceptional comfort with every step. Available in classic black and brown, the Leonardo boots for men also boast a rubber traction sole for tricky terrain.
{ "variations": { "variants": [ {"id": "QC334_105_BLA", "attributes": { "color": "Black" , "size": "10.5" }, "avLevels": {"IN_STOCK": 0.0, "PREORDER": 0.0, "BACKORDER": 0.0, "NOT_AVAILABLE": 1.0}, "avStatus":"NOT_AVAILABLE", "inStock":false, "ATS": 0.0, "inStockDate": "Fri Dec 27 12:00:00 GMT 2013" , "pricing": {"standard": "99.0", "sale": "69.99", "isPromoPrice": false, "quantities": [ {"unit": "", "value": "1.0"} ]} }, {"id": "QC334_105_BRO", "attributes": { "color": "Brown" , "size": "10.5" }, "avLevels": {"IN_STOCK": 0.0, "PREORDER": 0.0, "BACKORDER": 0.0, "NOT_AVAILABLE": 1.0}, "avStatus":"NOT_AVAILABLE", "inStock":false, "ATS": 0.0, "inStockDate": "Fri Dec 27 12:00:00 GMT 2013" , "pricing": {"standard": "99.0", "sale": "69.99", "isPromoPrice": false, "quantities": [ {"unit": "", "value": "1.0"} ]} }, {"id": "QC334_10_BLA", "attributes": { "color": "Black" , "size": "10" }, "avLevels": {"IN_STOCK": 0.0, "PREORDER": 0.0, "BACKORDER": 0.0, "NOT_AVAILABLE": 1.0}, "avStatus":"NOT_AVAILABLE", "inStock":false, "ATS": 0.0, "inStockDate": "Fri Dec 27 12:00:00 GMT 2013" , "pricing": {"standard": "99.0", "sale": "69.99", "isPromoPrice": false, "quantities": [ {"unit": "", "value": "1.0"} ]} }, {"id": "QC334_10_BRO", "attributes": { "color": "Brown" , "size": "10" }, "avLevels": {"IN_STOCK": 0.0, "PREORDER": 0.0, "BACKORDER": 0.0, "NOT_AVAILABLE": 1.0}, "avStatus":"NOT_AVAILABLE", "inStock":false, "ATS": 0.0, "inStockDate": "Fri Dec 27 12:00:00 GMT 2013" , "pricing": {"standard": "99.0", "sale": "69.99", "isPromoPrice": false, "quantities": [ {"unit": "", "value": "1.0"} ]} }, {"id": "QC334_11_BLA", "attributes": { "color": "Black" , "size": "11" }, "avLevels": {"IN_STOCK": 0.0, "PREORDER": 0.0, "BACKORDER": 0.0, "NOT_AVAILABLE": 1.0}, "avStatus":"NOT_AVAILABLE", "inStock":false, "ATS": 0.0, "inStockDate": "Fri Dec 27 12:00:00 GMT 2013" , "pricing": {"standard": "99.0", "sale": "69.99", "isPromoPrice": false, "quantities": [ {"unit": "", "value": "1.0"} ]} }, {"id": "QC334_11_BRO", "attributes": { "color": "Brown" , "size": "11" }, "avLevels": {"IN_STOCK": 0.0, "PREORDER": 0.0, "BACKORDER": 0.0, "NOT_AVAILABLE": 1.0}, "avStatus":"NOT_AVAILABLE", "inStock":false, "ATS": 0.0, "inStockDate": "Fri Dec 27 12:00:00 GMT 2013" , "pricing": {"standard": "99.0", "sale": "69.99", "isPromoPrice": false, "quantities": [ {"unit": "", "value": "1.0"} ]} }, {"id": "QC334_12_BLA", "attributes": { "color": "Black" , "size": "12" }, "avLevels": {"IN_STOCK": 0.0, "PREORDER": 0.0, "BACKORDER": 0.0, "NOT_AVAILABLE": 1.0}, "avStatus":"NOT_AVAILABLE", "inStock":false, "ATS": 0.0, "inStockDate": "Fri Dec 27 12:00:00 GMT 2013" , "pricing": {"standard": "99.0", "sale": "69.99", "isPromoPrice": false, "quantities": [ {"unit": "", "value": "1.0"} ]} }, {"id": "QC334_12_BRO", "attributes": { "color": "Brown" , "size": "12" }, "avLevels": {"IN_STOCK": 0.0, "PREORDER": 0.0, "BACKORDER": 0.0, "NOT_AVAILABLE": 1.0}, "avStatus":"NOT_AVAILABLE", "inStock":false, "ATS": 0.0, "inStockDate": "Fri Dec 27 12:00:00 GMT 2013" , "pricing": {"standard": "99.0", "sale": "69.99", "isPromoPrice": false, "quantities": [ {"unit": "", "value": "1.0"} ]} }, {"id": "QC334_13_BLA", "attributes": { "color": "Black" , "size": "13" }, "avLevels": {"IN_STOCK": 0.0, "PREORDER": 0.0, "BACKORDER": 0.0, "NOT_AVAILABLE": 1.0}, "avStatus":"NOT_AVAILABLE", "inStock":false, "ATS": 0.0, "inStockDate": "Fri Dec 27 12:00:00 GMT 2013" , "pricing": {"standard": "99.0", "sale": "69.99", "isPromoPrice": false, "quantities": [ {"unit": "", "value": "1.0"} ]} }, {"id": "QC334_13_BRO", "attributes": { "color": "Brown" , "size": "13" }, "avLevels": {"IN_STOCK": 0.0, "PREORDER": 0.0, "BACKORDER": 0.0, "NOT_AVAILABLE": 1.0}, "avStatus":"NOT_AVAILABLE", "inStock":false, "ATS": 0.0, "inStockDate": "Fri Dec 27 12:00:00 GMT 2013" , "pricing": {"standard": "99.0", "sale": "69.99", "isPromoPrice": false, "quantities": [ {"unit": "", "value": "1.0"} ]} }, {"id": "QC334_85_BLA", "attributes": { "color": "Black" , "size": "8.5" }, "avLevels": {"IN_STOCK": 0.0, "PREORDER": 0.0, "BACKORDER": 0.0, "NOT_AVAILABLE": 1.0}, "avStatus":"NOT_AVAILABLE", "inStock":false, "ATS": 0.0, "inStockDate": "Fri Dec 27 12:00:00 GMT 2013" , "pricing": {"standard": "99.0", "sale": "69.99", "isPromoPrice": false, "quantities": [ {"unit": "", "value": "1.0"} ]} }, {"id": "QC334_85_BRO", "attributes": { "color": "Brown" , "size": "8.5" }, "avLevels": {"IN_STOCK": 0.0, "PREORDER": 0.0, "BACKORDER": 0.0, "NOT_AVAILABLE": 1.0}, "avStatus":"NOT_AVAILABLE", "inStock":false, "ATS": 0.0, "inStockDate": "Fri Dec 27 12:00:00 GMT 2013" , "pricing": {"standard": "99.0", "sale": "69.99", "isPromoPrice": false, "quantities": [ {"unit": "", "value": "1.0"} ]} }, {"id": "QC334_8_BLA", "attributes": { "color": "Black" , "size": "8" }, "avLevels": {"IN_STOCK": 0.0, "PREORDER": 0.0, "BACKORDER": 0.0, "NOT_AVAILABLE": 1.0}, "avStatus":"NOT_AVAILABLE", "inStock":false, "ATS": 0.0, "inStockDate": "Fri Dec 27 12:00:00 GMT 2013" , "pricing": {"standard": "99.0", "sale": "69.99", "isPromoPrice": false, "quantities": [ {"unit": "", "value": "1.0"} ]} }, {"id": "QC334_8_BRO", "attributes": { "color": "Brown" , "size": "8" }, "avLevels": {"IN_STOCK": 1.0, "PREORDER": 0.0, "BACKORDER": 0.0, "NOT_AVAILABLE": 0.0}, "avStatus":"IN_STOCK", "inStock":true, "ATS": 2.0, "inStockDate": "Fri Dec 27 12:00:00 GMT 2013" , "pricing": {"standard": "99.0", "sale": "69.99", "isPromoPrice": false, "quantities": [ {"unit": "", "value": "1.0"} ]} }, {"id": "QC334_95_BLA", "attributes": { "color": "Black" , "size": "9.5" }, "avLevels": {"IN_STOCK": 0.0, "PREORDER": 0.0, "BACKORDER": 0.0, "NOT_AVAILABLE": 1.0}, "avStatus":"NOT_AVAILABLE", "inStock":false, "ATS": 0.0, "inStockDate": "Fri Dec 27 12:00:00 GMT 2013" , "pricing": {"standard": "99.0", "sale": "69.99", "isPromoPrice": false, "quantities": [ {"unit": "", "value": "1.0"} ]} }, {"id": "QC334_95_BRO", "attributes": { "color": "Brown" , "size": "9.5" }, "avLevels": {"IN_STOCK": 0.0, "PREORDER": 0.0, "BACKORDER": 0.0, "NOT_AVAILABLE": 1.0}, "avStatus":"NOT_AVAILABLE", "inStock":false, "ATS": 0.0, "inStockDate": "Fri Dec 27 12:00:00 GMT 2013" , "pricing": {"standard": "99.0", "sale": "69.99", "isPromoPrice": false, "quantities": [ {"unit": "", "value": "1.0"} ]} }, {"id": "QC334_9_BLA", "attributes": { "color": "Black" , "size": "9" }, "avLevels": {"IN_STOCK": 0.0, "PREORDER": 0.0, "BACKORDER": 0.0, "NOT_AVAILABLE": 1.0}, "avStatus":"NOT_AVAILABLE", "inStock":false, "ATS": 0.0, "inStockDate": "Fri Dec 27 12:00:00 GMT 2013" , "pricing": {"standard": "99.0", "sale": "69.99", "isPromoPrice": false, "quantities": [ {"unit": "", "value": "1.0"} ]} }, {"id": "QC334_9_BRO", "attributes": { "color": "Brown" , "size": "9" }, "avLevels": {"IN_STOCK": 1.0, "PREORDER": 0.0, "BACKORDER": 0.0, "NOT_AVAILABLE": 0.0}, "avStatus":"IN_STOCK", "inStock":true, "ATS": 1.0, "inStockDate": "Fri Dec 27 12:00:00 GMT 2013" , "pricing": {"standard": "99.0", "sale": "69.99", "isPromoPrice": false, "quantities": [ {"unit": "", "value": "1.0"} ]} } ] }}