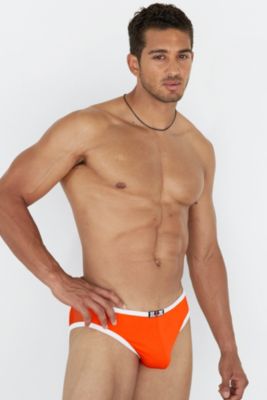 {"imageName":"http://s7d2.scene7.com/is/image/UnderGear/AM600_NEWOF_J13?$dwpp$"}
{"imageName":"http://s7d2.scene7.com/is/image/UnderGear/AM600_OBV_J13?$dwpp$"}
{"imageName":"http://s7d2.scene7.com/is/image/UnderGear/AM600_YM_J13?$dwpp$"}
{"imageName":"http://s7d2.scene7.com/is/image/UnderGear/AM600_YB_J13?$dwpp$"}
H.I.M.® Windows Jock Strap
UG # AM600
Special Offer:
20% OFF SALE (Details)
Select Quantity
Print
Men's jockstrap underwear
Polyester / spandex mesh underwear for men
Machine wash
Imported
This fun jockstrap underwear from H.I.M. opens up a whole new window of opportunity. Made from a clingy blend of polyester and spandex, the H.I.M. Windows mesh jockstrap features a cheeky open back to reveal your buttocks. A contour pouch also adds definition to your package. Available in vibrant neon-bright colors with a subtle sheen, this H.I.M. jockstrap is guaranteed to liven things up. White trim.
{ "variations": { "variants": [ {"id": "AM600_L_LIM", "attributes": { "color": "Lime" , "size": "L" }, "avLevels": {"IN_STOCK": 1.0, "PREORDER": 0.0, "BACKORDER": 0.0, "NOT_AVAILABLE": 0.0}, "avStatus":"IN_STOCK", "inStock":true, "ATS": 80.0, "inStockDate": "Wed Jun 18 12:00:00 GMT 2014" , "pricing": {"standard": "20.0", "sale": "13.99", "isPromoPrice": false, "quantities": [ {"unit": "", "value": "1.0"} ]} }, {"id": "AM600_L_ORA", "attributes": { "color": "Orange" , "size": "L" }, "avLevels": {"IN_STOCK": 1.0, "PREORDER": 0.0, "BACKORDER": 0.0, "NOT_AVAILABLE": 0.0}, "avStatus":"IN_STOCK", "inStock":true, "ATS": 64.0, "inStockDate": "Wed Jun 18 12:00:00 GMT 2014" , "pricing": {"standard": "20.0", "sale": "13.99", "isPromoPrice": false, "quantities": [ {"unit": "", "value": "1.0"} ]} }, {"id": "AM600_M_LIM", "attributes": { "color": "Lime" , "size": "M" }, "avLevels": {"IN_STOCK": 1.0, "PREORDER": 0.0, "BACKORDER": 0.0, "NOT_AVAILABLE": 0.0}, "avStatus":"IN_STOCK", "inStock":true, "ATS": 138.0, "inStockDate": "Wed Jun 18 12:00:00 GMT 2014" , "pricing": {"standard": "20.0", "sale": "13.99", "isPromoPrice": false, "quantities": [ {"unit": "", "value": "1.0"} ]} }, {"id": "AM600_M_ORA", "attributes": { "color": "Orange" , "size": "M" }, "avLevels": {"IN_STOCK": 1.0, "PREORDER": 0.0, "BACKORDER": 0.0, "NOT_AVAILABLE": 0.0}, "avStatus":"IN_STOCK", "inStock":true, "ATS": 140.0, "inStockDate": "Wed Jun 18 12:00:00 GMT 2014" , "pricing": {"standard": "20.0", "sale": "13.99", "isPromoPrice": false, "quantities": [ {"unit": "", "value": "1.0"} ]} }, {"id": "AM600_S_LIM", "attributes": { "color": "Lime" , "size": "S" }, "avLevels": {"IN_STOCK": 0.0, "PREORDER": 0.0, "BACKORDER": 0.0, "NOT_AVAILABLE": 1.0}, "avStatus":"NOT_AVAILABLE", "inStock":false, "ATS": 0.0, "inStockDate": "Thu May 29 12:00:00 GMT 2014" , "pricing": {"standard": "20.0", "sale": "13.99", "isPromoPrice": false, "quantities": [ {"unit": "", "value": "1.0"} ]} }, {"id": "AM600_S_ORA", "attributes": { "color": "Orange" , "size": "S" }, "avLevels": {"IN_STOCK": 1.0, "PREORDER": 0.0, "BACKORDER": 0.0, "NOT_AVAILABLE": 0.0}, "avStatus":"IN_STOCK", "inStock":true, "ATS": 16.0, "inStockDate": "Wed Jun 18 12:00:00 GMT 2014" , "pricing": {"standard": "20.0", "sale": "13.99", "isPromoPrice": false, "quantities": [ {"unit": "", "value": "1.0"} ]} }, {"id": "AM600_XL_LIM", "attributes": { "color": "Lime" , "size": "XL" }, "avLevels": {"IN_STOCK": 1.0, "PREORDER": 0.0, "BACKORDER": 0.0, "NOT_AVAILABLE": 0.0}, "avStatus":"IN_STOCK", "inStock":true, "ATS": 19.0, "inStockDate": "Wed Jun 18 12:00:00 GMT 2014" , "pricing": {"standard": "20.0", "sale": "13.99", "isPromoPrice": false, "quantities": [ {"unit": "", "value": "1.0"} ]} }, {"id": "AM600_XL_ORA", "attributes": { "color": "Orange" , "size": "XL" }, "avLevels": {"IN_STOCK": 1.0, "PREORDER": 0.0, "BACKORDER": 0.0, "NOT_AVAILABLE": 0.0}, "avStatus":"IN_STOCK", "inStock":true, "ATS": 14.0, "inStockDate": "Wed Jun 18 12:00:00 GMT 2014" , "pricing": {"standard": "20.0", "sale": "13.99", "isPromoPrice": false, "quantities": [ {"unit": "", "value": "1.0"} ]} } ] }}