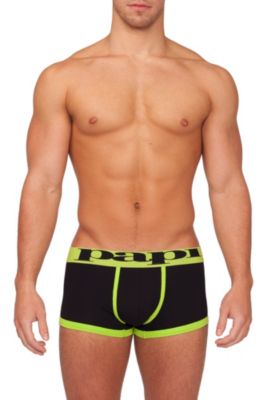 {"imageName":"http://s7d2.scene7.com/is/image/UnderGear/AM958_GBFV_R13?$dwpp$"}
{"imageName":"http://s7d2.scene7.com/is/image/UnderGear/AM958_GBBV_R13?$dwpp$"}
{"imageName":"http://s7d2.scene7.com/is/image/UnderGear/AM958_GB2FV_R13?$dwpp$"}
{"imageName":"http://s7d2.scene7.com/is/image/UnderGear/AM958_BR2FV_R13?$dwpp$"}
{"imageName":"http://s7d2.scene7.com/is/image/UnderGear/AM958_BPSV_R13?$dwpp$"}
{"imageName":"http://s7d2.scene7.com/is/image/UnderGear/AM958_TB2FV_R13?$dwpp$"}
{"imageName":"http://s7d2.scene7.com/is/image/UnderGear/AM958_TBFV_R13?$dwpp$"}
Papi® Highlight 2Pk Trunk
UG # AM958
Special Offer:
$15/$50, $20/$75, $25/$100 OR MORE (Details)
Select Quantity
Print
2-pack men's trunks
Cotton / spandex underwear for men
Machine wash
Imported
Papi underwear style 980577
Grab attention easily in this vibrant men's underwear from Papi. Designed in bright neon green and black, the Papi Highlight Trunks put all eyes on you. The soft cotton-spandex fabrication contours to your body for a sexy, flaunting fit.
{ "variations": { "variants": [ {"id": "AM958_L_GBA", "attributes": { "color": "Green/Black" , "size": "L" }, "avLevels": {"IN_STOCK": 0.0, "PREORDER": 0.0, "BACKORDER": 0.0, "NOT_AVAILABLE": 1.0}, "avStatus":"NOT_AVAILABLE", "inStock":false, "ATS": 0.0, "inStockDate": "Wed Jun 18 12:00:00 GMT 2014" , "pricing": {"standard": "28.0", "sale": "24.99", "isPromoPrice": false, "quantities": [ {"unit": "", "value": "1.0"} ]} }, {"id": "AM958_L_PBA", "attributes": { "color": "Pink/Black" , "size": "L" }, "avLevels": {"IN_STOCK": 1.0, "PREORDER": 0.0, "BACKORDER": 0.0, "NOT_AVAILABLE": 0.0}, "avStatus":"IN_STOCK", "inStock":true, "ATS": 8.0, "inStockDate": "Wed Jun 18 12:00:00 GMT 2014" , "pricing": {"standard": "28.0", "sale": "24.99", "isPromoPrice": false, "quantities": [ {"unit": "", "value": "1.0"} ]} }, {"id": "AM958_L_TBA", "attributes": { "color": "Turquoise/Black" , "size": "L" }, "avLevels": {"IN_STOCK": 1.0, "PREORDER": 0.0, "BACKORDER": 0.0, "NOT_AVAILABLE": 0.0}, "avStatus":"IN_STOCK", "inStock":true, "ATS": 2.0, "inStockDate": "Wed Jun 18 12:00:00 GMT 2014" , "pricing": {"standard": "28.0", "sale": "24.99", "isPromoPrice": false, "quantities": [ {"unit": "", "value": "1.0"} ]} }, {"id": "AM958_M_GBA", "attributes": { "color": "Green/Black" , "size": "M" }, "avLevels": {"IN_STOCK": 0.0, "PREORDER": 0.0, "BACKORDER": 0.0, "NOT_AVAILABLE": 1.0}, "avStatus":"NOT_AVAILABLE", "inStock":false, "ATS": 0.0, "inStockDate": "Wed Feb 26 12:00:00 GMT 2014" , "pricing": {"standard": "28.0", "sale": "24.99", "isPromoPrice": false, "quantities": [ {"unit": "", "value": "1.0"} ]} }, {"id": "AM958_M_PBA", "attributes": { "color": "Pink/Black" , "size": "M" }, "avLevels": {"IN_STOCK": 0.0, "PREORDER": 0.0, "BACKORDER": 0.0, "NOT_AVAILABLE": 1.0}, "avStatus":"NOT_AVAILABLE", "inStock":false, "ATS": 0.0, "inStockDate": "Wed Jun 18 12:00:00 GMT 2014" , "pricing": {"standard": "28.0", "sale": "24.99", "isPromoPrice": false, "quantities": [ {"unit": "", "value": "1.0"} ]} }, {"id": "AM958_M_TBA", "attributes": { "color": "Turquoise/Black" , "size": "M" }, "avLevels": {"IN_STOCK": 0.0, "PREORDER": 0.0, "BACKORDER": 0.0, "NOT_AVAILABLE": 1.0}, "avStatus":"NOT_AVAILABLE", "inStock":false, "ATS": 0.0, "inStockDate": "Thu May 29 12:00:00 GMT 2014" , "pricing": {"standard": "28.0", "sale": "24.99", "isPromoPrice": false, "quantities": [ {"unit": "", "value": "1.0"} ]} }, {"id": "AM958_S_GBA", "attributes": { "color": "Green/Black" , "size": "S" }, "avLevels": {"IN_STOCK": 1.0, "PREORDER": 0.0, "BACKORDER": 0.0, "NOT_AVAILABLE": 0.0}, "avStatus":"IN_STOCK", "inStock":true, "ATS": 2.0, "inStockDate": "Wed Jun 18 12:00:00 GMT 2014" , "pricing": {"standard": "28.0", "sale": "24.99", "isPromoPrice": false, "quantities": [ {"unit": "", "value": "1.0"} ]} }, {"id": "AM958_S_PBA", "attributes": { "color": "Pink/Black" , "size": "S" }, "avLevels": {"IN_STOCK": 0.0, "PREORDER": 0.0, "BACKORDER": 0.0, "NOT_AVAILABLE": 1.0}, "avStatus":"NOT_AVAILABLE", "inStock":false, "ATS": 0.0, "inStockDate": "Wed Jun 18 12:00:00 GMT 2014" , "pricing": {"standard": "28.0", "sale": "24.99", "isPromoPrice": false, "quantities": [ {"unit": "", "value": "1.0"} ]} }, {"id": "AM958_S_TBA", "attributes": { "color": "Turquoise/Black" , "size": "S" }, "avLevels": {"IN_STOCK": 0.0, "PREORDER": 0.0, "BACKORDER": 0.0, "NOT_AVAILABLE": 1.0}, "avStatus":"NOT_AVAILABLE", "inStock":false, "ATS": 0.0, "inStockDate": "Wed Jun 18 12:00:00 GMT 2014" , "pricing": {"standard": "28.0", "sale": "24.99", "isPromoPrice": false, "quantities": [ {"unit": "", "value": "1.0"} ]} }, {"id": "AM958_XL_GBA", "attributes": { "color": "Green/Black" , "size": "XL" }, "avLevels": {"IN_STOCK": 0.0, "PREORDER": 0.0, "BACKORDER": 0.0, "NOT_AVAILABLE": 1.0}, "avStatus":"NOT_AVAILABLE", "inStock":false, "ATS": 0.0, "inStockDate": "Wed Jun 18 12:00:00 GMT 2014" , "pricing": {"standard": "28.0", "sale": "24.99", "isPromoPrice": false, "quantities": [ {"unit": "", "value": "1.0"} ]} }, {"id": "AM958_XL_PBA", "attributes": { "color": "Pink/Black" , "size": "XL" }, "avLevels": {"IN_STOCK": 1.0, "PREORDER": 0.0, "BACKORDER": 0.0, "NOT_AVAILABLE": 0.0}, "avStatus":"IN_STOCK", "inStock":true, "ATS": 1.0, "inStockDate": "Wed Jun 18 12:00:00 GMT 2014" , "pricing": {"standard": "28.0", "sale": "24.99", "isPromoPrice": false, "quantities": [ {"unit": "", "value": "1.0"} ]} }, {"id": "AM958_XL_TBA", "attributes": { "color": "Turquoise/Black" , "size": "XL" }, "avLevels": {"IN_STOCK": 1.0, "PREORDER": 0.0, "BACKORDER": 0.0, "NOT_AVAILABLE": 0.0}, "avStatus":"IN_STOCK", "inStock":true, "ATS": 2.0, "inStockDate": "Wed Jun 18 12:00:00 GMT 2014" , "pricing": {"standard": "28.0", "sale": "24.99", "isPromoPrice": false, "quantities": [ {"unit": "", "value": "1.0"} ]} } ] }}