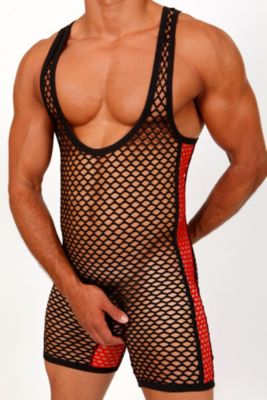 Pistol Pete® Xpose Singlet
UG # RX381
Special Offer:
$15/$50, $20/$75, $25/$100 OR MORE (Details)
Select Quantity
Print
See-through men's singlet
Nylon / spandex mesh wrestling singlet for men
Machine wash
Made in USA
Pistol Pete style TK254-538
Why hide the body you've worked so hard to perfect? This see-through stretch nylon/spandex wrestling singlet is comfortable, edgy and oh-so-sexy to be seen in. Tailored to hug your body, with classic, sporty lines, the Pistol Pete Xpose Singlet proves the age-old saying that less is more! The Pistol Pete see-through men's bodysuit features a sheer open-weave mesh composition with contrast trim for added impact. Made in USA.
{ "variations": { "variants": [ {"id": "RX381_L_BLK/RED", "attributes": { "color": "Black/Red" , "size": "L" }, "avLevels": {"IN_STOCK": 0.0, "PREORDER": 0.0, "BACKORDER": 0.0, "NOT_AVAILABLE": 1.0}, "avStatus":"NOT_AVAILABLE", "inStock":false, "ATS": 0.0, "inStockDate": "Wed Jun 18 12:00:00 GMT 2014" , "pricing": {"standard": "55.0", "sale": "55.0", "isPromoPrice": false, "quantities": [ {"unit": "", "value": "1.0"} ]} }, {"id": "RX381_L_WHI/ROYAL", "attributes": { "color": "White/Royal" , "size": "L" }, "avLevels": {"IN_STOCK": 1.0, "PREORDER": 0.0, "BACKORDER": 0.0, "NOT_AVAILABLE": 0.0}, "avStatus":"IN_STOCK", "inStock":true, "ATS": 14.0, "inStockDate": "Wed Jun 18 12:00:00 GMT 2014" , "pricing": {"standard": "55.0", "sale": "55.0", "isPromoPrice": false, "quantities": [ {"unit": "", "value": "1.0"} ]} }, {"id": "RX381_M_BLK/RED", "attributes": { "color": "Black/Red" , "size": "M" }, "avLevels": {"IN_STOCK": 0.0, "PREORDER": 0.0, "BACKORDER": 0.0, "NOT_AVAILABLE": 1.0}, "avStatus":"NOT_AVAILABLE", "inStock":false, "ATS": 0.0, "inStockDate": "Wed Jun 18 12:00:00 GMT 2014" , "pricing": {"standard": "55.0", "sale": "55.0", "isPromoPrice": false, "quantities": [ {"unit": "", "value": "1.0"} ]} }, {"id": "RX381_M_WHI/ROYAL", "attributes": { "color": "White/Royal" , "size": "M" }, "avLevels": {"IN_STOCK": 1.0, "PREORDER": 0.0, "BACKORDER": 0.0, "NOT_AVAILABLE": 0.0}, "avStatus":"IN_STOCK", "inStock":true, "ATS": 8.0, "inStockDate": "Wed Jun 18 12:00:00 GMT 2014" , "pricing": {"standard": "55.0", "sale": "55.0", "isPromoPrice": false, "quantities": [ {"unit": "", "value": "1.0"} ]} }, {"id": "RX381_S_BLK/RED", "attributes": { "color": "Black/Red" , "size": "S" }, "avLevels": {"IN_STOCK": 0.0, "PREORDER": 0.0, "BACKORDER": 0.0, "NOT_AVAILABLE": 1.0}, "avStatus":"NOT_AVAILABLE", "inStock":false, "ATS": 0.0, "inStockDate": "Wed Jun 18 12:00:00 GMT 2014" , "pricing": {"standard": "55.0", "sale": "55.0", "isPromoPrice": false, "quantities": [ {"unit": "", "value": "1.0"} ]} }, {"id": "RX381_S_WHI/ROYAL", "attributes": { "color": "White/Royal" , "size": "S" }, "avLevels": {"IN_STOCK": 1.0, "PREORDER": 0.0, "BACKORDER": 0.0, "NOT_AVAILABLE": 0.0}, "avStatus":"IN_STOCK", "inStock":true, "ATS": 4.0, "inStockDate": "Wed Jun 18 12:00:00 GMT 2014" , "pricing": {"standard": "55.0", "sale": "55.0", "isPromoPrice": false, "quantities": [ {"unit": "", "value": "1.0"} ]} }, {"id": "RX381_XL_BLK/RED", "attributes": { "color": "Black/Red" , "size": "XL" }, "avLevels": {"IN_STOCK": 0.0, "PREORDER": 0.0, "BACKORDER": 0.0, "NOT_AVAILABLE": 1.0}, "avStatus":"NOT_AVAILABLE", "inStock":false, "ATS": 0.0, "inStockDate": "Wed Jun 18 12:00:00 GMT 2014" , "pricing": {"standard": "55.0", "sale": "55.0", "isPromoPrice": false, "quantities": [ {"unit": "", "value": "1.0"} ]} }, {"id": "RX381_XL_WHI/ROYAL", "attributes": { "color": "White/Royal" , "size": "XL" }, "avLevels": {"IN_STOCK": 0.0, "PREORDER": 0.0, "BACKORDER": 0.0, "NOT_AVAILABLE": 1.0}, "avStatus":"NOT_AVAILABLE", "inStock":false, "ATS": 0.0, "inStockDate": "Wed Jun 18 12:00:00 GMT 2014" , "pricing": {"standard": "55.0", "sale": "55.0", "isPromoPrice": false, "quantities": [ {"unit": "", "value": "1.0"} ]} } ] }}